Instagramming Your Ballot Is Probably Illegal — And That's A Good Thing
A rule rooted in dark periods of American history. FWD's resident lawyer human explains.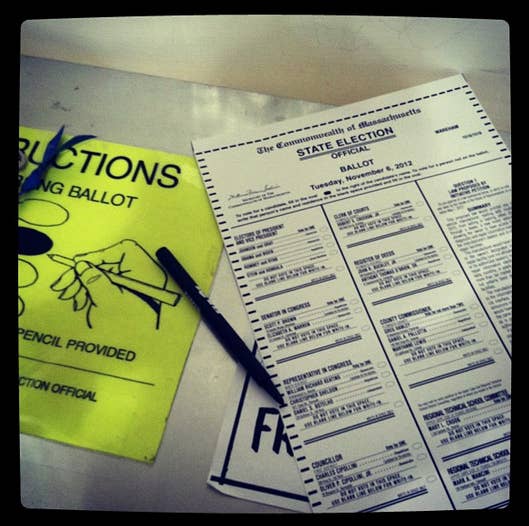 When you vote today, put down your smartphones and shut down that Brannan filter, because, as Lauren Goode at All Things Digital reports, if you don't, you will go directly to jail.
States have election laws that govern people's behavior inside and outside the polling place to protect voters against intimidation and interference. We don't want roving hordes of gun-toting Romney supporters looming over you outside the polls. We don't want Shepard Fairey HOPE lithographs hung inside your voting booth. And because America has a long and sad history of voter intimidation, we definitely don't want people recording how you vote and threatening to use that information against you in your community.
To fight voter intimidation, some states have made it illegal to photograph or shoot video inside the polling place, even if you're only documenting your own voting experience. But this is also a problem, because America has a new tradition of Instagramming Everything We Do. What is your state's law? The Citizen's Media Law Project has a quick list, but 29 states prohibit any use of photography or video inside the polling station. (Although if you witness voter intimidation, please record it.)
But can we really go to jail for tweeting photographs of our ballots? YES, WE CAN. In Wisconsin, it is a Class I felony, and the state's Government Accountability Board is warning people that the punishment is 18 months in prison and a $10,000 fine. It is unlikely that you'd get that punishment, considering our new habit of Facebooking our daily bread. But what's more likely is that you'll give ammunition to a zealous poll worker or — worse yet — a lawyer working for the Other Guy's Campaign. So to make sure your vote is counted, don't photograph you ballot. And if you want to share what your ballot looks like, get all of your friends to vote.
An advocate for the Digital Age, Michael Phillips is an associate at a Wall Street litigation boutique (though he is not your attorney and this piece does not constitute legal advice for you!). He has been called a "thick-haired man" by the New York Times.