Stéphane Balkouma wasn't worried when the first volley of gunshots rang out just before 8pm on Friday night.
The air conditioner salesman went and stood on the balcony of his second-floor office overlooking the main avenue in downtown Ouagadougou, Burkina Faso's dusty capital. "I assumed it was a coup. I was thinking there'd be a bunch of soldiers in trucks," he said, recalling an attempted coup late last year as the country went to its first free elections in almost three decades.
What Balkouma saw instead chilled him.
"There were two men wearing turbans, holding AK47s, walking very calmly and slowly towards the hotel. I was shocked. I understood immediately that they were jihadis," he told BuzzFeed News by phone.
For the next two hours, gunmen from al-Qaeda's North African branch, known as AQIM, unleashed a sophisticated attack that killed at least 29 people from 18 countries, left double that number injured, and roiled a country that has so far largely escaped the militant Islamist attacks and abductions that have plagued its neighbors.
Terrorist attacks are so alien that emergency workers at first didn't realize one was underway, witnesses said. (Bar a handful of skirmishes in remote northern outposts, there had been just one abduction by radical Islamists.) They also told BuzzFeed News that the gunmen at times combed through the crowds looking for foreigners.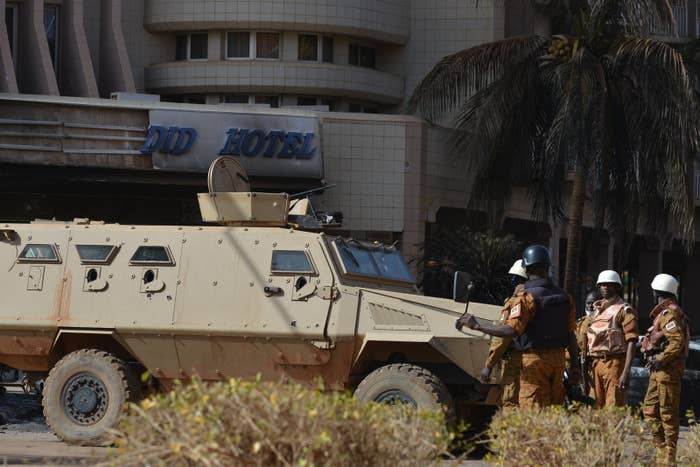 The attack claimed by the regional faction of al-Qaeda — who have competed with Islamic State for the loyalty of Islamist insurgents across the region — suggests regional jihadist groups are increasingly gunning for soft targets in rival attempts to grab the global limelight. The assault was carried out as "revenge against France and the disbelieving West," AQIM said in a statement, according to the SITE Intelligence Group website. On the same evening, an Australian doctor and his wife were snatched by gunmen near the northern border with Mali.
The assault in Ouagadougou took place at the Hotel Splendid, a five-storey building frequented by United Nations staff and French soldiers with Operation Barkhane, the former colonial power's counter-insurgency operation across the Sahel. In November, 20 guests were killed in another luxury hotel attack in neighbouring Mali after it was stormed by gunmen from al-Mourabitoun, a group that briefly splintered from al-Qaeda before rejoining them.
"AQIM and al-Mourabitoun seem to be refining their tactics, and showing that they can cause significant damage and mayhem with a relatively small number of fighters in regional capitals," said Andrew Lebovich, a regional security expert with the European Council on Foreign Relations.
The hours-long rampage in Ouagadougou also called into question the ability of the landlocked country, which houses both a U.S. drone base and French special forces, to respond to a spillover of the jihadis who operate in clusters arcing across the Sahel, from Mali in the west as far as Somalia on the continent's eastern coast.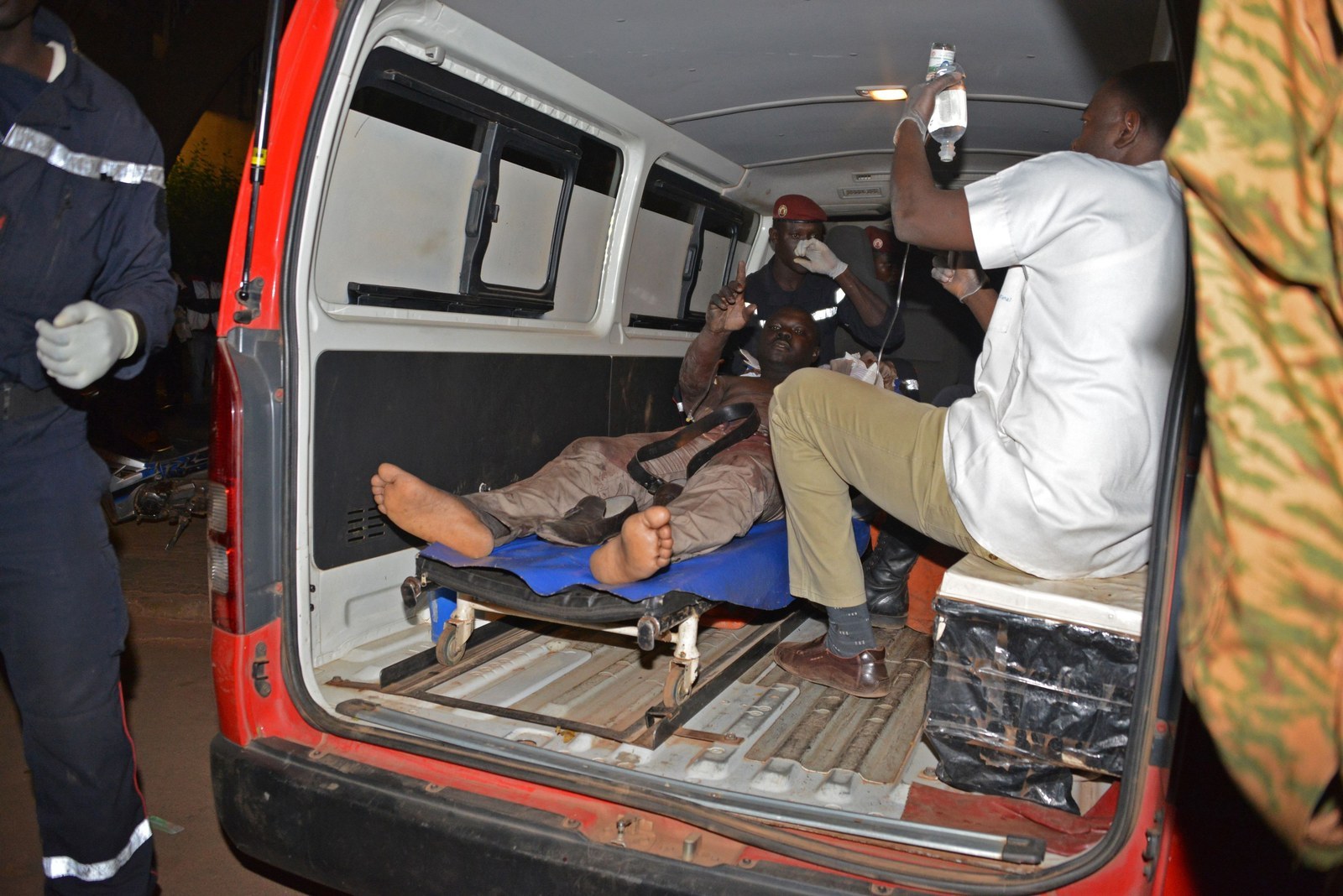 On the ground floor below Balkouma's office, a waiter was cowering on the floor. It was a Friday night, and a particularly busy one at the Cappuccino, a restaurant was popular with foreigners and moneyed locals alike. The waiter, who asked for his name not to be used out of fear of future attacks, had been assigned to a bustling table of 14 foreigners, mostly French. Like the 60-odd diners in the cafe, he'd instinctively thrown himself to the ground at the burst of gunfire.

"After the first volley I was lying on the ground and I noticed it was just slow shots, one at a time, one at a time," he said by telephone. He realized they were targeting individuals.
Among them was a French national who looked up to see a jihadi pointing his gun at him. The turbaned man pulled the trigger — but no shot came. His bullet chamber was empty. The French national got up and ran.
In the deathly silence broken only by the sound of a gun being reloaded, the waiter raised his head.
"They wanted to kill foreigners, white people — that much was clear. The French gentleman was just very lucky because the jihadi preferred to go back to a roomful of people rather than concentrate on finding one individual who had escaped," he said, adding that the French customer initially hid in the toilet. "He just went back to reloading his gun."
"They wanted to kill foreigners, white people — that much was clear."
The waiter decided then to also run, making for a back door that opened into a central courtyard. From there, he scrambled up the nearest fire escape stairs to the second floor, where his legs gave way. He huddled in the corridor with 14 other escapees, praying under his breath. He continued praying even after Balkouma, the salesman, opened his office door and ushered them in, asking them to switch off their phones so the ringing wouldn't attract the attention of the gunmen working methodically below. They waited for security forces to come to their rescue.
A scene of carnage was unfolding in the restaurant.
A child lay over the slumped bodies of his parents, a visibly shocked diner said in a video posted on Facebook. "He just kept saying, mummy, daddy, mummy, daddy, over and over. Each time anyone moved, they'd fire — one step and they'd fire."
"Then we heard an explosion, a horrible explosion…they'd put explosives all over the place," said the man, who was at the restaurant with his girlfriend.

He escaped with two others through bullet-shattered windows.
"With the smoke everything was just…" he trailed off and shook his head mutely. "It was horrible."
The air was thick with smoke. Cars parked on the hibiscus shrub-lined streets had caught fire as the militants, whom witnesses said were in their early 20s, repeatedly lobbed grenades into them. Officials said the attack was coordinated by at least five gunmen.
By now, at least two other gunmen had entered the Splendid Hotel, which lies across from the Cappuccino and is one of a handful of luxury hotels in Burkina Faso. Albert Nagreogo, a journalist who rushed to the hotel when the news broke, said the rampage continued uninterrupted for at least another hour. Burkinabe soldiers, accompanied by around three dozen French special forces, eventually arrived and an intense gunfight ensued until the early morning. At least one other militant was located somewhere outside the hotel, two witnesses told BuzzFeed News. "Throughout the hotel siege, there was also sporadic shooting from around the block, as if the jihadis wanted to let the [soldiers] know, 'we're out here, we're watching,'" Nagreogo said.
"They were strolling around calm as you please. You could see these men were not afraid of dying. They were absolutely prepared to go to paradise today if need be," said Balkouma, who said he had crouched behind his office blinds to watch them.
Watching beside him, the waiter realized something that made his blood go cold. He'd seen at least one of the attackers before. "Just recently over the last few months, we'd started getting groups of peaux clairs," — French for 'light-skinned,' a local term used to distinguish Tuaregs, an ethnic group who traditionally roam the Sahara where Islamists groups have flourished in recent years, and Arabs from darker skinned compatriots. "They would come and get their coffee in groups of three or four, but we didn't think anything of it," the waiter said, adding that the men were all in their early 20s.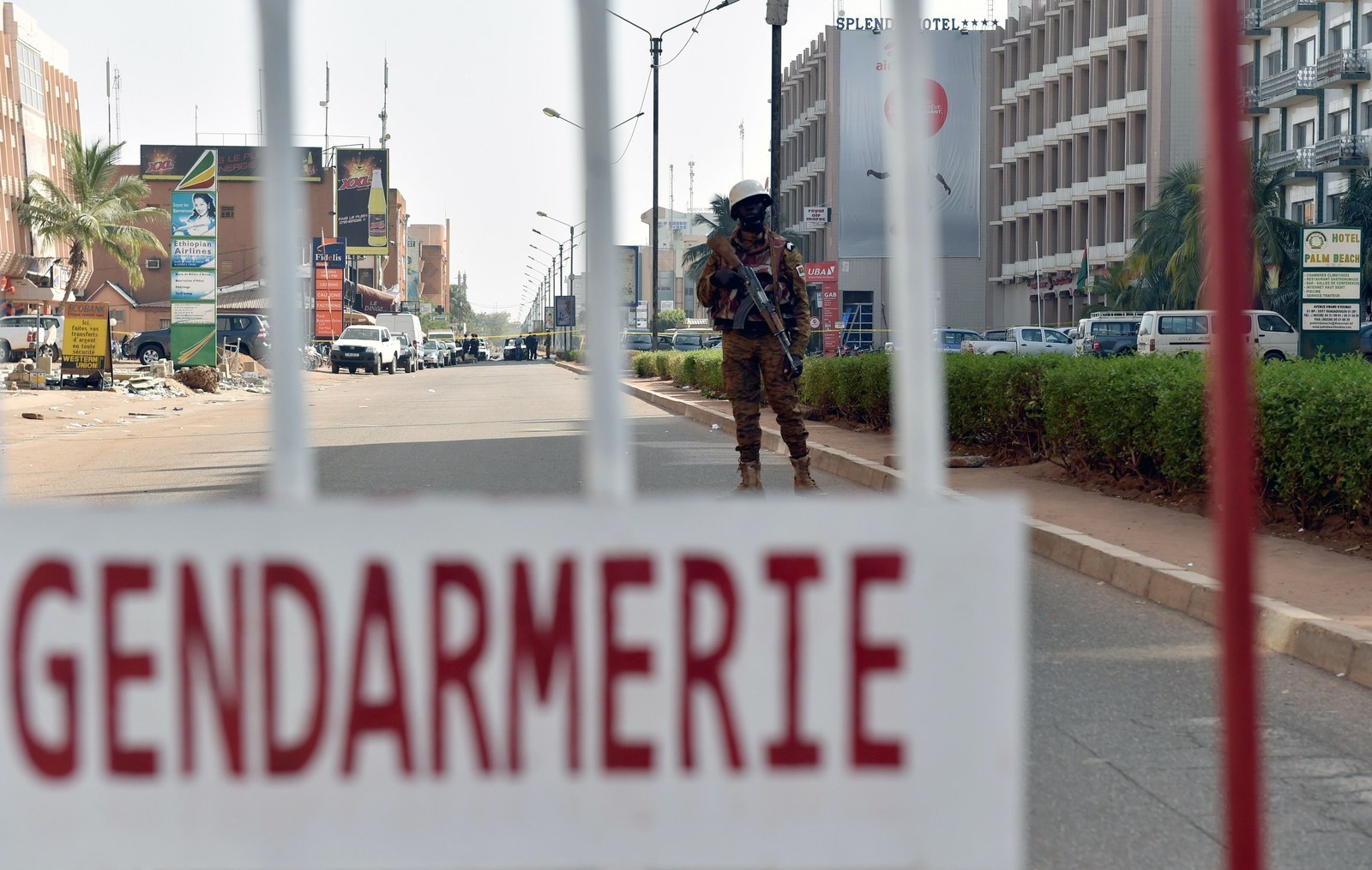 As the hours trickled into dawn, Balkouma and those sheltering in his office began to worry that the fires raging below would creep upwards. The militants continued throwing grenades into cars, including some that unwittingly drove past the assault as the thoroughfare wasn't sealed off for several hours. Few people associated the noise and smoke with a terrorist attack, a resident in the capital told BuzzFeed. Balkouma said it appeared that only cars carrying white people were attacked.
At one point, a lone fireman parked his truck and was attempting to put out the fires billowing from cars. "He didn't realize the greatest danger wasn't the fire, but the jihadis watching him. But they never fired on him, so it was obvious they wanted foreigners."
By dawn, the street was quiet. Officials said three attackers were dead, but did not confirm what had happened to the other two, while some 150 hostages had been set free. Prime Minister Paul Thieba declared 72 hours of national mourning.
As another evening fell on the capital on Saturday, residents said normally-bustling streets were eerily still, and shops remained shuttered.
"There's fear in the air," said Nagreogo. "There's no need to even have the [11pm to 6am] curfew in place. Nobody is going out."
Balkouma said residents were struggling to come to terms with the violent break from the past.
"A bunch of terrorists came here for a mission and they accomplished it perfectly. For two hours they were able to run around free as birds in the capital of the country. We're going to have to learn to live in this new era where we can no longer say we're safe."