Ivory Coast was shocked on Sunday by the country's first ever jihadi attack, which left 22 dead after gunmen stormed the sleepy beachside town of Grand Bassam. But far from frightening most, the attack has triggered a mood of defiance and solidarity.
Most of the deaths occurred at the Etoile de Sud hotel, where people were tucking into lunches of grilled seafood the town is famous for. The youngest victim was 16-years-old, the oldest 78.
The attack, claimed by Al-Qaeda's north African branch, is the latest in a string of soft targets besieged as the sect attempts to remain in the limelight. Ivorians are countering back by posting images of everyday life in Bassam in all its splendor.
Ivory Coast has no history of religious extremism, so the militants are instead attempting to tap into old grievances against France, the ex-colonial power which maintains close links to the current government.
Rather than latching onto simmering resentment against the French, Ivorians have thrown back their fierce pride in their own culture as a response.
It only makes sense, as Ivorians are renowned for — and pride themselves on — their "joie de vivre," and some artists are using humor to skewer religious extremism behind the attacks.
And the recent attack is far from the worse Ivorians have seen. The country is drawing on the resilience that saw it rapidly rise from a decade of civil crisis — which periodically flared into outright conflict — that finally ended in 2011.
Analysts say that while the country needs to patch up security lapses, the increasing attacks on soft targets by isolated groups of gunmen can never be completely prevented. But people are returning to Bassam, documenting it all on social media.
Days after the assault, the government defiantly held a cabinet meeting in Grand Bassam. Several thousand people, dressed in white, took part in a solidarity march through the town as well.
Once a colonial capital, Grand Bassam is a popular getaway for Ivorians and foreigners alike. On weekends, crowds descend on its evocative crumbling colonial streets to enjoy grilled seafood and beachside music, and browse for arty trinkets.
"Never scared. Two fingers to the terrorists."
There have been diss tracks where dancers use popular moves to show they intend how they to dance their way through any troubling times...
And reminiscences of old time classics which were filmed on Grand Bassam's shores.
Gunning after soft targets is a tactic that's unlikely to go away anytime soon. It's long been favored by Al-Shabab jihadis on Africa's eastern coast. But ordinary Ivorians can also take inspiration from their continental cousins.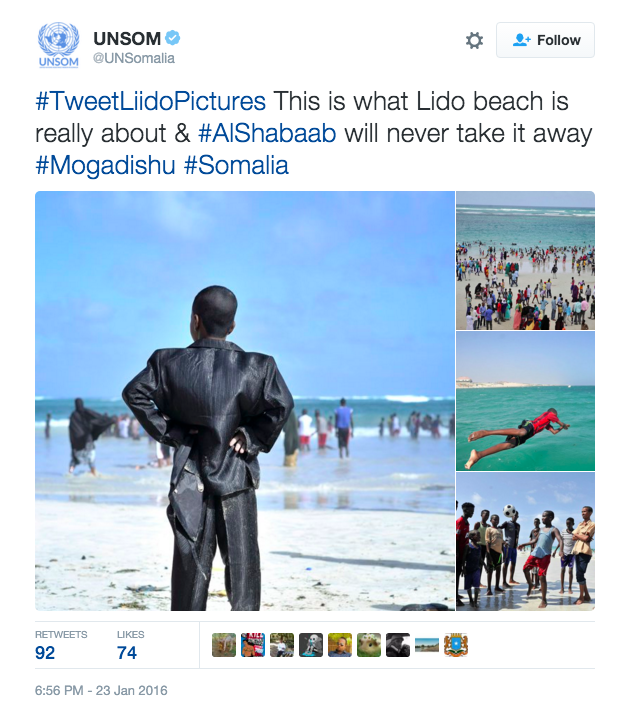 A week after the attack, there are plans to once again fill the beaches with a sit in on Sunday.
"We'll be back in Bassam for some good roast chicken in front of a seaside view."
These children sum it up pretty succinctly: "You've made us even stronger."