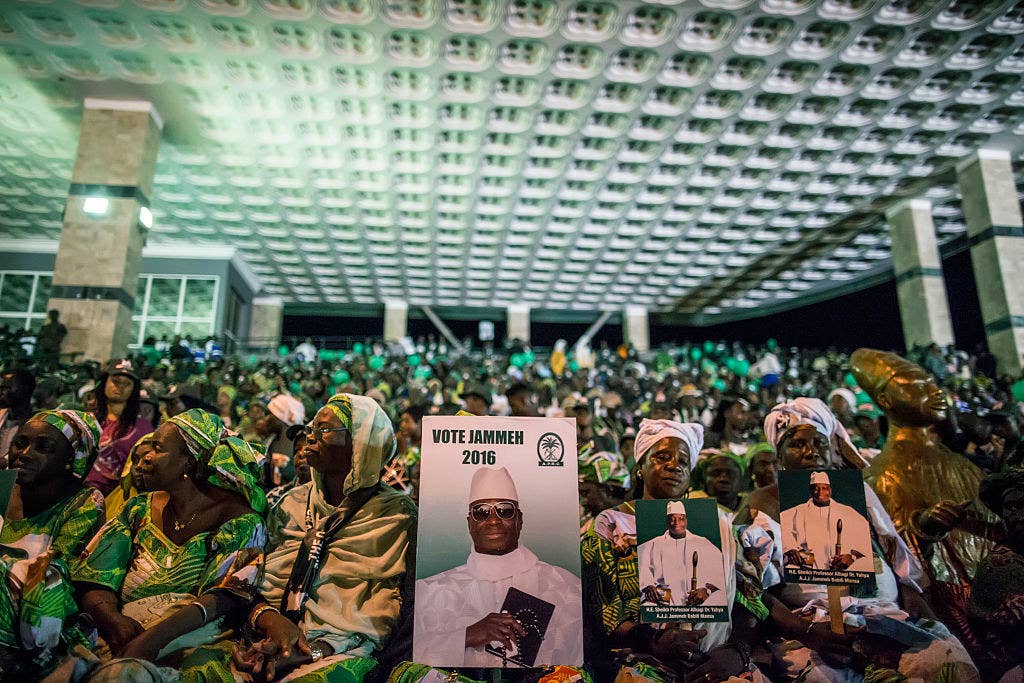 DAKAR — As a skinny, hot-headed teenager growing up in the Bronx, Ali Cham used rap as a safety valve to blow off steam about social injustices. He listened to Nas and Lupe Fiasco, and his own run-ins with the police inspired his lyrics.
Cham's friends called him AC. His Gambian parents, who'd moved to the US when he was 4, were disapproving when he added an E to the nickname and became Ace. Then he began skipping school to take part in rap battles, where friends would cheer him on. "Ace is a killer," they'd yell. By the time Cham started calling himself Killa Ace, his parents decided it was time to return home.
For a teenager stepping off a plane from New York, everything about Africa's smallest country was a shock.
"The situation in Gambia is crazy, especially if you come from an environment where you are free," said Cham, wearing his usual baseball cap over his crown of spiky locs. "You can't even have a conversation and say the president's name out loud without somebody becoming scared. You have to use codes to say the president's name."
That president, Yahya Jammeh, has ruled with an iron fist for 22 years. Gambians go to the polls on Thursday, but for the first time, they will have a credible opposition to choose from. Gambia has had only two presidents since independence in 1965, so the election raises the possibility of a third one finally being voted in. And for thousands like Cham who've fled the regime, the results could decide whether they can finally return home.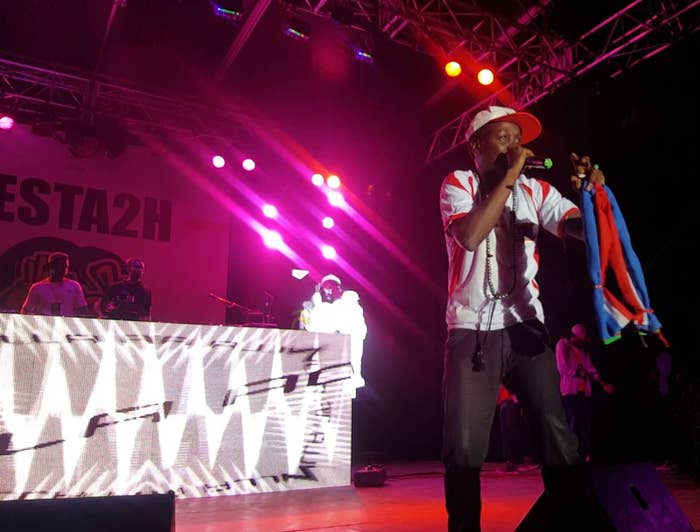 When he returned home in 2000, Cham threw himself into the nascent hip-hop scene. He featured in Gambia's first ever hip-hop compilation, set up a rare open mic night, released a solo album, and clinched his own radio show.
Fans were drawn to his rhapsodies on social ills and pan-African themes. Invitations to regional hip-hop festivals followed and he even chipped in to Nigeria's Bring Back Our Girls campaign by releasing a single.
But something was troubling him.
"I realized if I can do a song speaking out against a situation in another country, and I can't actually speak out against what's happening in my own country, it technically makes me a hypocrite, right?" Cham said in a recent interview in Dakar.
So, last June, he released a song about Gambia's own political woes.
"If you don't hear from me after this / you all know where I'm at and what's going on," he signed off on the track.
In one of the world's worst police states, it wasn't hyperbole.
"Ku Boka C Geta G" — a proverb in the local Wolof language that means "if you're part of the herd, you're entitled to drink from the milk the cows provide" — instantly went viral. Overnight, it was played 24,000 times on SoundCloud, where it was first uploaded.

Over a heavy, grime-influenced beat, Cham took aim at the corruption that has deprived ordinary citizens of everything from employment to food security to freedom of expression. "But the main foundation and pillar of the song is that we Gambians are part of the country and we have a say," he said.
It was a dangerous truth to preach under Jammeh, a megalomaniac who during his two decades in power has cultivated a habit of jailing citizens for far smaller acts of defiance. Those languishing in overcrowded jails include a man who set up a social media profile using Jammeh's name, another who lacked official permission to distribute T-shirts at a rally, and a third who failed to secure a permit to use a microphone.
"I knew what was gonna happen next," Cham said.
Within two hours of the song's release, he started receiving death threats from anonymous numbers. Officials turned up at his relatives' houses. He and his family packed their bags and fled to Dakar, Senegal's capital. They've been there since.
But the song didn't die with Cham's departure. Instead, it became more popular. In the biggest nightclubs of Banjul, the Gambian capital, crowds screamed when the song came on. Students used it as cell phone ringtones. It became the country's most popular hip-hop song, and a rallying anthem for change.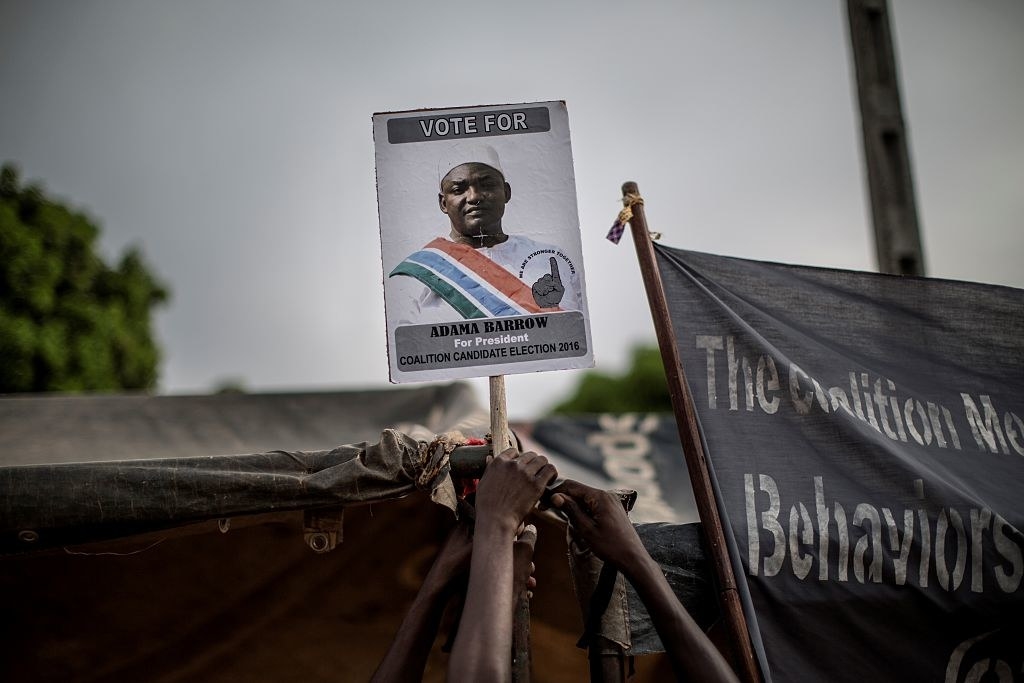 Adama Barrow, a real estate developer who once worked as a store security guard in London, is now the regime's biggest headache. Eight opposition parties have rallied behind him, which means the votes splintered among numerous candidates in previous elections could add up to defeat Jammeh in Thursday's election. The only other candidate is a former ruling party MP, who some see as a decoy meant to split the coalition votes.

"This is an election which I will call the final test to his dictatorship. And it's coming from the people's power. People are out on the streets. Nobody would have ever, ever imagined that," said Essa Bokarr Sy, a former ambassador to multiple countries in Jammeh's administration.
But challenging Jammeh comes at a high price.
The coalition's growing popularity has been matched by increasing arrests. At least three people have since died in detention, including a popular opposition leader. This month, two journalists were rounded up for broadcasting images of opposition supporters.
Jammeh has called for his own supporters to remain calm ahead of what he says is certain victory. Meanwhile, he's accused the opposition of being "evil vermin" who are being paid by Western governments to destabilize the country.
"I don't think that anyone is naïve enough to believe that a dictatorship that has entrenched itself for this long could easily be disposed of in a democratic election," said Sidi Sanneh, a former foreign minister who is now a US-based dissident.
"He's crude, he's rude, he's disrespectful, and he likes using force."
Still, he said this year would easily be the closest election since 1994.
What began then as a hopeful revolution has long since morphed into something bordering a caricature of dictatorship. Jammeh was a 29-year-old officer who was largely welcomed when he overthrew the president, the sole ruler since the country's independence.
"Some people were even dreaming of another [Thomas] Sankara," one of the continent's most revered post-independence icons, said Sy, the former ambassador, who didn't participate in the coup but had trained in the barracks alongside Jammeh.
In the early days after Jammeh took power, literacy levels rose. Roads and schools were built. Basic services taken for granted elsewhere were seen as privileges in a country that still languishes at the bottom of development indexes. Today, Jammeh has amassed a personal fortune while 70% of the population live on less than $2 a day.
"He's crude, he's rude, he's disrespectful, and he likes using force — that one I know — but the flamboyant lifestyle, that one surprised me. He never showed any signal of wanting to be flashy in the barracks. He preferred wearing simple fatigues. Along the way, I don't know what happened," Sy said in a phone interview.
Jammeh soon swapped military fatigues for flowing white gowns and a scepter, cementing his rule through a mind-boggling mix of calculated generosity, mysticism, and brutality. He threatened to "cut off the head" of gay people, and claimed he could cure a long list of maladies — from erectile dysfunction to a herbal mix that could cure HIV if applied on Thursdays. Human rights abuses piled up. He declared he would stay in power for a "billion years."
His most powerful weapon: convincing Gambians he is everywhere, all the time. The president's face adorns everything from billboards to bars of soap, telephone credit cards to hotel lobbies.
Enforcing his all-seeing eye is a feared private army, known as the "Junglers." Nicknamed the "black blacks" for their black fatigues and balaclavas, the group report directly to the president, and reportedly keep a list of regime opponents to assassinate.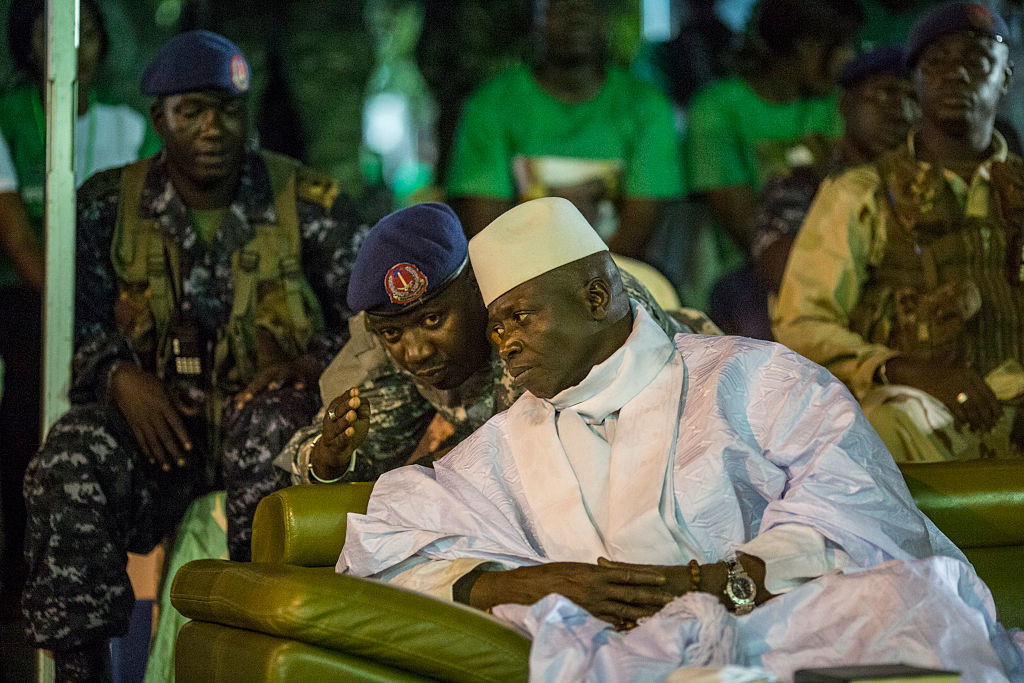 Cham, aka Killa Ace, is typical of two-thirds of the population who have only ever known life under Jammeh.

He's online a lot. He's unemployed. And he's also, like many, not a resident in the country.
Despite having a population of only around 2 million, Gambia saw more migrants flee to Italy at the beginning of this year than any other country in the continent.
If young people account for the bulk of those taking "the back way," as it's referred to locally, they're also the driving force behind those increasingly speaking out against Jammeh's rule.
"Gambians are starting … to have courage. He can't kill us all, obviously. He can't arrest us all," Cham said.
Gambia's sole neighbor and one of Africa's most stable democracies, Senegal has become a home for thousands fleeing the regime. BuzzFeed News spoke with several exiles in Dakar, some of whom agreed to speak only on condition of anonymity because they didn't want to endanger family members who are still in Gambia.
"He can't kill us all, obviously."
One of them had served time in jail without ever being charged; another is so traumatized by his frequent contact with Jammeh that he still changes location every few weeks in Senegal, convinced the president has sent his guards to kill him.
But everyone who spoke to BuzzFeed News agreed the anti-government rallies taking place were unlike anything they'd ever seen. "Before, my friends wouldn't even post the president's name on Facebook. Now I'm seeing people criticize him online," one said.
Another exile said that paranoia was most acute at State House, the official residence in Banjul, where the president frequently paced around in a rage. "It was just horrible. He's always angry. You never know why. He will call you bastard, call your mother a bastard."
Leaving Jammeh's inner circle — whether as a domestic worker or senior official — was dangerous.
"The very day I started work, I regretted it. It doesn't take you long to know that you're in the wrong place but you can't resign," a former civil servant said.
A security official recalled Jammeh storming into workers' quarters and pouring freezing water on the sleeping staff. "Another time I saw him come and start spraying insecticide on a security guard. He was screaming, how can he have three security guards and one of them is sitting down. I said [to myself] — this guy, is he human or what?"
Although few would deny that cracks are widening, Gambians are divided on whether Jammeh's regime can be split apart from within — if at all.
"The fear factor that exists among Jammeh's [inner circle] is more than the fear factor among the general population," said Sy. "Outside though, the fear factor has been removed; in part because of social media, people can see beyond the borders of Gambia."
Late in June, Cham sat on a cramped balcony overlooking a bustling street in a noisy Dakar district. In the room behind him, a slender woman lay on a mattress next to a sleeping toddler.

It was the end of Ramadan, and the city was celebrating. Cham had come to visit Sanna Camara, a Gambian journalist who is also living in exile. Camara's crime: publishing a report on human trafficking.
The two men drank tiny cups of sweet mint tea.
At dawn, Camara's wife and youngest child would take the bus back to Banjul, reversing the same journey her husband made on foot, in disguise, two years ago.
"I'd prefer them to stay here — it's not safe in Gambia, but I don't have the money here," Camara said.
There's a polite version of a saying in Wolof, one of several common languages in both countries, that refers to Gambia as "a banana shoved in the mouth of Senegal" — diplomatic bickering between the two countries centres around the outsized power Gambia wields as it effectively splits its much larger neighbor in two.
"Jammeh is a thorn in Senegal's side. But I think it's a case of preferring the devil you know. [Senegalese President Macky] Sall and his government's fear of who, or what, could be next in the Gambia if Jammeh goes likely outweighs their disdain for the status quo," said Joshua Shrager, a former US diplomat based in Gambia until 2014.
But Jammeh may have much more to lose.
In addition to common languages, similar cultures interweave between the two countries. Rappers are a powerful political force in Senegal; twice in recent years, a coalition of rappers, including Positive Black Soul and Y En A Marre (French for "fed up"), derailed attempts by the former president to tinker with the constitution and run for a third term.
From Banjul, Cham watched their movements closely.
"I realized there was a bunch of rap artists from Senegal, some were part of the Y En A Marre movement, they did a song speaking out against Yahya Jammeh. I realized that if brothers from Senegal can do [that], as a person who has been a victim of police brutality, a person that has a lot of friends that took illegal immigration to Europe and so on, I realized, it's just time. The time is now."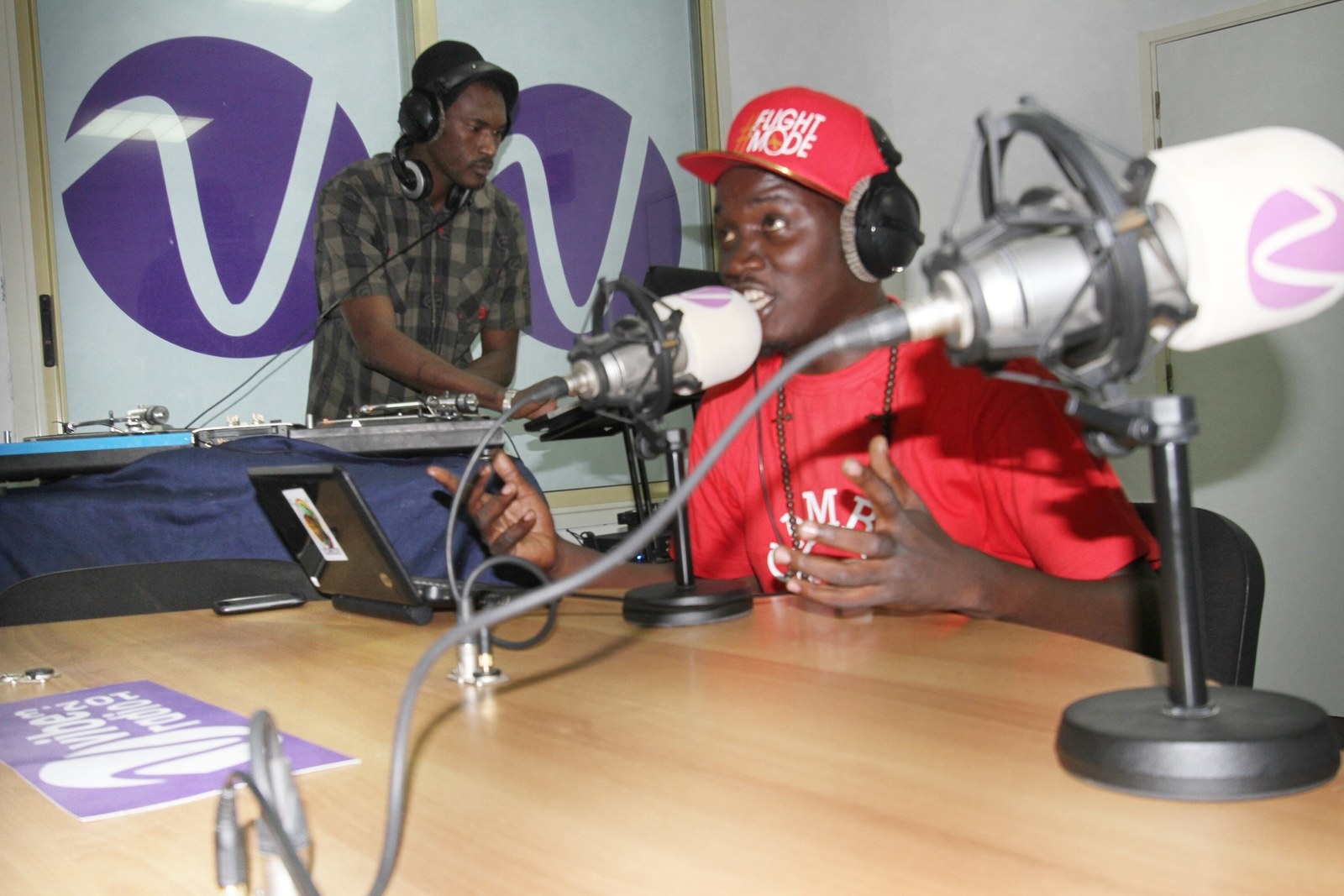 Soon after fleeing to Senegal, Cham appeared on a popular rap news show, called Le Journal Rappe, which broadcasts in both French and Wolof. This episode was dedicated to Gambia.
"OK, now, can you tell us about the freedom of speech in your country?" the presenter asked in French-accented English.
For saying the wrong thing you end up in detention
TV is controlled by his name I can't mention
Hey yo, it's crazy how we living out here
Cos we scared to speak our minds
Cos we really living in fear
As soon as you cross the border you feel it in the air
Since the beginning of this year, Jammeh has effectively closed the border between the two countries by imposing a blockade.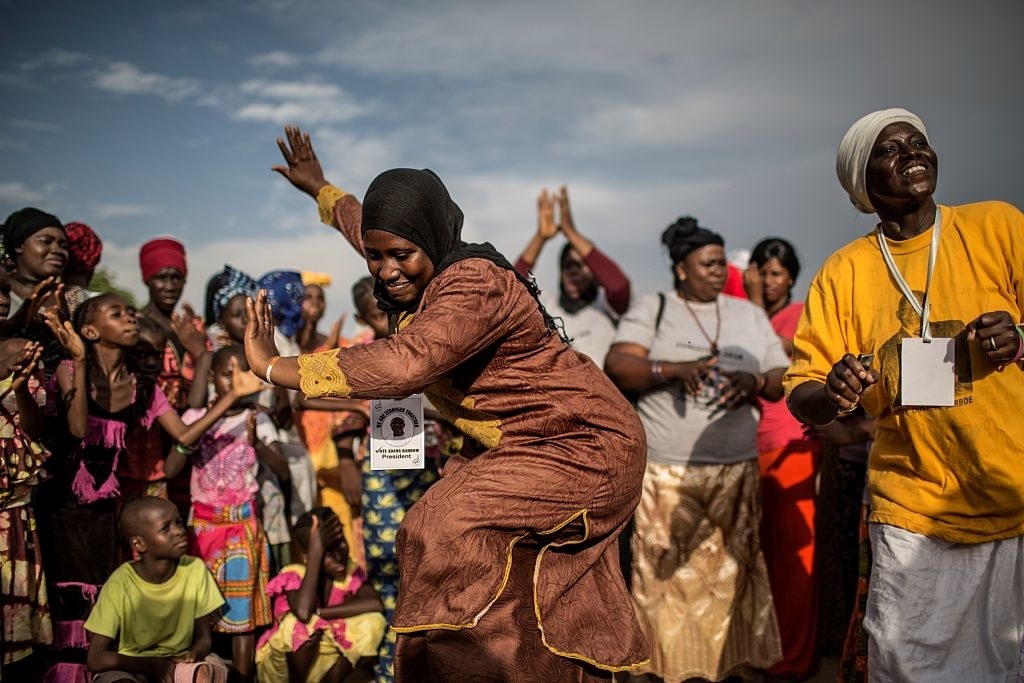 Frustration at a lack of legitimate avenues to challenge the president has made Jammeh the target of several coup attempts, include a bizarre "Rambo-style" plot in 2014. He's responded by cracking down ruthlessly. But some insiders hope that strategy may be running its course: Repeated purges have, they say, gutted much of his support.

"What he does whenever there's an attempted coup, whoever is strong in the army, he will always implicate you and then imprison you. But now it has reached a point where people are turning against him," said a former staffer who is now based in Senegal.
Officially, at least, most are still toeing the line. One minister has publicly claimed Jammeh will win 99% of the vote.
As tensions simmer beneath the surface, diplomats in Banjul are watching warily. The European Union has been banned from monitoring the elections, although an African Union delegation is in place.
Only a handful of Western embassies operate in Banjul, and all officials — Western and African — use secure means even for simple everyday communications. Some journalists said VPN services and encrypted apps like WhatsApp had been shut down since the beginning of the week.
One diplomat told BuzzFeed News the onus would be on continental officials to ensure a free and fair election. "If it gets ugly then the African Union and Ecowas [Economic Community of West African States] are the only ones who can do anything. Jammeh isn't going to listen to the European Union or the West," the diplomat said.
One thing is certain.
"There's no way Yahya Jammeh can run the Gambia of 2016 the way he was running the Gambia of 1996," said Sy.