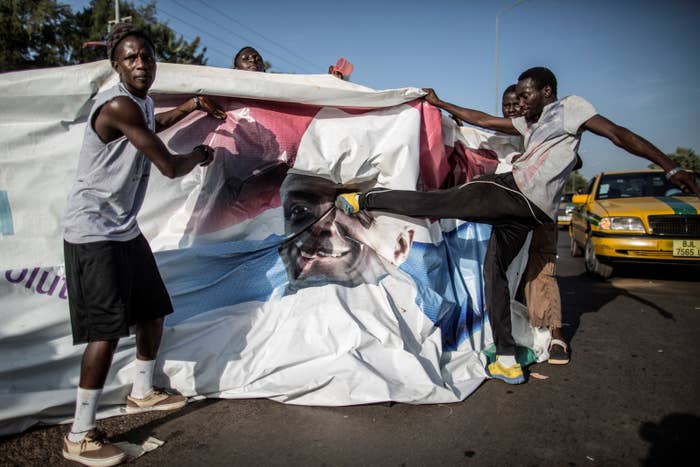 DAKAR — Just one week after conceding following a shocking electoral defeat to a resurgent opponent, Gambia's dictator on Friday said that the results should be voided.
Yahya Jammeh, an eccentric megalomaniac who declared he had a divine mandate to rule "for a billion years," lost in last Thursday's historic election, the country's electoral commission said. Sources told BuzzFeed News Jammeh initially rejected the results, until one of his top generals stepped in.

"The president is magnanimous enough to accept that he had lost the election, and he will call the new president to congratulate him as well as to pray for peace and tranquility," Alieu Momar Njie, the head of the electoral commission, told reporters at the time in Banjul, the capital.
Friday night, after several hours of silence, he appeared on state television to concede defeat and spoke to his rival, Adama Barrow, on a cellphone, vowing not to contest the results.
Barrow, a real estate developer who led the opposition coalition, told a crowd of supporters earlier during the day that he received a call conceding defeat from Jammeh.
"I hereby reject the results in totality," Jammeh said in his address. "Let me repeat: I will not accept the results based on what has happened."
In a possible effort to prevent a coup against him, Jammeh reportedly spent the last several days promoting dozens of officers inside the Gambian army. Sources inside Gambia also reported soldiers on the streets following Jammeh's announcement.

It's a swift reversal from a joy that many Gambians felt after Jammeh's loss, for whom the celebrations began early. Tens of thousands poured into the streets within minutes of the official results, celebrating a historic victory that should see the country inaugurate only its third president since independence in 1962. If things unfold constitutionally, Jammeh will hand the reins over to his successor in January.
Sankung Saho, an architect, was among those who had joined the parades in the streets. "I am a new person today," he said by phone from Banjul, as celebratory car horns screeched on background. "It's a new beginning, and a new hope for the future."
A new chapter of a different sort had unfolded at State House, the president's beachside official residence. A shell-shocked Jammeh raged against the results, two sources told BuzzFeed News. One staffer present at State House overnight said Jammeh held a meeting with the military top brass which was abruptly terminated as dawn broke.
"He wasn't willing to concede defeat at first. News of his loss came in at 3 a.m., then General [Saul] Badjie moved to strip the president's car of the national flag," a female guard at the State House who spoke on condition of anonymity because she wasn't allowed to speak to the press, told BuzzFeed News.
Saul Badjie is the head of the state guards, whose chief duty is to protect the president and his residence — and is considered one of the few who has influence over Jammeh.
Badjie was recently in the spotlight following a surge in anti-government protests in April and May. A crackdown on opposition supporters at the time saw dozens arrested, at least three of whom died in detention.
Jammeh was on an official visit to Turkey at the time and allegedly gave Badjie orders to shoot protestors. He refused, according to newspaper accounts at the time.
At dawn on Friday, Badjie told the state guards that he wouldn't accept violence following the results, and deployed several state guard units to "strategic districts," the female guard told Buzzfeed News.
As a 29-year-old who seized power in 1994, Jammeh promised to deliver a "coup with a difference." More than two decades later, the country languished at the bottom of development indexes and has been accused of repeated human rights abuses.
Still, after years of repression under an erratic autocrat, celebrations were tinged with dread. "I am overjoyed but my joy will not be complete until I hear him speak the words himself," Mariama Conteh said from Banjul.
In Dakar, the capital of neighboring Senegal, which has become home to thousands who've fled the regime, some exiles wept following the news of Jammeh's defeat.

Jahabie Bah, one of the exiles, said Jammeh's defeat meant he could finally return home after six years. "Honestly, I'm the happiest man in the world right now," he said, his voice shaking as he spoke. "The happiest man."