This Is What Africans Think Of The US After The Racism On View In Charlottesville
"When we talk of democracy and human rights, we usually talk about the US. Now we have people asking, but is that how people behave in a modern democracy?"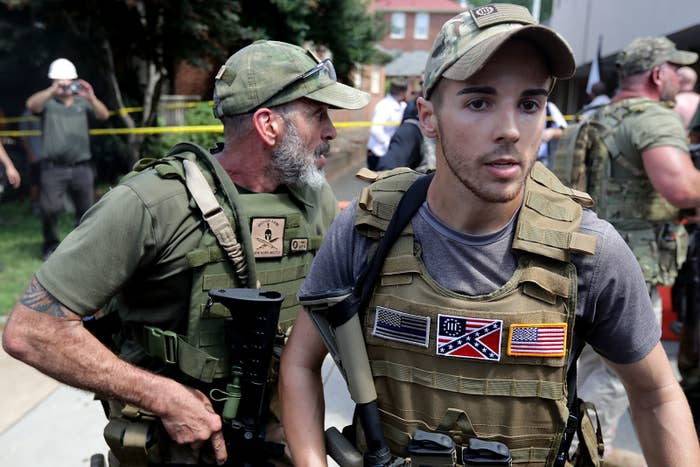 DAKAR, Senegal — For decades, a large swath of Africans have held the US as a symbol of global stability and, rightly or wrongly, a country founded on ideals of equality and abundant with opportunity.
The rise of white supremacists under President Donald Trump has bowled over those assumptions. With almost 70% of the continent aged under 25, and populations increasingly plugged into social media, events across the Atlantic are being followed more closely than ever.
Events like Charlottesville are "changing perceptions that some young African might have had that the US was a model of democracy and human rights," said Gilles Yabi, the founder of Wathi, a citizen-led think tank based in Senegal. "On a daily basis we see actions and situations that seem to underscore that the United States are not really in a position to give lessons in democracy."
Nowhere does Charlottesville resonate so strongly as in South Africa, a country that shares a similar history of white supremacist ideologies being written into law and enforced harshly. While race doesn't play the same role elsewhere in the continent, activists there who have fought against bitter divisions sown by hate speech worry events in the US could embolden those at home.
Johannes M., who was born in Johannesburg and grew up in Cape Town, told BuzzFeed News in a phone interview that he was hardly surprised when he learned about the white supremacists who had taken over Charlottesville in protest. Johannes, who is black, asked that his full name not be used out of concern for his safety.
The rally in Charlottesville was presaged by a push to remove statues honoring members of the Confederacy and the resulting backlash from white nationalists and other racist groups. The situation reminded Johannes of the Rhodes Must Fall movement led by students at the University of Cape Town, who fought for the removal of the campus's statue of Cecil Rhodes, a British colonialist they say championed racism and ultimately paved the way for apartheid in South Africa.
What perplexed him was the protections that freedom of speech appeared to be afforded to the groups protesting.
"If there was a surprise, it was the fact that the neo-Nazis and [Ku Klux Klan] can protest and demonstrate," the 34-year-old said. "I would presume it's within this sort of freedom of speech," he said, but added that free speech should make exemptions for hate speech. "Neo-Nazis and what they're protesting against amounts to hate speech."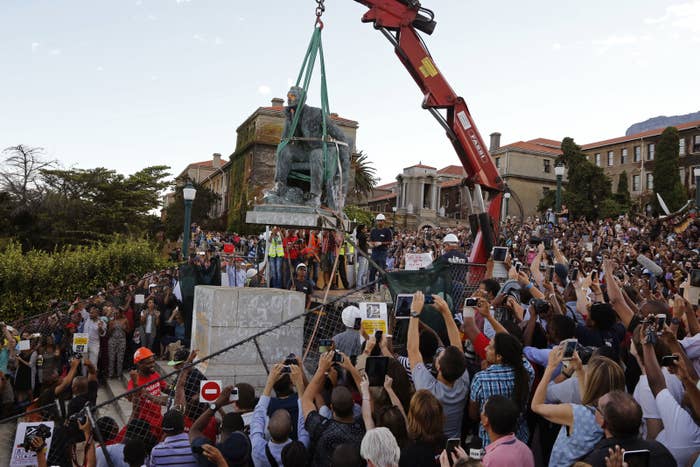 Johannes also noticed key similarities in the seemingly contradictory messages from both American and South African governments in the ways they deal with the history of slavery.
"Slavery ended, and they [said] equal rights for everyone, yet you have these statues of people like Robert E. Lee who symbolized ideologies that the Constitution is explicitly against," he said.
"On the one hand, you're saying this is wrong, yet you're still allowing these symbols to exist in your society."
The other major surprise, Johannes said, was Trump's initial response to the riots, and his clear reluctance to call out white supremacists.
"He was blaming everybody," Johannes said, a reference to Trump's brief speech on Saturday in which he called out "bigotry, racism, and violence on many sides" of the riots.
Many people, including politicians from the US Republican Party, were furious with Trump for refusing to denounce white supremacy in his speech. In a follow-up speech on Monday, Trump was slightly more explicit. He said that racism was evil, and that "those who cause violence in its name are criminals and thugs, including the KKK, neo-Nazis, white supremacists, and other hate groups that are repugnant to everything we hold dear as Americans."
Politico reported on Tuesday that Trump purposefully ignored a set of prepared remarks on Saturday that hewed closer to his second speech. Trump later in the day, at a press appearance meant to be focused on infrastructure, said that the press had treated those at the rally unfairly, condemning the media for not speaking out about the left-wing violence that took place.
"It's ridiculous. You have to denounce racism. That should be echoed by the president, in my opinion," Johannes said.
Johannes acknowledged that he understood why white supremacists in the US and some South Africans would be offended by others' wishes to remove the statues of people like Lee and Rhodes.
"Where does that leave society if the Constitution is just a bunch of letters on a piece of paper that don't account for anything?"
"By removing it, they think that their history has been erased," he said. "It makes it a very complicated situation to deal with. You do need to listen to the other side, regardless of what they believe in and you don't. But if your government has rejected that ideology, then there's no place for those symbols in society.
"Where does that leave society if the Constitution is just a bunch of letters on a piece of paper that don't account for anything?"
Artists and activists across the continent say they've found themselves in a strange role reversal in recent months.
Tucked into Africa's western coast, rights activists in Ivory Coast see disturbing echoes in the rise of hate speech, which stirred simmering discontent ahead of a civil conflict in 2002. The country is still recovering from the fallout of a conflict that lasted for five years.
"What's happening in the US is really discouraging," said Bamba Sindou, who heads an Ivorian national umbrella group of civil society organizations that's known by its French acronym RAIDH. "When we talk of democracy and human rights, we usually talk about the US. Now we have people asking, but is that how people behave in a modern democracy?" he said by phone from Abidjan.
At worst, some fear, the Trump administration could be a boon for those who say it represents the limits of democracy. Satirists in Kenya have gone so far as to issue mock "travel warnings" for black Africans heading to the US. Recent headlines — ranging from accusations of nepotism to the president's top spiritual adviser openly advising on policy-making — are unnervingly familiar in many fragile states on the continent.
Even as far afield as Central African Republic, where more than 5,000 have been displaced during almost five years of hate-fueled conflict, Charlottesville was making headlines. In a country that's barely held itself together during almost five years of violence, Didier Kassaï's cartoons in national newspapers frequently skewer those who've risen to power through promoting hate speech.
"For so long, the US was a model, and a country that we followed closely," he said by phone from the CAR's capital of Bangui, where he said news of Charlottesville had trickled into most homes.
"Since Trump's arrival, we no longer see it as a dream country. For a country which recently elected a black man to now be in a place reminiscent of an era when the Klu Klux Klan was able to crush African-Americans — it's like the US's ray of light has gone out on a global stage."