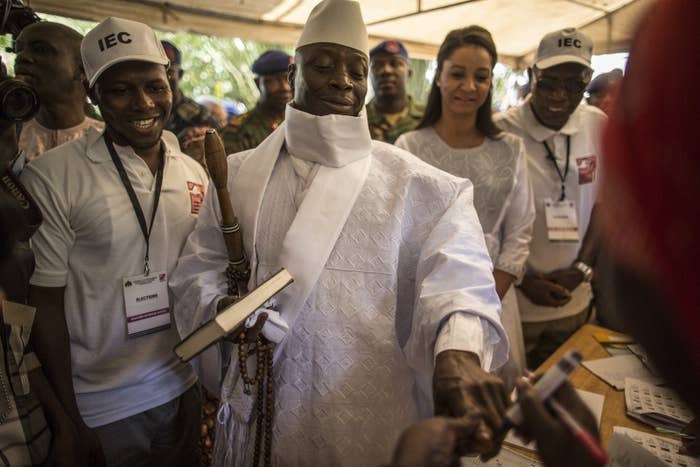 DAKAR — Yahya Jammeh, the long-ruling autocrat of Gambia, rushed through an internet blackout hours before voting booths opened for the presidential election on Thursday, sources told BuzzFeed News.
On Wednesday night, as Gambians began sharing advice on how to get around an internet ban, web access and international phone lines were completely shut down in the West African country. Since then, the outside world has been cut off — and the electoral commission page has gone offline — during an election many citizens feel offers a credible opposition for the first time since Jammeh took over 22 years ago.
A Gambian journalist and a civil servant, both based in Banjul, the capital, told BuzzFeed News that Jammeh had personally issued a directive to block the internet an hour before Thursday's polls opened. Access was abruptly curtailed around 8 p.m. on Wednesday. The election results are expected on Friday, and the president's directive ordered restrictions to be lifted only at midday on Saturday, according to the civil servant, who spoke on condition of anonymity because they weren't authorized to talk with the press.
Some efforts to shore up crumbling infrastructure means Jammeh still has supporters, and thousands of them sang and clapped at his final rally this week, where he said his victory was "divinely ordained." Still, post-electoral demonstrations — even peaceful ones — would not be allowed "because those are the loopholes that are used to destabilize African governments," he said. "Our election system is fraud-proof, rig-proof, you cannot rig our elections. There is no reason that anybody should demonstrate."
A handful of Gambians appeared to have circumvented the internet ban, and photos on Twitter showed long, peaceful lines at voting booths.
Although Thursday's vote appears to be unfolding smoothly, opposition campaigners say they're more concerned about other factors that have vastly tilted the playing field in Jammeh's favor. He maintains an iron grip on the electoral commission, and while there is only a brief two-week campaigning window, the president's face adorned billboards across the country throughout the year.

Gambians vote with a unique system where marbles are dropped into metal drums that represent each candidate. The system was devised to help get around low levels of literacy.
Essa Bokarr Sy, a former ambassador in Jammeh's administration, recalled how he found out the president had ordered tens of thousands of marbles from Taiwan, where he was stationed as an ambassador in 2001.
"Now ordering new marbles isn't a crime. Jammeh's excuse was something about the color of the marbles. But marbles are marbles; what matters is to press them through the hole. If he was being transparent, why would he jump over the ambassador? Why would he sideline officials?" Sy told BuzzFeed News in a phone interview from the US, where he is now based.
Gambians are by no means surprised to have their internet access curtailed, although it's the first time the entire network has been shut down.

Sporadic blackouts throughout the year have accompanied crackdowns even when there are no restrictions. Ali Cham, a hip-hop artist known as Killa Ace, was forced to flee the country after his track criticizing the president went viral, while an opposition party supporter was fined $1,250 for using Skype to send coverage of a rally to an online publication abroad.
"We use VPNs as a matter of course, when it comes to any discussion that even includes the president's name," a diplomat in Banjul told BuzzFeed News.
Gambia's election day shutdown follows in the footsteps of continental neighbors including Ethiopia, Zimbabwe and Uganda. But African governments — like their western counterparts — have increasingly been cracking down on social media, even outside of often tense electoral season.

BuzzFeed News contacted three embassies in neighboring Senegal, all of whom said their counterparts in Gambia were unreachable. "Usually the voting is peaceful but this is an unusual election so we cannot discount anything," one embassy official said.


CORRECTION
This post has been updated with a new tweet that shows Gambians lined up to vote on Thursday. An earlier version embedded a tweet that wasn't from Thursday's election.