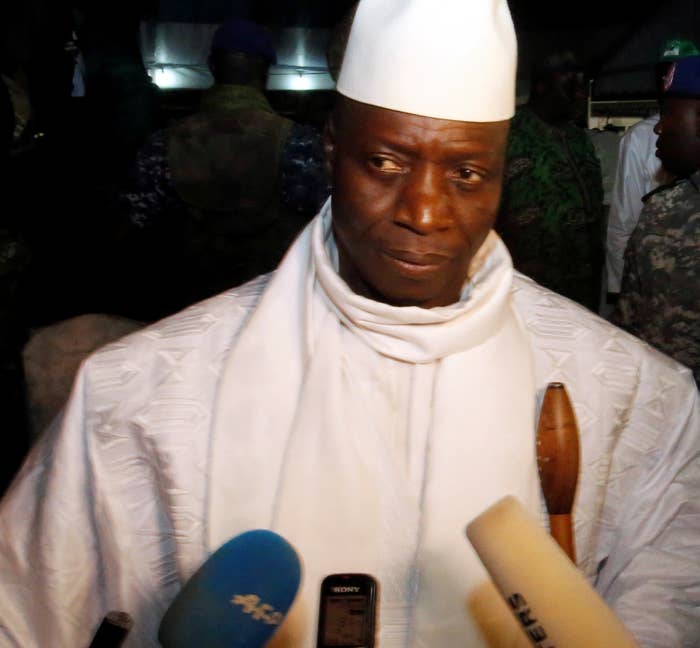 DAKAR, Senegal — Gambia's longtime president has begun recruiting mercenaries with ties to other West African regimes in the wake of his stunning election defeat, sources tell BuzzFeed News.
President Yahya Jammeh is ignoring regional pressure to step down and recruiting foreign fighters as he faces one of the biggest tests in his 22 years in power, according to an ex-soldier being recruited and a West African intelligence official.
Jammeh, an eccentric megalomaniac best known for claiming to have invented a homemade herbal cure for AIDS, made a dramatic U-turn a week after losing the Dec. 1 election. After initially conceding defeat, he pledged to stay in power until a recount in a bizarre televised address. His appeal of the election is due to be heard on Jan. 10 by the Supreme Court, which hasn't heard a case in years.
"Jammeh is ready to fight to the teeth and spend money to stay in power," said a former Liberian army commander who asked not to be identified for his safety. The commander — who fought for deposed Liberian dictator Charles Taylor before later working as a mercenary during decades-long conflicts in Sierra Leone and Ivory Coast — described an effort across the Liberian diaspora in West Africa to recruit former soldiers and rebels.
The reasons Jammeh's forces are recruiting mercenaries remain unclear in the authoritarian state, which briefly blocked the internet for its 1.9 million citizens after the vote and has since forced at least two private radio stations to shut down and arrested several outspoken opposition supporters. Jammeh could be amassing these ex-soldiers to help him resist calls to be taken to court for his alleged crimes and abuses in power. Or he could be plotting an attempt to remain in power by force.
"There's about 20,000 decommissioned [Liberian] soldiers and rebels throughout Liberia, Ghana, Sierra Leone, and Ivory Coast," said the former commander. "They're all very poor and living in refugee camps so many will take any chance to make some money with the skills they have, which is fighting."
"They don't care what side of a fight they are on and will work with former enemies, nobody cares about this as long as they're getting paid," he said. "That's all that matters."
The effort has been led by a former Liberian general and one-time Taylor loyalist who has recruited ex-fighters for other conflicts in West Africa and personally met with Jammeh in Gambia in mid-December, according to the former commander, who was briefed on the meeting by the general.
In that meeting, the commander said, Jammeh offered to hire as many fighters as could be delivered from the Liberian diaspora as a backstop to any efforts by the international community to enforce the outcome of the election that deposed Jammeh.
"There's a vast recruitment of ex-Ivorian militants and Liberian mercenaries underway, headed by former officers of Charles Taylor," a senior intelligence officer in Ivory Coast told BuzzFeed News by phone. "These recruitments are taking place in southwestern Ivory Coast, around San Pedro, Grabo, Tai, and Toulepelu." The towns mentioned are on or near a porous border with Liberia, where mercenaries frequently slipped in during Ivory Coast's own 2012 civil conflict.
"There's between 300 to 400 people who have signed up for a fee ranging between $100 to $300 a day," added the intelligence officer, who said Ivorian officials were "working out how to stop them."
Gambia's Information Minister Sherrif Bojang did not respond to requests seeking comment by Thursday.
The recruitment drive could entice many ex-soldiers from West African conflicts, for whom Jammeh's cash would be a windfall.
"There is talk in the ex-fighters circle of going to Gambia, even if they haven't actually been solicited yet. It's an opportunity to fill up pockets — there's not much to do around these days," said Kone Kader, a former Ivorian militant.
The recruiting activity has been brazen enough to come to the attention of West African experts and analysts outside the region.
"Credible sources in the region have been telling us for a few weeks now about the efforts by Jammeh to recruit former Liberian fighters loyal to Charles Taylor," said Alex Yearsley, managing director of Martello Risk, a political risk consultant group based in the UK.
"These battle-hardened mercenaries are actively recruiting," said Yearsley, who previously worked as a human rights investigator for Global Witness and other clients specializing in African issues.
Meanwhile, Jammeh's attempts to persuade Senegalese separatists in the Casamance region to join his cause have so far been rebuffed, a security source within the Gambian presidential palace told BuzzFeed News.
"They have refused to fight for Jammeh," a top security source close to Jammeh said in mid-December." The rebel fighters from Casamance made it clear they will not take up arms for Jammeh. The other mercenaries contacted in Bissau Guinea also said the same.
The recruitment of mercenaries is certain to fuel unease in the tiny West African country, where a transition is scheduled to take place on Jan. 19. Jammeh, who seized power in a coup, is only the second person to hold power since the country's independence in 1965 and there is no political precedent for a peaceful transition of power.
Gambia has a standing military of roughly 1,000 troops, which Jammeh could easily confront with mercenaries, while his core of presidential guardsmen have superior arms and are handpicked for political and tribal loyalty. In addition, the head of the army, General Ousman Badjie, pledged his support to Jammeh within weeks of the disputed election.
Ecowas, a regional organization of 15 countries, has said it stands with President-elect Adama Barrow. After Jammeh continued to dig in following mediation efforts, the body said it would take "all necessary actions" to resolve the impasse. Senegal, which surrounds Gambia on all sides but an ocean border, has troops on "alert," the commission's chairman said.
Another scenario could see a repeat of a bizarre situation that ensued during regional neighbor Ivory Coast's 2011 election. Then, the incumbent also tried to tinker with results after a shock defeat, eventually refusing to step down — leading to two presidents entrenched in separate parts of the capital for five months until the opposition candidate's forces, backed by those from the UN and France, arrested the country's president.
Jammeh's decision to reject the results came after one opposition coalition member vowed to bring charges against him for alleged crimes against humanity during his 22-year reign.
"The diplomatic route is ongoing, and we must give it the space to operate in," said Lamin Tunkara, an executive member of the coalition opposing Jammeh. "Certain pronouncements can only add fuel to the fire."