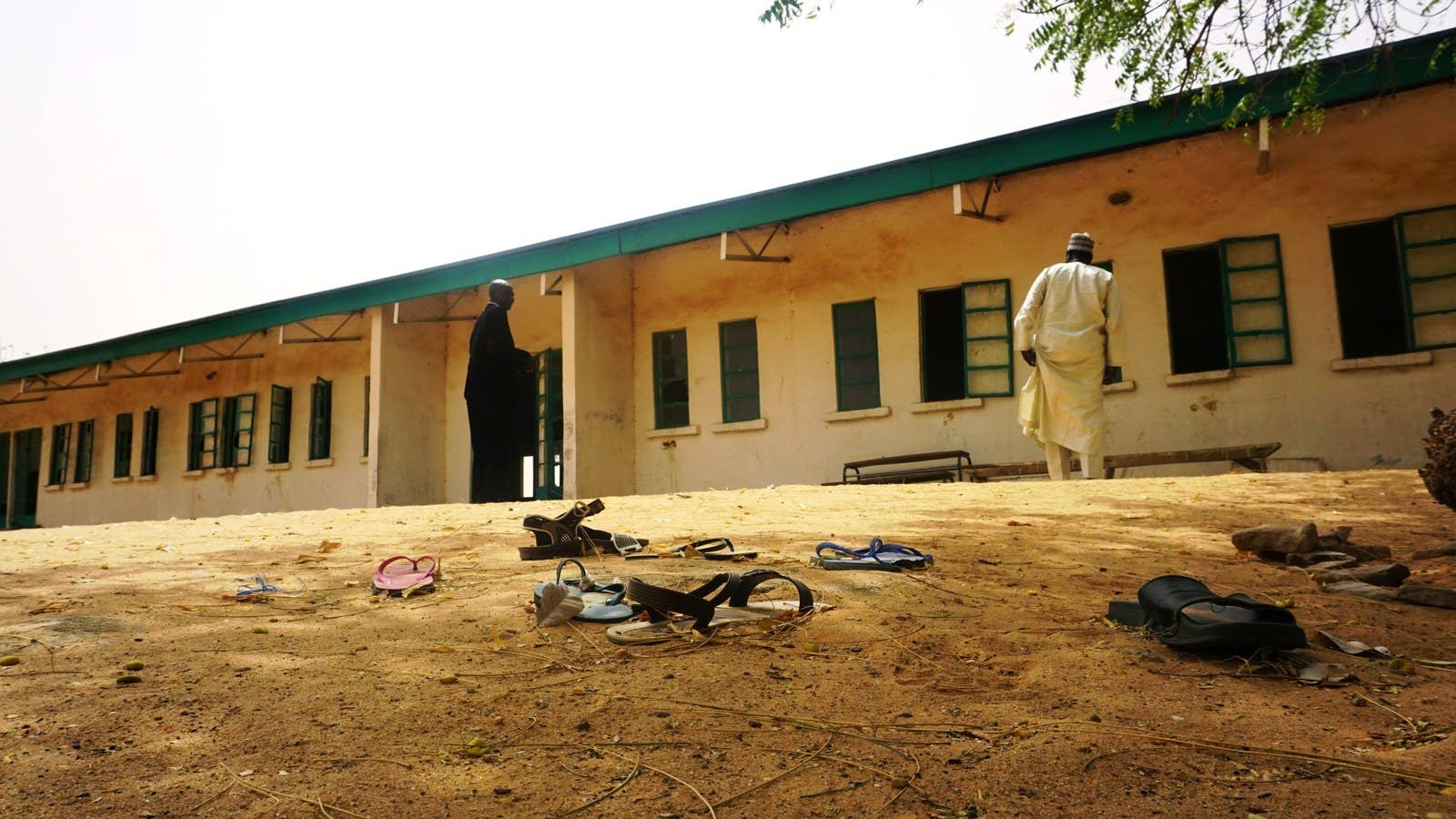 DAPCHI, Nigeria — This much everyone can agree on.
Just after sunset on the night of Feb. 19, a truck full of armed men rolled into Dapchi, a speck of a town in the vast semi-desert plains of northeastern Nigeria.
Mounted with machine guns, the truck sped along the town's single paved road to its destination — a squat yellow building with a green roof. This was the residential block of Dapchi Girls Science and Technology College, a government-run school where dozens of girls aged 10 to 18 were preparing to settle down for the night. The truck's armed occupants jumped out. They raised their AK-47s, screamed "Allahu akbar," and began pumping bullets into the air.
When the schoolgirls came streaming out, the gunmen bundled them into the truck and took them to their hideout in a swampy border region around Lake Chad — three days' drive away. All told, 110 girls and one boy were taken that night.
But then things took a peculiar turn, laying the groundwork for a host of conspiracy theories.
One month after the mass kidnapping, the militants rolled back into Dapchi and brought back the hostages — all but six. (Government officials gave various figures of how many hostages were released, from 76 to 107.)
When the 104 girls and lone boy climbed down from the trucks, they were covered in dust from the road but wore bright, neatly pressed clothes and new shoes. Their abductors were in no hurry, clearly unafraid of being caught. They gave the astounded residents who had gathered in the main square a religious sermon, warning them never to send their girls back to school. They then loitered in front of the town's police station to change a burst tire, eyewitnesses told BuzzFeed News, before disappearing once more into the surrounding bush.
The whole episode had been strange from start to finish. No one had claimed the kidnapping, and the abductors never made any public demands. Unlike during Nigeria's most infamous kidnapping — when 276 girls were snatched from Chibok, launching the #BringBackOurGirls movement — there was no boastful video, no contact with the media, and no proof of life ever given.
Up until the Dapchi girls were suddenly returned, no one had seriously questioned that the turbaned gunmen that night in February were militants from Boko Haram, a group whose nine-year-long quest to carve out a caliphate has left more than 30,000 dead across northeast Nigeria and the region. Time and again, the sect has targeted educational institutions, and girls' schools in particular.
But after the girls from Dapchi were returned the questions came thick and fast. How, almost four years since Chibok, had there been a mass schoolgirl kidnapping again? How had Boko Haram, a supposedly defeated ragtag group of insurgents, been able to fly the girls around in planes, as some newspapers reported? Equally mystifying was the government's claim that the children's release had been secured with just one condition from their abductors — that the kidnappers could return the hostages to the town themselves without being captured or coming under fire.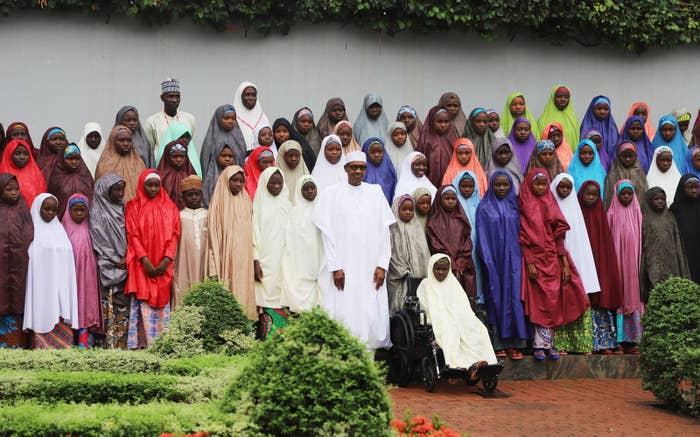 As rumors and counter-rumors swirled, the theory the abduction was a government con job gathered force online. The most outlandish theory posited that the militants who kidnapped the girls were actually government agents disguised as Boko Haram extremists. Others went so far as to say some of the students never existed. In a country whose 180 million population is split roughly in half between Muslims and Christians, the truthers fell on both sides of the religious divide, and could be found even in Dapchi.
Those shouting the loudest that the government had carried out the abduction were, unsurprisingly, opposition figures, and in another time might have been dismissed as partisan rabble-rousers ahead of elections in 2019. That would be nothing new — when the Chibok girls were taken in 2014, trutherism reached the highest levels of government, with the then-president's wife claiming the abduction was part of a smear campaign designed to unseat her husband.
But this being 2018, a year in which Nigerians learned the data firm Cambridge Analytica ran a campaign intended to portray the president as a Boko Haram sympathizer, the conspiracies have taken on virulent proportions. The story of the Dapchi kidnapping is an extreme version of something happening across the globe — it shows what happens when citizens don't trust their government, and the idea of an objective truth is fractured along partisan lines. The notion of "alternative facts," newly introduced to the West by the Trump administration, is one that's been peddled for years by politicians in Nigeria, rushing in to fill a vacuum created by fear and discontent.
The US has seen its fair share of conspiracy theorists spring up in the wake of tragedies like the shootings at Sandy Hook and Parkland. But in the West, hardcore conspiracy theorists tend to remain a fringe who are clearly deflecting their own fear of random chaos on to the grieving relatives of murder victims. In Nigeria, trutherism is instead a logical conclusion to the numbness of repeated tragedies — Boko Haram is just one of several insurgencies ravaging the country — and failures of government. Rather than debating why such atrocities continue to happen, truthers zoom in on how an event was staged.
How have millions of Nigerians become convinced that their own government — still dogged by the #BringBackOurGirls campaign to return the Chibok girls — staged a mass abduction?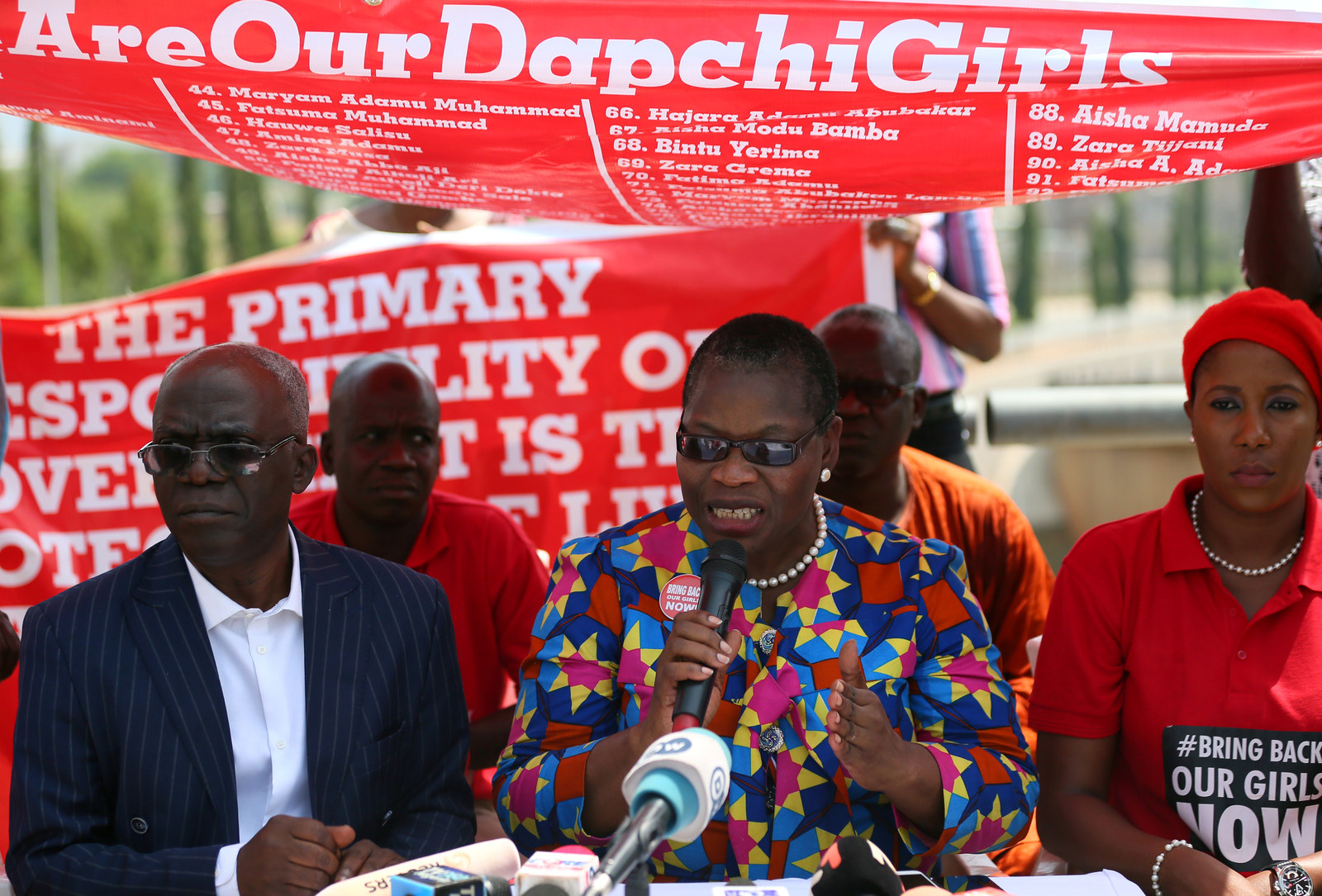 Lawan Ibrahim had just heard the call to prayer when his phone rang that night in February.
A panicked friend from Gumsa, a scattering of mud huts 6 miles from Dapchi, warned him he needed to leave the town immediately. "Those boys, Boko Haram, are heading to Dapchi. Inform security those boys are coming," his friend told him.
Ibrahim had barely put the phone down when he heard shooting. "I just started running," he told BuzzFeed News in Dapchi in early April, gesturing at the scrubby desert surrounding the town. "From there I called the soldiers, I tell them those Boko Haram are already in the town," the 31-year-old tuk-tuk driver said.
Ibrahim was one of at least five people who say they called the security services. But the gunmen were still able to drive unimpeded to the school dorms. Inside, ninth-grader Hajara Abubakar was lying on a friend's bed, gossiping, when the shooting started. Hajara joined the throng of screaming schoolgirls rushing into the night. It was pitch black outside; although Dapchi, with a population 15,000, is a relatively prosperous market town, only a few houses have generators.
Outside she saw a friend of her father's screaming at them to hide inside the building. "Go back, go back!" she recalled him saying, mimicking his frantic gestures.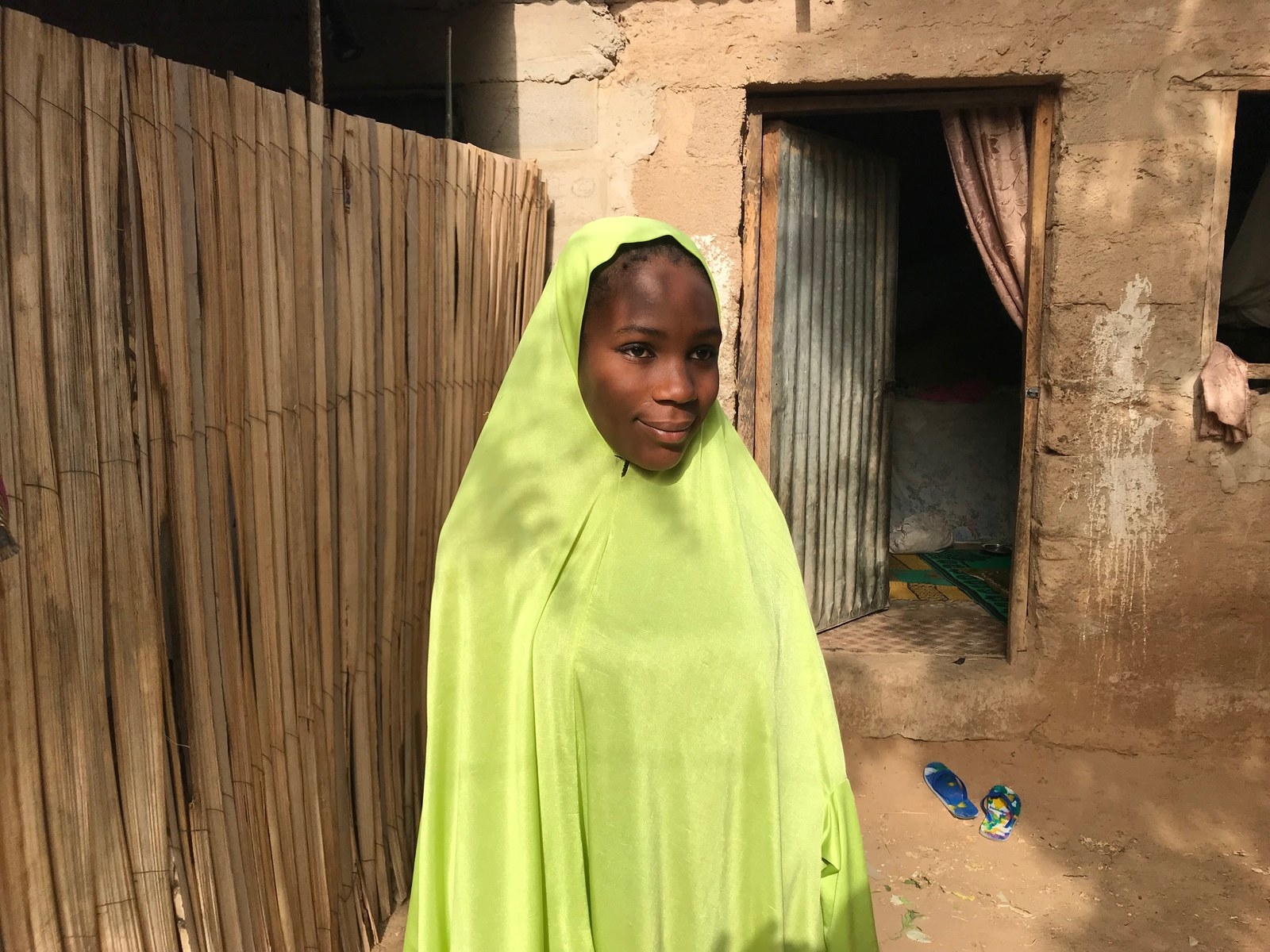 Speaking to BuzzFeed News three weeks after her return, Hajara wore an emerald green hijab that matched her sparkling eyeshadow. In the family compound, a toddler sat on her grandmother's lap and chickens pecked nearby.
Hajara recalled how on the night of the abduction, she ran into the streets in panic. The only light came from the glow of the butcher's open roast pit in the town center, where a crowd was milling around in confusion. As Hajara stumbled toward them, she became aware of the truck pulling up behind her. A man leant out and uttered a chilling command: "Get in."
In the dusty interior of the truck, she made out three classmates: Maimuna, Mala, and Hafsat. They were too scared to speak, shaking with fear as the gunmen repeatedly reassured them they were in safe hands. Before leaving the town, the truck stopped in front of the general hospital, a small whitewashed building, and the men emptied its meager pharmacy of medicine.
They also grabbed bottles of water from the cooler there and tossed them to the girls. "To break your fast," the men said.
Packed into a single truck, many of the girls had been fasting since dawn, in a bid to bring good luck ahead of upcoming exams. A scramble ensued. "It was a jungle. I just fought my way to the top," Hajara recalled.
They drove for hours, and by the time they stopped, five girls had died of asphyxiation, Hajara said. The militants buried them in a single grave in the scrubland miles from anywhere. Then they began pulling out supplies from the front of the truck: rice, seasoning, peppers, onions, groundnut oil, firewood, and pots. They instructed the girls to cook a meal, within sight of their friends' graves.
Overhead, the hum of an aircraft — Hajara had only ever seen them on TV so she couldn't tell whether it was a plane or helicopter — faded in and out throughout the night. If it was the Nigerian army and they didn't see them, she thought, would they ever be found?
"I didn't allow myself to think of the Chibok girls."
Dawn was breaking on the horizon when the girls finished eating. The militants said that they didn't move in the daytime, when they might be visible.
For the next three days, the militants took the girls further from home. Finally, after wading across streams and crossing rivers in canoes, the group disembarked on a grassy island shore where the militants then planted a large black flag. Behind it, trees formed a canopy of shade. Hajara knew from the thick-trunked, green-leafed trees — nothing like the spindly, spiky desert ones back in Dapchi — that she was far from home. Later, she would learn they had been taken to Tabichadi — meaning "waters of Lake Chad," an island-strewn lake that spans Nigeria and neighboring Chad, Cameroon, and Niger.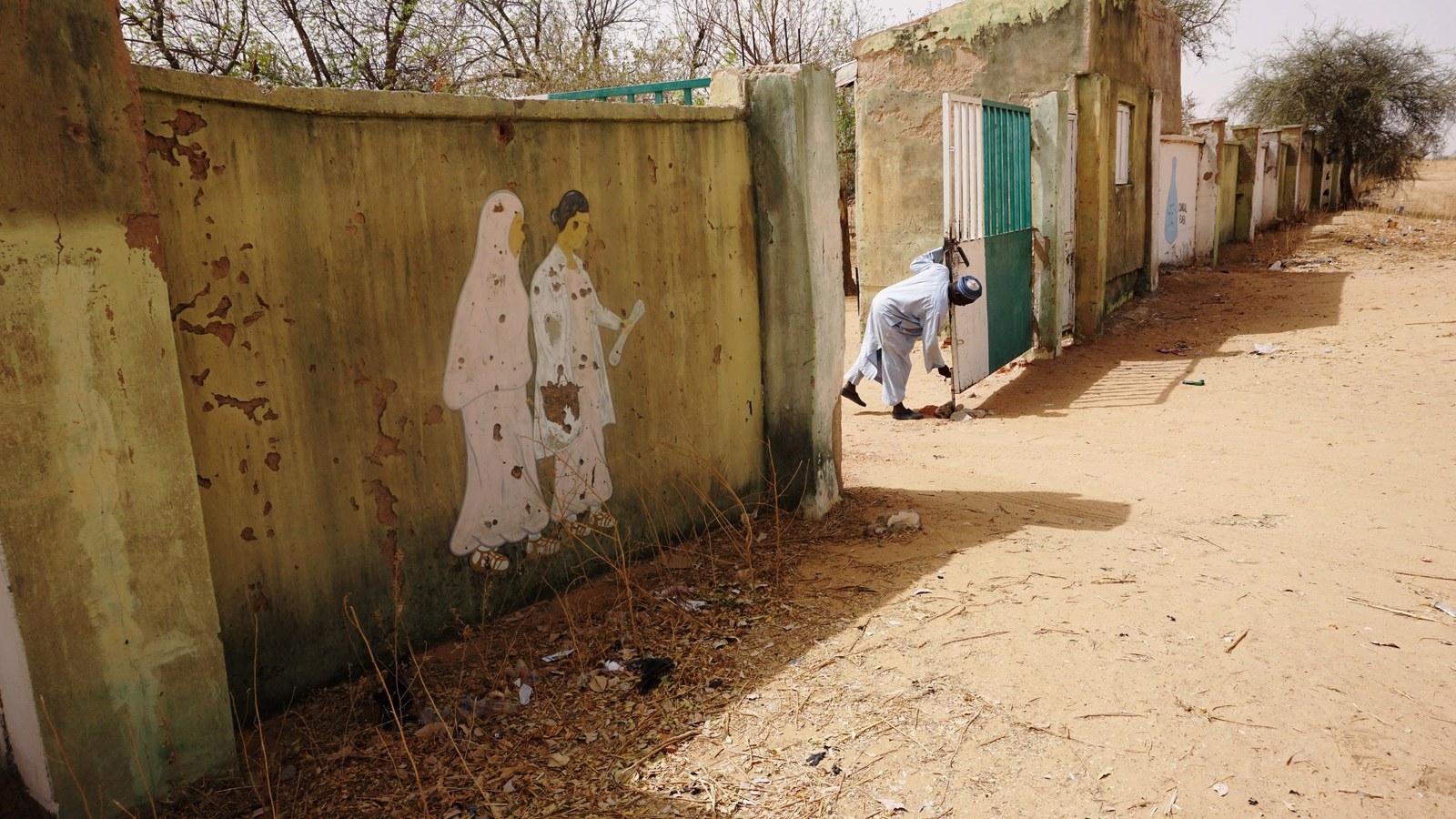 Usman Maisamari witnessed the surreal moments when the girls suddenly returned home, a month after their kidnapping. On March 19, he was lounging under a tree by the roadside in Dapchi when a truck sped in. Maisamari took one look at the poorly applied camouflage paint and immediately sat up — it clearly wasn't an army vehicle.
Maisamari had been on edge for several days. As a retired civil servant who'd once advised the state governor, he still kept in touch with colleagues, and had received an unexpected phone call a few days earlier. On the line, a government adviser told him "to keep an eye out" for Boko Haram.
Maisamari now remembered the puzzling phone call.
"If not because I'm too elderly, I would have run away," the 65-year-old said, pointing to the corner where the truck arrived, just a few dozen yards away from his own home.
The men wore plain green military fatigues, and only their eyes were visible through the matching coverings on their faces.
"They said, 'No, no, we're not coming to fight you,'" Maisamari recalled. "'We have brought your daughters. So instead of you to run, it's better you people thank us.'"
"So I said, 'Okaaay, if that's the case,'" he said, clapping his hands together and feigning a bow of obsequious gratitude. "You know, I have to thank them, even if I hate them internally."
Maisamari approached the man who seemed to be their leader and asked if all the girls were going to be returned. "They said, 'Yes, you can see them. We didn't know that they are all praying,'" meaning that they were Muslims.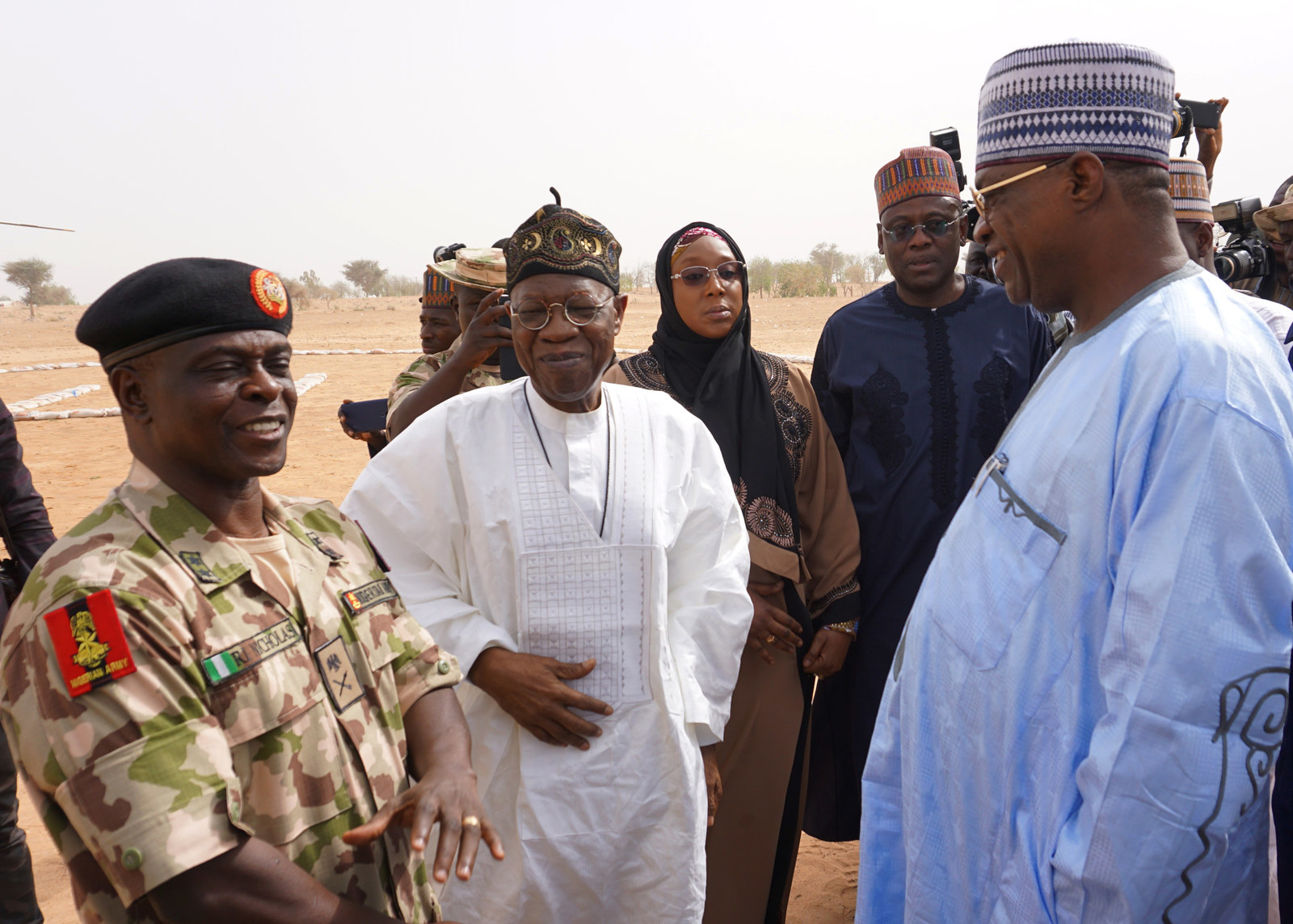 The implication that the kidnappers hadn't known they were abducting Muslims was puzzling, not least because the girls' release later seemed to hinge on that fact, but Maisamari was too busy scanning the arrivals to think it through. Later, something else strange dawned on him: the apparent absence of police or military officials, whose patrols had otherwise increased in the days after the abduction.
As more girls kept arriving, his phone rang again. It was the same government official as before, who asked him if there was "any news."
"I said, 'Boko Haram started bringing the girls.'"
The officer told him he was aware of that, Maisamari said.
Maisamari was astonished. "I said, 'OK, so you government are aware? Why are you not here?'"
He hung up and walked back to the Boko Haram commander. The militant told him there was one girl they wouldn't be returning — a Christian who they would keep until she converted to Islam. Maisamari tried pleading with the commander, until he shifted his AK-47 ominously.
"I said, 'OK, but with the exception of the Dapchi ones, is there any other girls you have?'"
"Yes," the commander replied.
"How many of them?"
The man's voice became suddenly cold. "That ... doesn't concern you," Maisamari recalled him saying. He decided against asking if any money had exchanged hands before the hostages were returned.
Next, the militants decided to hold a sermon.
Ibrahim, the tuk-tuk driver who'd earlier tried to warn the police, watched from a distance as a crowd gathered around them. The men gave highly specific instructions about how the town's girls should be educated: "The first thing you are going to do, go and marry the older ones," they told residents.
The younger ones could continue Islamic lessons. Regardless of their age, if any girl went to school, it had to be a day school, they instructed. "If those girls go back to [boarding] school, we will burn that school," the men said.
Despite themselves, both Ibrahim and Maisamari were impressed. The Boko Haram of the past would not have stood around lecturing and answering questions. They would have marked their arrival by shooting indiscriminately — particularly as a prelude to attempting to convert locals.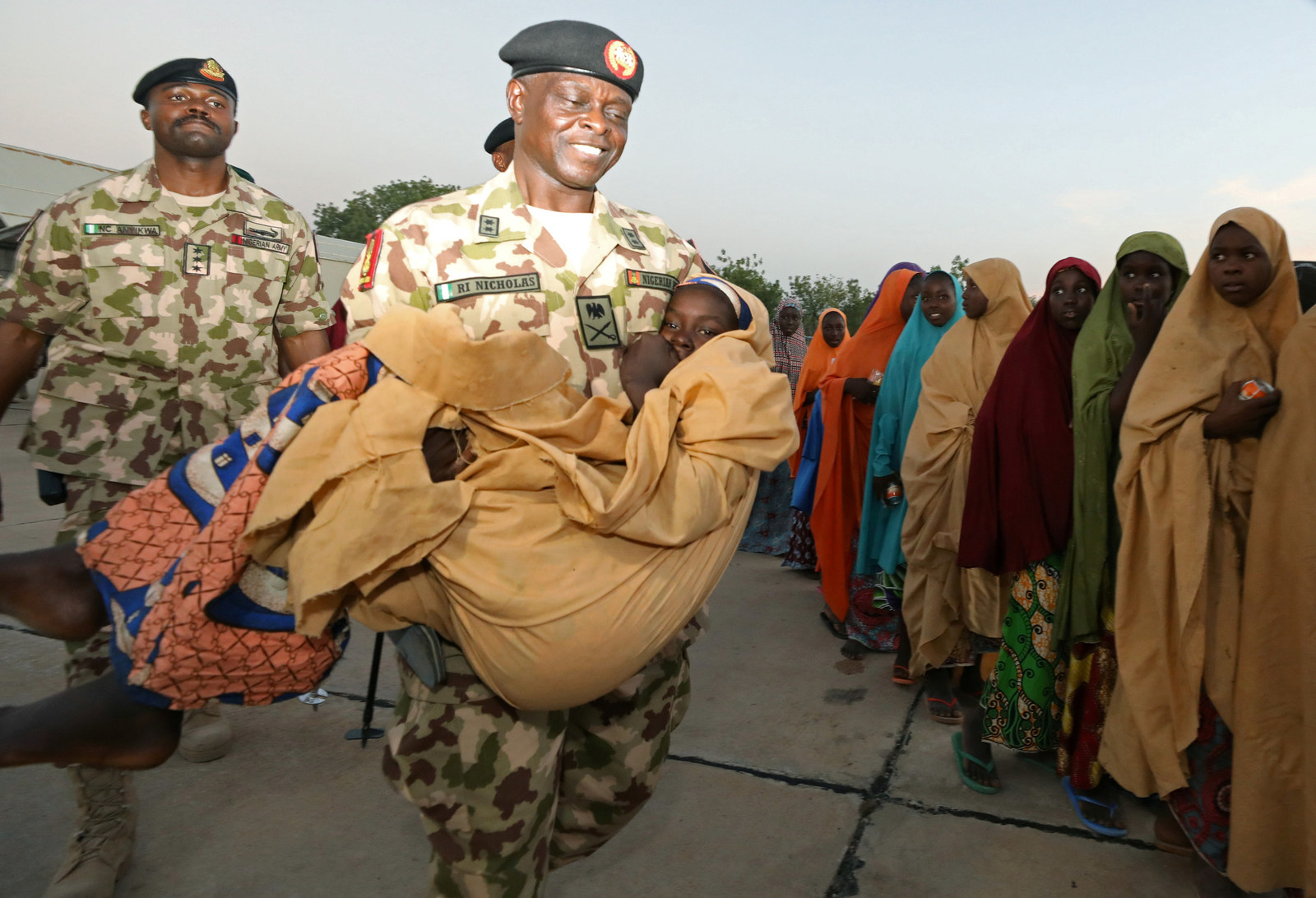 Officials basked in their success at getting the girls home. In one widely shared photograph, a waif of a girl was pictured being carried by a broad-shouldered Nigerian soldier to a waiting army aircraft. On TV, the Dapchi schoolgirls were paraded meeting the president in Abuja, the capital. For President Muhammadu Buhari, it was a vindication of what he said just a few months after coming to power in 2015: that the war with Boko Haram was "finished."
Without a single shot being fired, without a ransom or a prisoner exchange, the girls been freed, according to the government. There had been no harrowing videos or fantastical demands from their captors. The handover was quick and clean.
For the public, though, doubts crept in over the government's insistence a ransom hadn't been paid, especially since the release of 103 of the girls from Chibok in 2017 came on the back of a $3 million payment, and an exchange of five top commanders who had been imprisoned. Many officials believe that Boko Haram was able to use that money to buy arms, fueling a new rise in attacks.
"No ransoms were paid," the presidency tweeted after the Dapchi girls were returned.
Instead, the information minister, Lai Mohammed, claimed the abductions were simply a mistake made by Boko Haram, with whom the government was conducting back-channel talks.

For most of the past decade, Nigeria's government has tried and largely failed to strike peace accords with Boko Haram, whose leadership is obscure and whose bloodthirsty strategy is often confusing. Under Buhari, though, attacks had initially waned.
Boko Haram gradually splintered under the leadership of a notoriously violent hardliner called Abubakar Shekau, after some commanders balked at attacks on children in schools, the use of child suicide bombers, and the indiscriminate violence targeting both Christians and Muslims. Then, in August 2015, ISIS recognized a faction led by a man called Abu Musab al-Barnawi as the leader of its regional wilayat, or province. Barnawi's first pledge, made in ISIS's propaganda magazine, was that he would not target mosques or markets in Nigeria, as Boko Haram had previously done. That was one more reason the Dapchi abduction was even weirder, since this same faction was believed to have carried it out.
Mohammed, the information minister, had an explanation for this. Apparently, the abductors were soon overwhelmed by the "moral burden" of what they had done, he told journalists the day after the girls' release.
That answer satisfied very few people.
"Why is the Nigerian government negotiating with people it claims to have defeated?" one newspaper asked. "Why would a conquered enemy still have the ability to move with the force and self-assurance we saw Boko Haram displaying on videos...?"
What should have been a triumphant case closed for the government instead turned into a gift for the conspiracy-minded.
Some questions were legitimate, key among them the puzzling closure of a military checkpoint in Dapchi prior to the attack.
But logical questions soon tipped into all-out partisan war. Ayodele Fayose, a vocal opposition governor from Ekiti state, declared the incident was a "drama scripted by the government and its agents to swindle Nigerians."
It was strange, he noted, that the girls could be brought back to Dapchi by their abductors without security officials knowing when they were returned and who returned them. "Curiously, the same spirit who made sure that all military checkpoints in Dapchi and other surrounding towns were removed to pave [the] way for [the] abduction of the girls also made sure that the girls were returned without any security agent seeing them."
Newspapers and primetime TV shows began debating the "Dapchi scam."
Another theory making the rounds was that the insurgents had flown the girls to and from their hideout in jets — a belief fueled by a quote in an international outlet in which one of the girls said they were "flown in planes," although that was clearly a translation error. National newspapers picked up the story of a man who claimed on Facebook to be a sergeant and the leader of a 16-man team paid millions by government sympathizers to stage the kidnapping.
Well-known anti-government critics spent weeks decrying the "scam." Some, such as Femi Fani-Kayode, a former minister whose outlandish claims have often sparked controversy, narrowed in on obscure details, many of which are outright untrue. Why had the government initially claimed the girls were returned at 3 a.m., he asked. (A government spokesperson did not respond to BuzzFeed's request for a comment on this.) Why, moreover, did the girls all come back carrying large shopping bags of the kind used by market women in Nigeria? "Did they go shopping?" Fani-Kayode asked. Three former hostages interviewed by BuzzFeed News said they'd been given new clothes and shoes before returning to Dapchi. A picture of the girls with shopping bags was likely taken after they returned from their visit to the president in Abuja.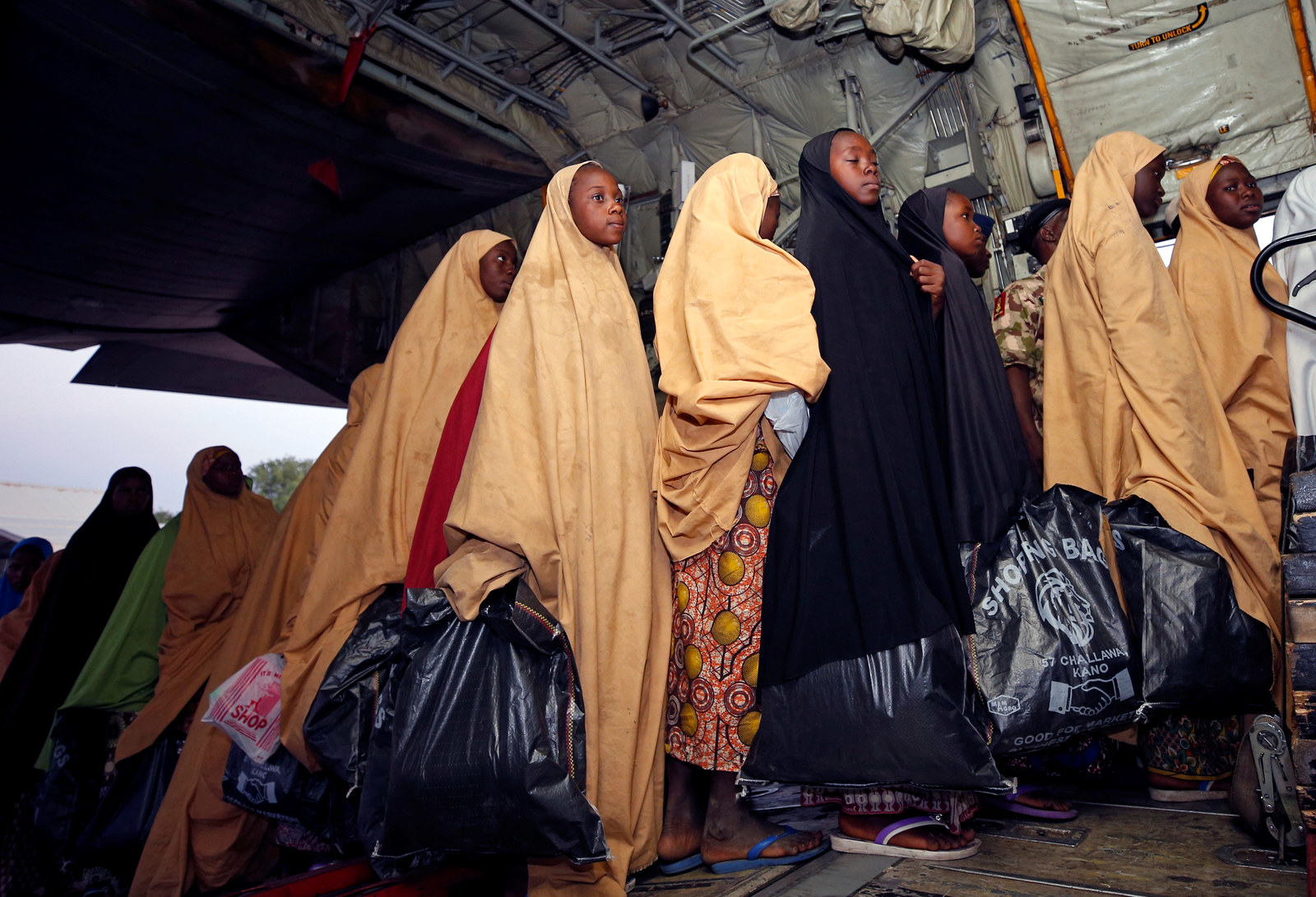 Some people questioned if the dead girls even existed. "Why is no parent in Dapchi seen to be grieving over the death of their daughter? Did the Federal Govt spin that yarn to cover their goof of 110 girls which the school authorities later refuted?" one commentator asked.

"Even the Nigerian Nollywood filmmakers," went another typical comment, referring to the country's low-budget film industry that churns out extravagant plotlines, "would have helped Buhari and his cabal to script this 'abduction' to be more convincing."
Only after days of sustained media coverage of the conspiracy theories did the government explain why the release took part with no visible official presence: It was, apparently, the only precondition the abductors requested during negotiations to bring back the girls. The explanation was simple and rational, yet had to be dragged out of the government.
And it took further public pressure before a military spokesperson offered an explanation for the sudden withdrawal of security forces from Dapchi before the attack — a point many truthers see as compelling evidence of government collusion.
Military officials explained that the army had formally handed over Dapchi's security to the local police before its withdrawal. But officials didn't say when the handover took place or provide any proof it had happened, while the state police commissioner said he had never received any kind of official notification his men were supposed to take over.
It's entirely possible that Boko Haram simply exploited the security lapse — indeed, many saw the Chibok abduction as an opportunist kidnapping rather than anything premeditated. "Boko Haram is embedded in northeast Nigeria. It is therefore likely that local Boko Haram members or supporters alerted the kidnappers to the absence of security forces in Dapchi," said John Campbell, a former US ambassador to Nigeria who now runs a security blog.
In a scathing report, Amnesty International documented how increasingly frantic villagers had called security officials to warn them a convoy of Boko Haram fighters were heading to Dapchi. In one village, the convoy had hung around for almost two hours. A clue as to why trutherism has thrived in Nigeria lies in how the government aggressively attacked the report's findings, saying "most of [Amnesty's] narratives are outright falsehoods and a calculated attempt to whip up sentiments and mislead unsuspecting Nigerians."
"The Nigerian military fails to recognize that Amnesty International has immense credibility. Attacks on the organization, far from damaging Amnesty, undercut the credibility of military spokesmen," Campbell pointed out.
There have been other official missteps that hint at a government that holds the truth in contempt. Although the Dapchi abduction happened four years after Chibok, and under a different administration, the initial official response was eerily similar: denials the abduction had taken place were followed by bizarre false claims that 76 of the girls had been rescued, prompting celebrations in Dapchi's streets.
For years, the government has exaggerated battlefield successes while aggressively attacking those who point out holes in official narratives — meaning public trust has eroded to a point where people will believe anything. It hardly matters who's in power — each side has its own brand of conspiracy theorists.
In a fervently religious nation, faith came into play, too. The Chibok abduction took place under Goodluck Jonathan, a Christian president, and the girls who were taken were almost all Christians. Back then, some people claimed it had been orchestrated by sympathizers loyal to Buhari, a Muslim opposition politician, in order to undermine the president. Now, in Dapchi, truthers claimed the reverse was true: The Dapchi girls were all Muslims, which explained why Buhari or his loyalists had once again engineered a fake kidnapping and, more importantly, a successful release (except the sole Christian among them) — to show he, unlike a Christian president, had a firm grip on governing the nation.
"Mix religion and partisanship and social media and you have a toxic brew that serves as culture medium for conspiracy theorizing. It's an almost hopeless battle for the truth," said Tolu Ogunlesi, a former newspaper columnist who now advises the government on social media. "Especially when we have a local media that is not exactly concerned about discovering the truth, but will instead parrot whatever the various sides of any issue are all insisting on, and an international media that is often given to sensational reporting."
These theories are nurtured online but real harm takes place on the ground, where citizens might look to alternatives in the face of a government they can't trust to protect or provide for them. "There lies the danger — this situation could create fertile land for the flow of recruitment [to Boko Haram]. Why? People could conclude that Boko Haram can provide its own security nice and good, which is more than their own government," explained Philip Onuah, a security expert in Abuja.
For many ordinary Nigerians, it seems easier to believe the whole event was orchestrated in order to boost low government approval ratings rather than accept that, once again, more than 100 girls had been abducted from their school dormitory. In Dapchi itself, far from social media or any kind of decent working internet, residents were finding new ways to cope with the reality that their government simply can't guarantee their safety.
Fatima Abubakar, a 15-year-old returnee, has refused to go back to school in Dapchi. "I want to go, but not in this town," she said, surrounded by eight of her younger siblings.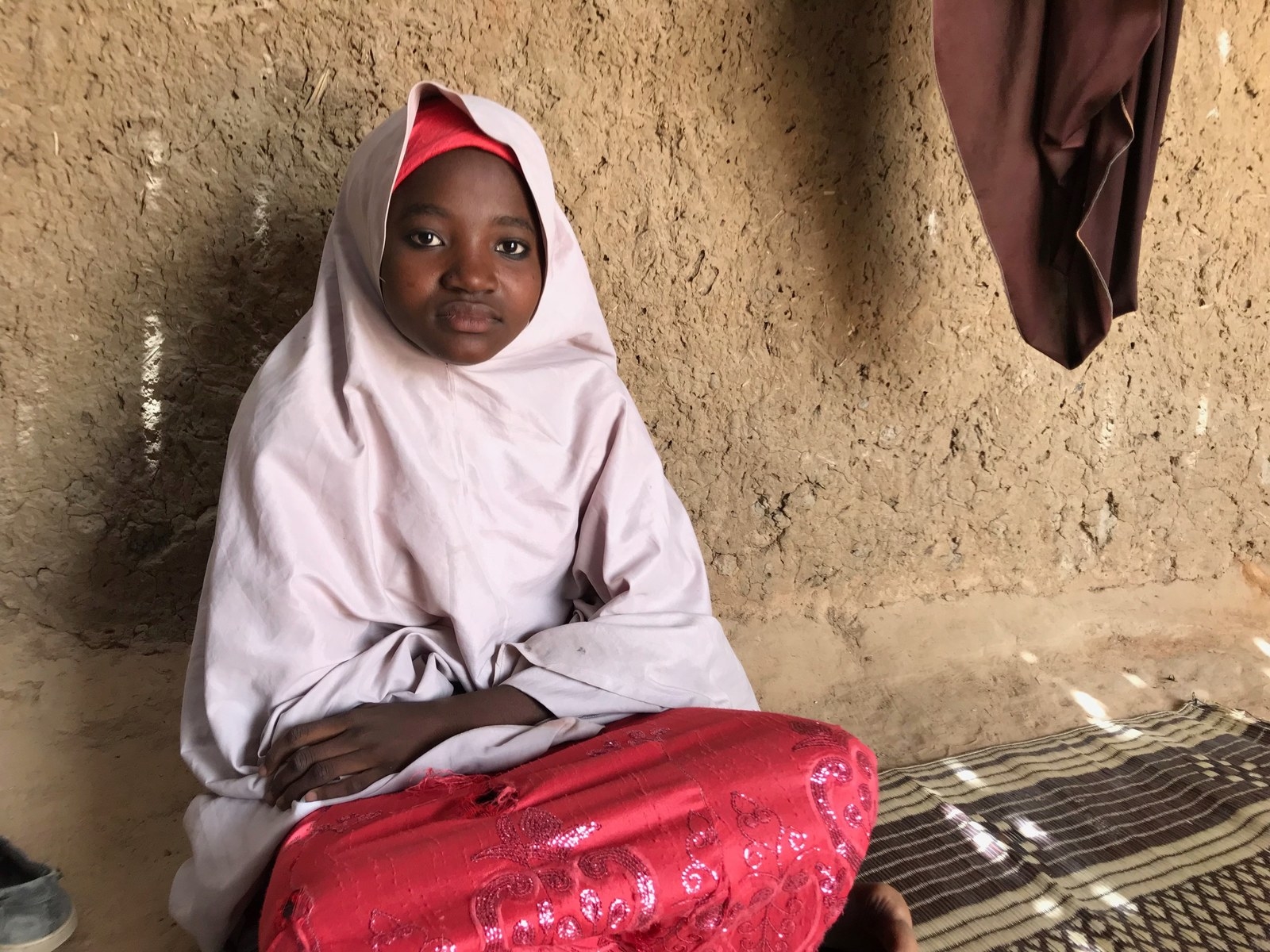 Fatima, like Hajara, was mostly baffled by the notion that her ordeal was part of a nationwide conspiracy theory.
Their kidnappers, she said, were an elderly man with a graying beard who the girls nicknamed "Baba" — meaning uncle — and a younger, light-skinned man who looked like the Fulani herders whose cows often grazed just beyond her family's mud-walled home.
Fatima was dubious the men were government soldiers. Every few days during her captivity, she said, a man known as Abu Khalifa would arrive with great pomp. His bodyguards would bring him on a motor-powered canoe, and he invariably wore smartly pressed combat fatigues. He held long sermons urging the girls to "forget the infidels" — their family — they'd left behind, and ended by presenting them with "gifts."
On his first visit, after informing them their hijabs did not reach a Qur'an-approved length, Abu Khalifa brought them longer hijabs. Next he brought them shoes — "the fancy kind," according to Fatima. When one girl's father went on a national news show pleading for his daughter's release, Abu Khalifa showed his captives a video clip of the segment on his phone. "You're going home, but why do you want to go back to that land of unbelievers?" he admonished all of them. And when the girls were to eventually leave, it was Abu Khalifa who would bring them brightly colored new wraparound fabrics.
Every so often, when the hum of an aircraft would fill the air, they were hurriedly commanded to hide themselves under the canopy of trees. "It's the Nigerian army coming to bomb you," their captors would tell them. Fatima thought the army was coming to their rescue. "Only God knows," she said dryly, at the idea her captors and the pilots overhead were in fact in cahoots together.

Her biggest worry now was that her father, a small, exhausted-looking man called Abdullahi, had spent her annual school fees on giving money to imams to pray for her safe return.
"I didn't meet the Boko Haram," he said, "so I don't know if they're Muslims or not. But our daughters told us they pray correctly, so I think they are. And as you can see, they did not harm any of them."
He hesitated before continuing.
"I think in the closest future, it will be possible to live in peace with the Boko Haram," he said, squinting against the harsh afternoon sun outside his home.
His eldest daughter, the sole child he could now afford to send to school, had left a few hours earlier. She'd taken the sandals the militants had bought for her sister during her captivity. "They are not the cheap ones," Fatima said. "They're fine sandals, so she likes them."
Isaac Abrak contributed additional reporting to this story from Dapchi.