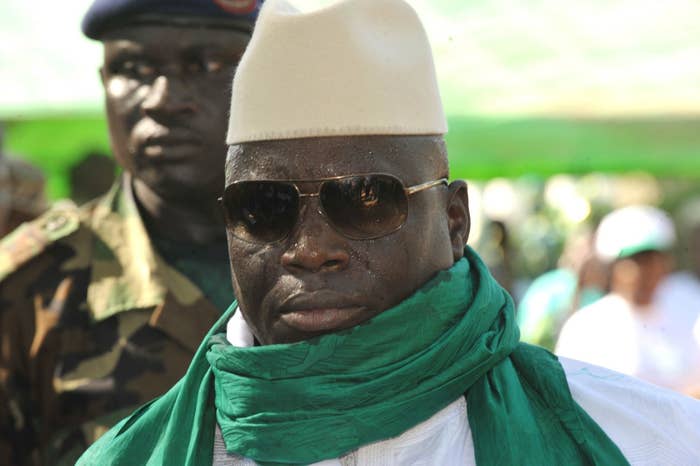 DAKAR, Senegal — Three people with AIDS who were repeatedly forced to undergo a homemade herbal "cure" in a bogus clinic run by Gambia's former dictator Yahya Jammeh have launched a case against him, in a rare example of victims bringing an African autocrat to book at a national court.
Lamin Ceesay, Fatou Jatta, and Ousman Sowe described a 10-year nightmare that began when ex-president Jammeh, a high school dropout who ruled the tiny West African nation with an iron fist for 22 years, in 2007 claimed to have found a secret concoction of boiled herbs that cured AIDS in three days— if applied on Thursdays. The then-president opened a clinic in the sleepy seaside capital of Banjul, and began conscripting Gambians living with HIV as patients. Those who entered were ordered to stop taking antiretroviral drugs and forced to stay in the hospital under the surveillance of armed guards.
A deep fear of the president, who was notorious for jailing and torturing those who criticized him, meant doctors and patients publicly praised his cures. Jammeh has no medical training. United Nations experts who questioned the legitimacy of his methods were booted out of the country. The "Presidential Alternative Treatment Program" — which also offered homemade cures for a long list of maladies ranging from obesity to erectile dysfunction — ran until 2016, when Jammeh lost his final reelection bid. He has been living in exile since.
On Thursday, the three former patients deposited their historic lawsuit at the 1970's-styled High Court in Banjul, seeking financial damages for harm suffered and a declaration that their human rights were violated. The court will have to decide whether the trial can take place in Gambia under international fair trial standards.
"It was a disaster," Jatta, 51, one of the claimants, told journalists of her nine months in the clinic, speaking from the capital. Although she grew progressively weaker during her stay, Jammeh pronounced Jatta cured and discharged her as she was near death. She recovered after going back on a course of antiretrovirals. "My experience in the presidential treatment programme was a horror. I could have lost my life."
Many did die, among them the wife of 62-year-old Ceesay, after the couple began the procedure together. "I cannot even count the number of people that died during the treatment," Ceesay said. "Jammeh must pay for what he has done to us."
The herbal brew Jammeh, or doctors under his orders, fed patients at the clinic often made them violently ill. At other times, they massaged the mixture onto patients' partially nude bodies while chanting prayers. Sessions were sometimes broadcast on state television without the consent of the victims, some of whom hadn't yet informed friends or family of their HIV status. The stigma attached to the illness meant many lost jobs or were kicked out by landlords after becoming publicly recognizable.
But others, desperate for cures, were persuaded by the broadcasts, including Sowe, the third plaintiff in the case. The 64-year-old former university lecturer initially believed in Jammeh's methods, and went on to become a spokesperson for the center. Eventually, he realized it was a hoax. "I believe that it is my responsibility to see that justice be done," he said ahead of the lawsuit being filed.
It's not known how many people underwent the treatment. In January 2016, the director of Jammeh's treatment program claimed that 9,000 had been cured, the majority of them HIV patients. In April, he told a commission of inquiry examining his role in the "cure" that just 311 HIV and AIDS patients were treated, according to the US-based charity AIDS-Free World, who are assisting the victims in their case.
"This case will advance human rights protection in the Gambia, particularly with respect to people living with HIV, who are highly stigmatized and marginalized," said Oludayo Fagbemi, legal officer with the Banjul-based Institute for Human Rights and Development in Africa.
It's a strange crime to accuse an ex-dictator of committing, but Jammeh's regime often bordered on a caricature of dictatorship. The exiled autocrat was a 29-year-old officer when he overthrew the president, the sole ruler since the country's independence, in a coup that was welcomed at the time. In the early days, literacy levels rose and basic services and infrastructure improved for the coastal country's 2 million residents. What began then as a hopeful revolution soon morphed into something much darker.
Jammeh soon cracked down on those who disagreed with his increasingly repressive regime, enforcing his rule with a feared private army. Nicknamed the "black blacks" for their black fatigues and balaclavas, the group reported directly to the president, and reportedly kept a list of regime opponents to assassinate.
The strongman stepped down after a shock election loss in December 2016 and fled to nearby Equatorial Guinea, from where he said he planned to concentrate on chicken farming.
Since his departure, the list of state-sanctioned crimes uncovered — or openly spoken about — has grown. But many are still hesitant after years in a country where the slightest hint of dissent could land residents in jail.
"The thing that was most moving was none of them ever imagined that there would be a Gambia without Jammeh," said Sarah Bosha, a legal researcher with AIDS-Free World, who traveled to Gambia to help gather evidence against Jammeh in June last year. "This was just a few months after he had gone. It just struck me how despite lingering fears — people didn't know if he was plotting some kind of return — they're feeling empowered about finding a space where you can speak out the truth after so many years of not being able to speak out."
The court case is significant well beyond Gambia, too. For decades, the only recourse for those seeking justice against the continent's leader accused of rights abuses has been the International Criminal Court, which was set up in 2004 to try those accused of the worst international crimes. But all eight people indicted by the Hague, Netherlands–based institution so far have been African, prompting accusations of bias toward the continent. In 2014, African governments set up a proposed alternative in the African Court of Justice and Human rights — then promptly stripped the court of power to prosecute leaders for genocide, war crimes, or crimes against humanity.
"It's invigorating to me on a personal level to know that people can say [to their leaders], 'you know that what you did was wrong, it's time for you to account for that,'" said Bosha, who is from Zimbabwe, where the president was pushed out last year after almost four decades in power.
CORRECTION
Lamin Ceesay's name was misspelled in an earlier version of this post.