DAKAR, Senegal — When a high-profile diamond auction took place on a blustery New York morning this December, an unusual watcher was among the billionaires, collectors and jewelry houses that make up the typical bidders.
Emmanuel Momoh, a tall and soft-spoken pastor from Sierra Leone who had traveled outside his country for the first time, was following nervously as some 70 bids came in online and in phone calls. Going under the hammer was a massive gem called the "Peace Diamond," which was expected to fetch tens of millions of dollars. Momoh had briefly been its owner.
In March this year, the 39-year-old walked into a diamond dealer's store on a dusty street in Kono, a potholed backwater 225 miles east of Sierra Leone's capital of Freetown. The dealer gasped audibly when Momoh pulled out the egg-sized rock. At 709-carats — big enough to make almost 400 engagement rings — the stone was the 14th largest diamond ever found.
The dealer, a man with years of experience in the murky world of diamond trading, became the first of several who would try to persuade Momoh to smuggle the gem on the black market, and rake in tens of thousands of dollars — possibly more — for himself. Momoh considered the proposal. His wife and three kids were waiting back home in Koryadu, a village so poor it has no running water, electricity or paved roads, despite literally sitting on diamond fields. .
Then Momoh did something unprecedented: He decided to hand it over to the government. He figured the money made on selling the stone would be used for public services in a country recently devastated by Ebola and mudslides. For weeks afterward in Sierra Leone, websites and bars alike were abuzz with talk of the giant diamond. "I don't know whether [he's] being honest or naive," one poster wrote on Facebook. "But I seriously doubt whether [President Ernest Bai] Koroma will care to share the proceeds with his kitchen cabinet."
Now Momoh watched as the gem found in a field not far from his tin-roof home was snapped up for $6,536,360.
"What I did was to show that I love my nation," he told BuzzFeed News in a phone interview from New York.
"I'm confident I made the right decision."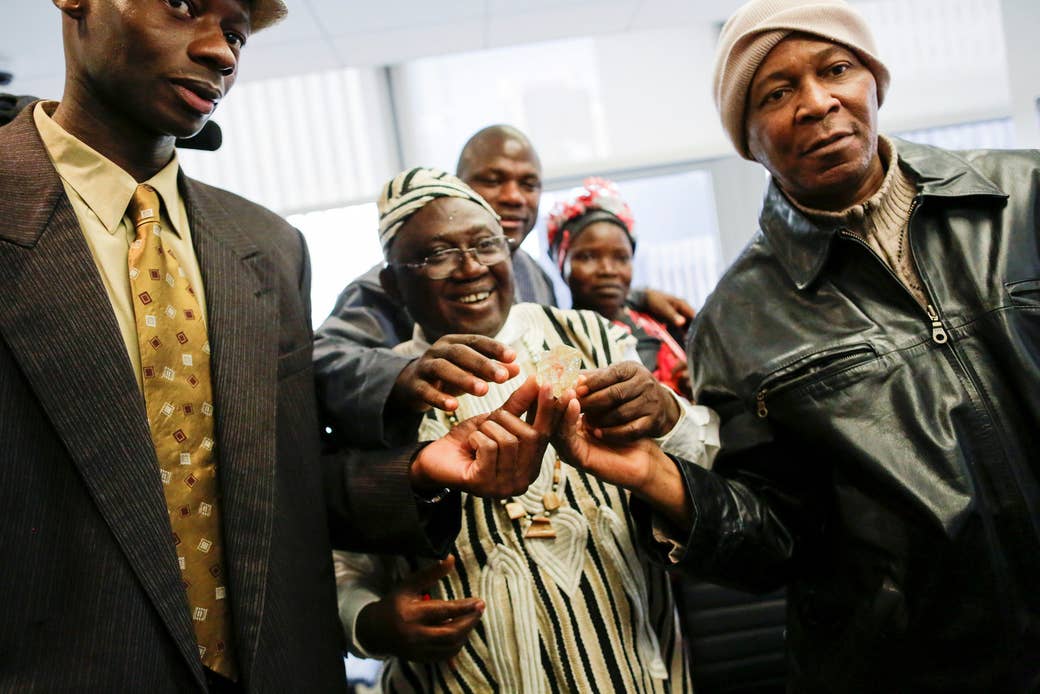 After years of struggling to feed his family on a paltry income as an evangelical preacher (and selling peanuts as a side business), Momoh applied for a mining license in 2012. In Sierra Leone's diamond-rich eastern region, villagers often pool their money into artisanal mines. Few, though, strike it lucky in the unregulated and often dangerous informal mines. Momoh's team dredged up a few carats a month, making precious little profit.

The country's gems were once at the heart of Sierra Leone's brutal civil war, which ended in 2002. Momoh lived through the decade-long conflict waged over who would control mineral-rich fields like the ones where his diggers made their lucky find. The stones found there were smuggled across the borders by rebels in exchange for arms and ammunitions. The digging was carried out by an enslaved population under threat of death by the rebels, earning the stones the dark nickname "blood diamonds" and eventually setting off international backlash against their sale.
"That's the challenge for the diamond industry — how to market diamonds to make the world a better place," said Martin Rapaport, a bow tie–sporting kingpin in the industry who has lobbied Congress on stemming the flow of blood diamonds, and who handled the sale of the Peace Diamond. "Just like you have fair trade coffee, why shouldn't there be fair trade diamonds?"
Artisanal mining — mining without heavy equipment — is backbreaking work. Using spades, crowbars, and pickaxes, diggers sift through several tons of earth to find a single carat of diamonds. The physical labor takes a toll, with miners often suffering from hernias, exhaustion, and exposure to malaria and parasites by drinking from polluted streams. Momoh often paid their medical bills, a drain he could barely afford.
By March this year, he'd told his wife he was considering letting his diggers go. "I told my wife, it's very difficult to balance between our family needs and those of workers. It's challenging. You're looking for something you don't know if you'll ever find."
"God will provide," he recalled his wife replying.
So when a knock came on his door on the evening of March 13, Momoh hoped there hadn't been an accident. Four dust-covered workers walked into his living room. One of them, a man called Komba Johnbull, said he first needed 800,000 leones — roughly $100 and easily an entire month's wage. "He said, 'I think something important has happened. But before I tell you, you have to give me 800,000 leones,'" Momoh recalled. "I said, 'what do you mean, what are you talking about?'"
As the manager and financial supporter of the group, Momoh was the legal owner of anything discovered. But tradition dictates that diggers are entitled to a dash, or stipend, from their financier when they make a significant find. Quickly realizing it must be big news to require such a hefty dash, Momoh once again scraped together the cash and gave it to his worker.
He was stunned at the gem that was handed over to him.
"The reaction was — I mean, everyone was just…," he faltered, trying to summon the words. "Every one of us was very happy. We knew it was special."
Still, at that point no one in the room realized quite how big a find they had on their hands. Diamonds in Sierra Leone are some of the highest quality in the world, typically so clear and transparent that they're known as "glasses." The rock in front of Momoh was orange-hued, with tiny red speckles.
Momoh decided to take it to a diamond dealer in Kono who was known for paying cash up front with minimal fuss. Miners are legally allowed to sell smaller diamonds, though larger ones have to be handed over to the government, which then shares a fraction of the final sale price with the original owners.
The dealer immediately suggested a different option: without alerting anyone else, they could find a buyer and share the money between themselves. "He said, there's no need to sell this. If you take this diamond to the government, you will not get anything out of it," Momoh recalled.
Although Sierra Leone officially exports around 400,000 carats a year, bringing in much needed government revenue, experts say far more than that is stolen or smuggled out of the country illegally.
The dealer refused to hand back the diamond as he desperately tried to convince Momoh to follow his plan. The discussion dragged on for hours. "It was very difficult to remove that diamond from the Lebanese [dealer]. We stayed four or five hours in that office that night, until finally we are able to convince him to bring that diamond out."
Exhausted, Momoh decided to bring in the village chief for advice on what to do next. Paul Saquee took one look at the diamond and insisted they hand it over to the government. By this point, Momoh had begun to worry about keeping such a valuable gemstone in his own home. Over the next few days, he said, friends repeatedly told him to smuggle it across the border and sell it on the black market.
Momoh resisted. Finally, as news began to spread of the find, Momoh and Saquee flagged down a truck passing through the area. They rode for six hours into Freetown, where a government official met them and collected the stone.
It was placed in a vault for safekeeping, and Momoh was given a piece of paper certifying he was the legal owner. He was promised, he said, a share of the proceeds when it was sold. "I don't know when I'll get that, but I have been told I will get it," he said.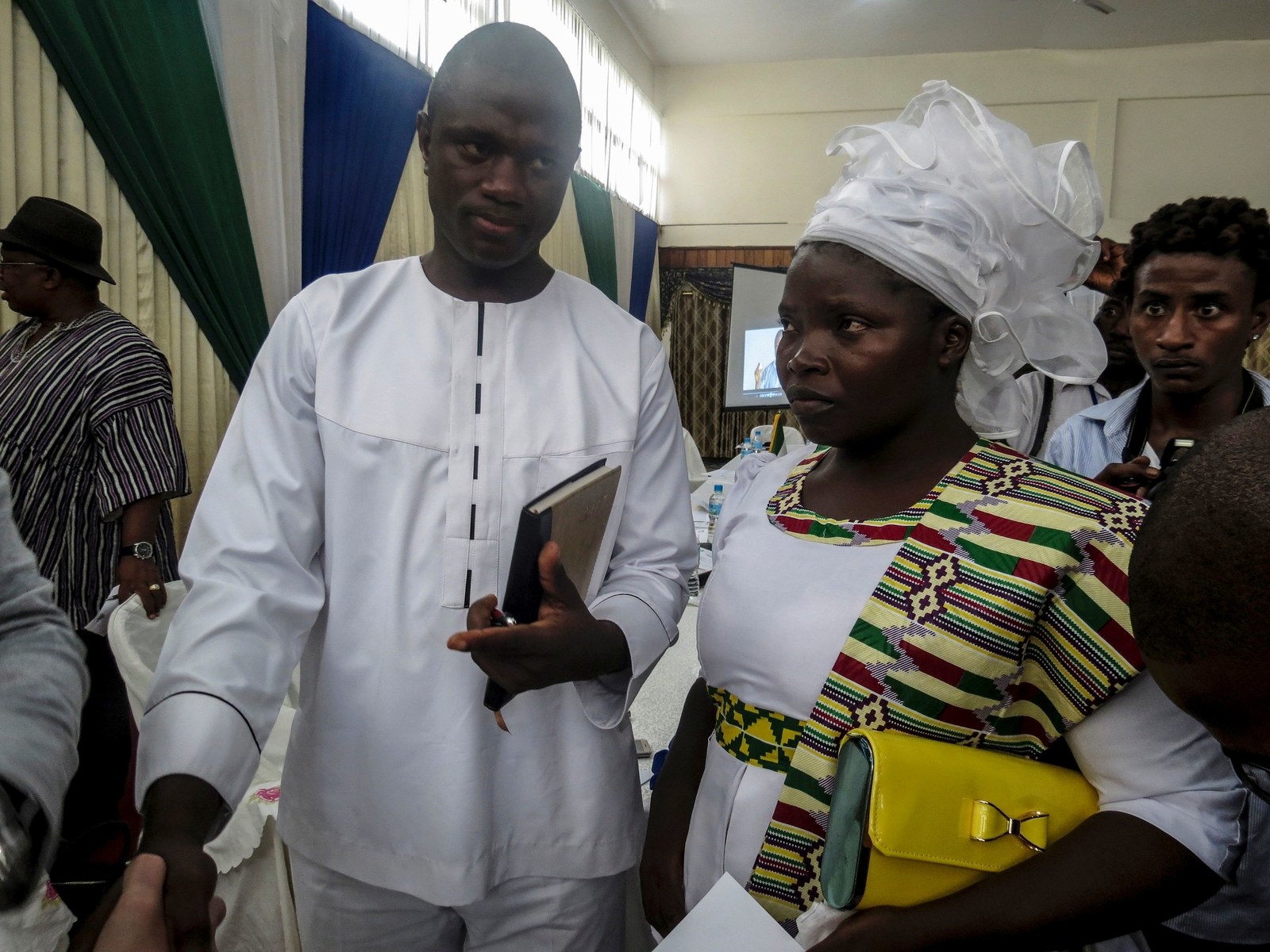 In May, the government held Sierra Leone's first ever public auction of a diamond, citing it as evidence it had turned the page on blood diamonds. But it rejected a bid of $7.7 million for the Peace Diamond, pointing out experts had valued it at five times that price. Next, the government turned to Rapaport, who heads an international diamond trading network and was one of the early proponents of the Kimberley Process, a hard-won trade measure designed to curb the sale of conflict diamonds.
The auction was held on Dec. 4 in New York. Later that afternoon, Rapaport announced the highest bidder was Laurence Graff, a British billionaire and jeweler who paid $6.5 million — $1.1 million less than the earlier offer provided to Sierra Leone's government. Although the price wasn't as high as some expected, that wasn't what mattered to those behind the sale. "When you get someone like Graff interested in the social benefits, in the social responsibility, you're opening a new world of diamond demand — demand for diamonds that make the world a better place," Rapaport said.
"It will encourage all the diggers back home," Paul Saquee, the village chief from Kono, said in a press conference after the sale. "Instead of being ripped off in some dark corners when they find their diamonds, that they will bring it and put it on the table in front of the government. Maybe this is going to be the beginning of a new day in Sierra Leone."
The government will get 59% of the sale, or about $3.9 million in tax revenue to fund clean water, electricity, schools, health centers and roads, while a quarter of the money will be shared among the crew who dug the stone.
For those who've long pushed for fairer sales, it marks a step toward ending the illicit diamond trade, which has long since evolved from just a question of blood diamonds funding rebel groups.
"It's a complicated thing, because diamond mines supply hundreds of thousands of livelihoods. That's a far more complex question than just asking where a diamond came from — its about trying to change the way the industry operates," said Michael Gibb, a campaigner against conflict resources for Global Witness, one of the key campaigning groups trying to clean up the diamond industry.
Still, a checkered history means many artisanal miners remain reluctant to place their trust in the government. In 2003, a miner found a giant stone he believed was a huge diamond, prompting huge excitement. Many citizens didn't believe it when government experts instead said it was corundum, a far less valuable mineral. And in 1972, miners unearthed a rare diamond weighing 968.9 carats. Nicknamed the Star of Sierra Leone, the gem was sold for an estimated $2.5 million to a New York City jeweler — but the entire proceeds of the sale disappeared.
Back in Freetown this December, eager Sierra Leoneans watched live coverage of the diamond auction.
"You could say that I'm happy this stone was found," Alfred Kallon, a miner from Kono, told BuzzFeed News by phone. "Maybe it will encourage more miners to come forward. But for me, what I want to see most is that it will change the very difficult conditions we miners are used to everyday here." •