Ted Cruz Missed Armed Services Hearings For TV Appearances, CPAC Speech
"If you are making the point he can't talk about such topics because he wasn't at these two hearings that is utterly ridiculous," a Cruz spokeswoman told BuzzFeed News.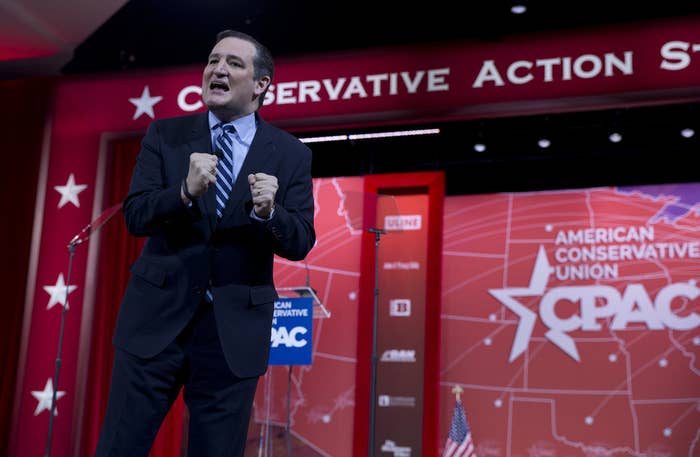 Republican Senator Ted Cruz skipped two Senate Armed Services committee hearings earlier this year in favor of speeches and TV appearances, a BuzzFeed News review has found.
On February 26, the Texas senator missed an Armed Services committee hearing about worldwide threats, which featured testimony from National Intelligence Director James Clapper. The discussion covered an array of national security issues, including the threat of the Islamic State and the Iranian nuclear talks.
Cruz mentioned many of the same issues when he spoke at the annual Conservative Political Action Conference that afternoon.
"If a candidate says that they oppose Iran acquiring nuclear weapons capability, fantastic. When have you stood and fought?" Cruz said in his speech. "Actions speak far, far louder than words."
During a Q&A following the speech with Fox News host Sean Hannity, Cruz criticized President Obama and the State Department's policy around the Islamic State. "We need to stop this bizarre Orwellian double speak. We cannot defeat radical Islamic terrorism with a President who is unwilling to utter the words radial Islamic terrorism."
"You know the State Department spokesperson just said recently, we can't win this by killing ISIS. We need to give them jobs. What utter and complete nonsense," Cruz continued. "That is precisely how we win this. We kill the terrorist leaders before they kill us."
In addition, Cruz appears to have missed a closed Armed Services briefing on March 17, entitled "Cyber, Space and Strategic Competition with China and Russia."
The meeting included officials from the U.S. Strategic Command and an Air Force Space Command. Sen. Cruz also serves as the chair of the Subcommittee on Space, Science, and Competitiveness within the Senate's Commerce, Science and Transportation committee.
Earlier that morning, Cruz was a guest in New York on MSNBC's "Morning Joe," talking about his views on taxes, 2016, and his decision to sign a letter orchestrated by Senate Republicans to Iranian leaders about the nuclear deal. Cruz also appeared on "Late Night with Seth Meyers" the evening before.
Cruz's attendance at both committee hearings and in the Senate generally has come under criticism recently. Politico reported that Cruz missed 21 of the 135 roll call votes taken in the Senate this year. In addition, the same review noted that Cruz was present at 17 out of 50 public Armed Services committee meetings, and had "below average" attendance at his other committees.
"If you are making the point he can't talk about such topics because he wasn't at these two hearings that is utterly ridiculous," a Cruz spokeswoman said. "But I don't know what your point is because you have no question. Do I want to comment on whatever it is you have here? Sure, use the first sentence because I find this inquiry ridiculous. But if you have an actual question instead of just lining up a series of links and a bland ask for comment, ask it."
The spokeswoman did not immediately respond to a follow up about why Cruz prioritized the appearances over the hearings.