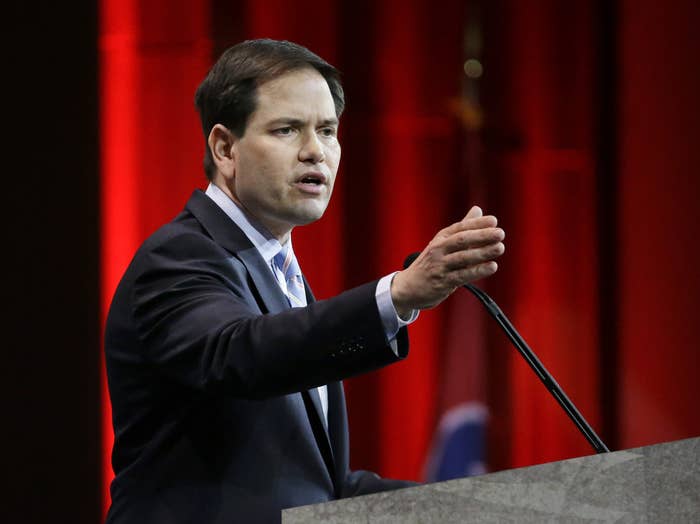 Republican Sen. Marco Rubio missed a closed Intelligence briefing in January to attend a New York City fundraiser, according to records.
An invitation obtained by the Huffington Post puts Rubio at a midtown restaurant on Jan. 13 around lunchtime for an event hosted by GOP insider Wayne Berman, who serves as a senior advisor for global government affairs to the Blackstone Group. The fundraiser was tied to the release of Sen. Rubio's book "American Dreams: Restoring Economic Opportunity for Everyone."
The Senate Intelligence Committee shows a closed briefing for 2pm that same day.
The cost of attending the gathering started at $2,600, rising all the way to $10,200 to be named a co-host. Money raised at the event went to the Rubio Victory Committee, a joint venture between the senator's PAC and his Senate re-election campaign.
An aide for Sen. Rubio pointed BuzzFeed News to a previous statement they had given on Rubio missing briefings for a fundraiser.
"Since he's been in the Senate, Senator Rubio has received regular classified briefings, attends most Intel committee hearings, and reads intelligence reports almost on a daily basis, and if he misses a hearing, he is always briefed on the material covered," a Rubio aide told BuzzFeed News in that statement. "He is seriously considering running for president and taking the necessary steps to field a competitive campaign, and it's not unusual for presidential candidates to occasionally miss Senate business."
Rubio has missed several hearings in order to attend fundraising events across the country. The senator skipped a top secret briefing on ISIS held by the Foreign Relations committee and two Intelligence committee briefings during an "aggressive" fundraising swing through California in late January.
Earlier this month, Rubio was fundraising in Texas for his presidential campaign when he missed another closed Intelligence committee briefing.
In 2011 Rubio skipped a series of hearings in the aftermath of Osama Bin Laden's death, including a Foreign Relations hearing about the U.S. relationship with Pakistan that he had called for on the radio just three days before.
Previously Rubio has rebutted questions about his lack of experience by citing his "extensive work" on the Foreign Relations and Intelligence committees as experience that sets him apart from President Obama, who had only served part of one-term as a senator when he took office.