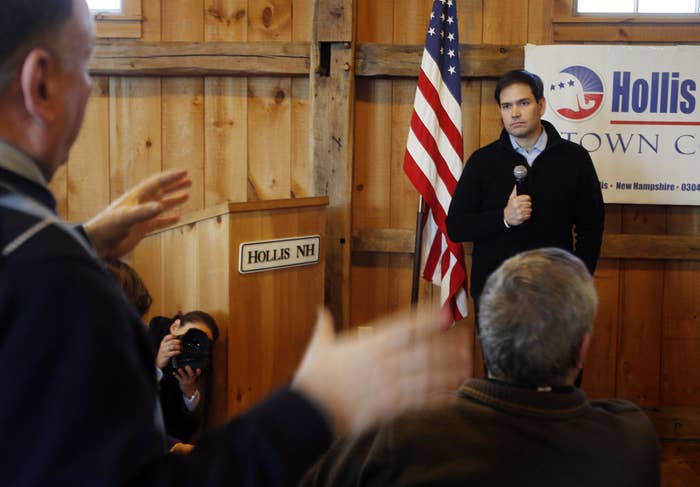 Republican Senator Marco Rubio missed two committee meetings in February of this year while on a trip to New Hampshire, according to a BuzzFeed News review.
On February 24 -- a little less than two months before announcing his own presidential campaign -- Rubio was absent from a Senate Foreign Relations committee hearing with Secretary of State John Kerry. Kerry took questions on a variety of national security issues, including the ongoing negotiations about nuclear weapons with Iran and the threat of ISIS.
An aide to Sen. Rubio confirmed that Rubio missed the Foreign Relations hearing, noting he submitted seven questions for the record on topics like Cuba, Venezuela, and Argentina.
Earlier in the day, Rubio appeared at Politics and Eggs, an event series hosted by the New Hampshire Institute of Politics at Saint Anselm College in Manchester, NH that frequently features potential presidential candidates. Rubio's speech included comments about the variety of international threats facing the United States, including instability in the Middle East.
"First you have the threat of the Iranian nuclear program, which they continue full steam ahead on," Rubio said. "It's not just the ability to re-process plutonium or enrich uranium, it's the fact that they've probably already bought a bomb design. It's the fact they continue to develop long range rockets already capable of reaching parts of Europe and eventually capable of reaching our very own homeland."
"Add to that the uncertainly of non-state actors such as ISIS and Al-Qaeda and Al-Nusra and Boko Haram, the spread of radical jihadists that now find themselves in multiple continents and dozens of countries," Rubio continued. He also answered questions about his position on an authorization of use of military force, or AUMF, for ISIS.
Rubio also missed a closed Senate Intelligence briefing that occurred at the same time as the Foreign Relations hearing.
The senator has cited his "extensive work" on the Intelligence and Foreign Relations committees as experience that sets him apart from the current president, who was also a one-term senator when he ran for president.
Rubio has previously missed committee hearings in order to attend fundraising events, including trips to Texas and California earlier this year.
The Rubio campaign pointed to a previous statement they have issued when BuzzFeed News has requested comment on other hearings the senator has missed.
"Since he's been in the Senate, Senator Rubio has received regular classified briefings, attends most Intel committee hearings, and reads intelligence reports almost on a daily basis, and if he misses a hearing, he is always briefed on the material covered," a Rubio aide told BuzzFeed News in that statement. "He is seriously considering running for president and taking the necessary steps to field a competitive campaign, and it's not unusual for presidential candidates to occasionally miss Senate business."