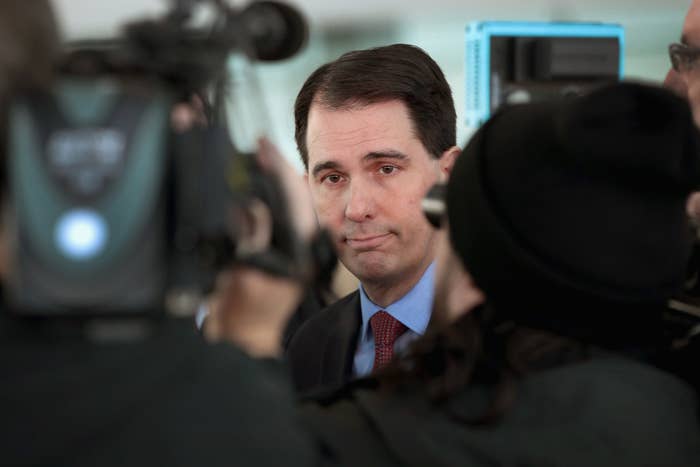 A judicial race next week in Wisconsin will be a test of Democratic strength and enthusiasm in the Upper Midwest — a place where two years earlier, Donald Trump defied polls and historic trends to crack what had long been known as the "blue wall."

Michael Screnock, a Republican-endorsed ally of Gov. Scott Walker, is vying for an open Supreme Court seat against Rebecca Dallet, a liberal who's racked up endorsements from the likes of Sen. Cory Booker and Eric Holder.
It's one of those races, like the Pennsylvania special election earlier this month, that Republicans would have won handily in most other years: Over the past decade, conservatives have turned the tide in Wisconsin solidly in their favor, and they do even better in judicial elections, in which conservatives voters are motivated to come to the polls by issues like abortion and religious freedom.
But it's not any other year, and what may seem like an obscure election is one of the first statewide contests in a battleground state, potentially offering real insight into whether Trump's jagged popularity will affect turnout and persuasion in rural and suburban areas.
Progressives are hoping this election will signal that, just as they did in Virginia and Pennsylvania, Democratic voters are hungry to turn out in places like Wisconsin, where the party has a chance to unseat an old foe, Gov. Scott Walker, and is trying to hold onto a tough Senate seat occupied by the vulnerable Tammy Baldwin.
For Republicans, the race provides an opportunity to prove they can still turn out conservative Midwestern voters motivated by traditional values like abortion and the Second Amendment — even in an election cycle in which the political winds are against them.
While Dallet and her supporters have worked to tie her conservative opponent to foes like Walker, Trump, and the National Rifle Association, conservatives have painted her as out of touch with Wisconsin voters because of her alignment with national Democrats.
"There's no question that the national Democratic Party and special interest groups on the left are trying to nationalize this race," said Sean Lansing, a consultant for Screnock's campaign. "They would love to use it as evidence of an impending blue wave."
When Hillary Clinton lost Wisconsin by 22,000 votes in 2016, and Michigan by an even smaller margin, the political consensus was that she hadn't done enough in the Upper Midwest, failing to make visits, open enough offices, or turn out armies of volunteers.
There hasn't been a major election in either state since, which has put outsize pressure on next week's contest.
The "nonpartisan" race is — even more than usual — all about politics. State Democrats see the Wisconsin Supreme Court race as a test of their ground game, building a machine that can take advantage of progressive energy to turn out voters in the state in November.
Though the party hasn't officially endorsed Dallet, the liberal candidate, they've put intense energy into things like phone-banking and canvassing — more than ever in a spring election, said Melanie Conklin, the communications director for the Wisconsin Democratic Party.
The Republican Party, for its part, has poured money directly to Screnock, giving more than half of the $231,000 Screnock raised in the beginning of 2018.
Screnock's side, too, is focused on turnout, Lansing said. "In Wisconsin, in the last 10 years, conservatives have typically been very good at turning out for elections, especially spring elections. But we're not taking anything for granted."
Nationally, people will be looking closely at returns in suburban Milwaukee and rural parts of the Wisconsin as a signal of what could happen elsewhere this fall. In the recent special election in Alabama, rural Republican turnout fell; that was partly explained by the outsize problems of the Republican candidate, Roy Moore, but if the trend continues in Wisconsin, it would be a poor sign for Republicans nationally ahead of November's midterms. Likewise, Democrats, who just saw suburban voters elect Conor Lamb in Pittsburgh, will be watching how suburban voters break next week.
In Wisconsin, Republicans now control all three branches of the state government, where they've been steadily pushing a conservative agenda under Gov. Walker. And conservatives control the state's Supreme Court by a 5–2 margin.
Democrats believe there's hope this time. In the primary, turnout increased compared to 2017, and two liberal candidates, Dallet and Tim Burns, pulled in 54% of the vote, with Screnock at 46%. They point to a state Senate seat they won by 10 points in January. Turnout was low, but it was a district Trump had won by 17 points in 2016.
The Supreme Court race is "a statewide election and it's the kind that conservatives have been winning since 1995," said Scot Ross, the executive director of One Wisconsin Now, a liberal advocacy group in the state. "I would think that if progressives win this race, it won't just be a blue wave, it'll be a blue tsunami."
Dallet beat the other liberal in the primary, Tim Burns, who was endorsed by the Bernie Sanders–aligned group Our Revolution, by positioning herself as a centrist to his far more left-wing stances. That played well in Wisconsin, where she took in 36% of the vote to Burns' 18%.
But though Dallet hasn't taken money directly from the Democratic Party, she's accepted endorsements from liberals like Booker and Baldwin, and even went to a San Francisco fundraiser, where organizers said a Dallet victory would be a "critical first step in proving our values can prevail in swing states across the country."
Screnock's campaign has tried to paint Dallet as a far-left candidate, criticizing her San Francisco fundraiser and her endorsements as signs that she is an activist judge out of step with Wisconsin voters.
"Judge Screnock is very focused on Wisconsin and on the proper role of the court," said Lansing, Screnock's adviser. "It's a message that strongly resonated in the primary. If you look historically at Supreme Court elections, voters want justices who are impartial."
Screnock, for his part, has been forced to defend an endorsement from the National Rifle Association, which Dallet has made a key part of her campaign in the wake of the mass shooting in Parkland, Florida.
Progressives say they hope that Screnock's association with Walker — he worked for several years as the governor's attorney, defending some of his most significant decisions — and his associations with groups like the NRA will work in tandem with progressive enthusiasm to bring left-wing voters to come to the polls. (That can cut both ways: Walker, who is up for reelection and has been an igniting force in state politics, has also won statewide three times.)
"A few years ago I would have said redistricting wasn't an election motivator, because when we were trying to talk about it then, people weren't listening," said Conklin, of the Wisconsin Democrats. "That's something I've seen change in the past few years."