New Lawsuit Seeks Debt Relief For Students At For-Profit Everest College
The Consumer Financial Protection Bureau is suing Everest College parent company Corinthian Colleges over an allegedly predatory private lending scheme.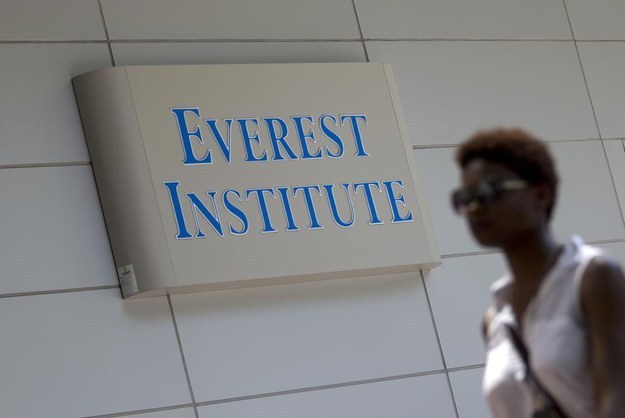 A federal regulatory agency is suing the for-profit college giant Corinthian Colleges, alleging it lured students into a predatory private lending scheme with deceptive claims about job placement rates. The Consumer Financial Protection Bureau is asking the court to grant relief to Corinthian students who have together taken out more than $500 million in private student loans, called Genesis loans by the company.
The lawsuit focuses only on private loans made directly by Corinthian Colleges, not federal government loans, which make up the bulk of student loan debt at Corinthian. The cost of degrees at Corinthian's campuses, which range from $33,000 for a two-year associate degree and up to $70,000 for a bachelor's degree, often exceed the federal student loan limit, the lawsuit says, forcing students to take out private loans directly from Corinthian Colleges. Those loans are nearly twice as expensive as federal loans, the lawsuit says.
If the CFPB's lawsuit succeeds, students would be relieved of their private loan debt at Corinthian schools, which include Everest, Wyotech, and Heald colleges, from as early as July 2011.
Corinthian Colleges is in the midst of shutting down or selling all of its campuses as part of an agreement with the Department of Education, but it is currently enrolling students at all but 12 of its campuses. It is also facing a criminal probe in California and an investigation by the SEC, in addition to other lawsuits by state attorneys general. But the CFPB's lawsuit is among the first to specifically seek debt relief for Corinthian students, who often graduate with tens of thousands of dollars of both federal and private debt.
The lawsuit describes a culture of abuse at Corinthian around those private Genesis loans, in which students who were behind on their payments were allegedly harassed by the company, prevented from enrolling in classes, and denied access to computers and textbooks. The lawsuit also seeks to rein in alleged misrepresentations to prospective students about job placement claims, which the CFPB says include deceptive practices like creating fake employers and paying companies to provide students with brief employment, and then counting those jobs as "careers."