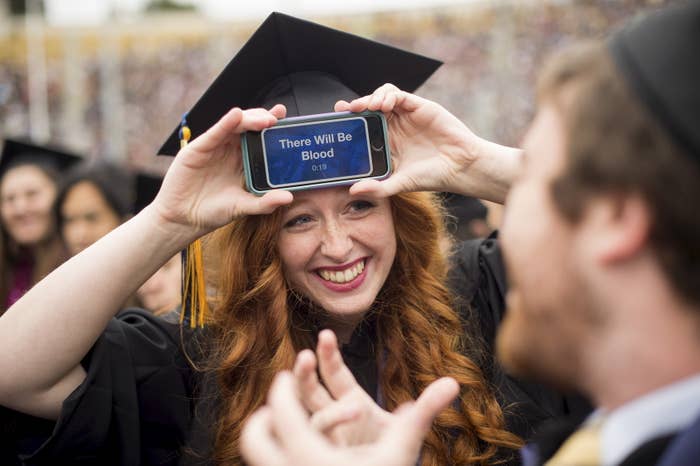 The elite University of California system lowered its admission standards in order to let in more out-of-state students, according to a searing state audit released Tuesday, shortchanging high-achieving California students in a bid to increase tuition dollars.
The state system, which has increased out-of-state enrollments by 82% since 2011, "deprived admission to highly qualified residents," the audit said, instead accepting some 16,000 out-of-state students who fell below the average in-state student by virtually every measure — except, of course, the higher tuition fees they would pay.
The audit puts the University of California squarely in the middle of a national debate over the push for out-of-state and international students at public universities. It is rare, however, for a state itself to so sharply and publicly criticize its university system.
Critics of the increase in out-of-state students say that the desire for tuition dollars has hurt low-income and minority students and subverted the mission of public universities. But state universities say they have no choice, and that the money brought in by out-of-state students is a matter of survival.
UC president Janet Napolitano slammed the audit, calling it "unfair and unwarranted." She said in a letter to the auditor today that the increase in out-of-state enrollments was necessitated by "unprecedented budget cuts" and that the university has not displaced California students, keeping their rate of admission relatively steady. The state itself, Napolitano said, was to blame for the increase.

"California's situation is not unique," Napolitano wrote. "Nearly every state in the nation has faced this Hobson's choice, and they have all reached the same decision: open doors to out-of-state students in order to keep the doors open for in-state students."
Fifteen percent of students in the UC system, widely considered to be among the country's best, come from outside of California, the report said, a number that was just 5% in 2008. But the number at many other state universities is much higher — well over 30% in many states, and approaching 50% at some public campuses. The audit called for the state legislature to limit the number of out-of-state students the university system was allowed to admit.

Mike Gipson, a state assemblyman who ordered the audit, told the Los Angeles Times he was "disgusted" by the results, calling the preference shown for out-of-state students "discrimination." Only 11% of domestic out-of-state students admitted to the University of California system are underrepresented minorities, the audit said, compared to 30% of the university's overall population.