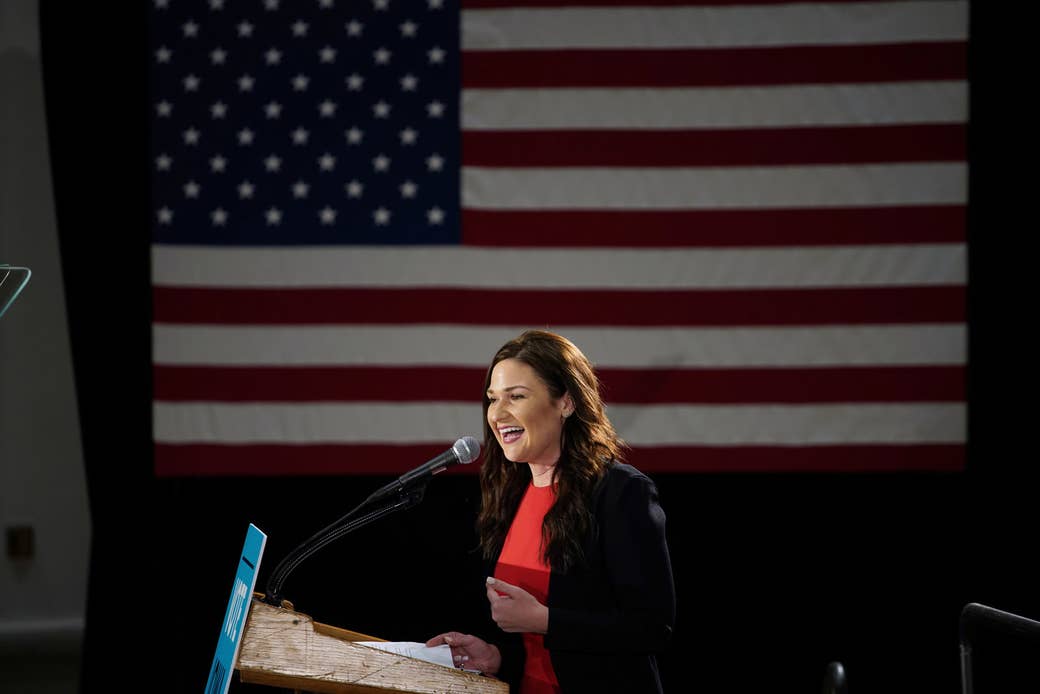 Early in the speech she gave across northeast Iowa, in union halls and living rooms and farmyards, Abby Finkenauer got the thing on many listeners' minds out of the way: She made a joke about her age.
"I'll be honest, when I decided to do this, there's a lot of folks who said it couldn't be done. 'There's no way — she's 28 years old,'" Finkenauer said. "Which, by the way, I'm 29 now. I'll take all the years I can get."
In the small, crowded front room of AFSCME Local 2994 in Anamosa this October, the line drew a big laugh from union members — correctional officers and transportation workers, most of them men, some twice Finkenauer's age. Then, the men listened.
They listened to another line Finkenauer repeated across her district, drawing out each word: "I decided to do this because it was so dang personal."
They listened as Finkenauer spoke of her father, a union pipefitter welder, and her mother, a retired school district secretary, worried about her state pension; about the $20,000 in student loans she's still paying off. Finkenauer's stump speech wasn't really about policy: It was about who she is, and what she thought her district was too.
Americans have never elected a woman in her twenties to Congress. But Tuesday's elections changed that. Finkenauer won a hard-fought victory over a Republican incumbent, one of the districts that helped Democrats win back the House from Republicans Tuesday night. And she is joining another young woman from halfway across the country: Alexandria Ocasio-Cortez, 29, who is running virtually unopposed in Queens, New York, and is poised to be the youngest woman to join the House.
In all of the most obvious ways, Ocasio-Cortez and Finkenauer couldn't be more different from one another.
Ocasio-Cortez is a Latina from one of the country's most liberal districts, a democratic socialist who beat back the establishment with promises of Medicare for All and abolishing ICE. She will represent the Democrats' base: young, urban, diverse — the kind of voters whom many in the party urge cannot be taken for granted.
Finkenauer, a moderate, comes from a mostly white, mostly rural part of Iowa — raised in Sherrill, a town, she likes to say, where there are more cows than people. The voters in her district, Iowa's 1st, are the ones who Democrats are desperately trying to win back in 2020: working-class whites who voted for Trump in 2016, many despite long histories with the Democratic Party.
Ocasio-Cortez and Finkenauer have both been called the future of the Democratic Party. Next year, they'll both be in Congress — on the same side of the aisle but on very opposite ends.
After its victory in the House Tuesday, which was offset by a string of losses in the Senate, the Democratic Party will grapple with internal questions of policy and, by extension, identity: whether to pursue left-wing priorities like the single-payer health care plan known as Medicare for All, or stick with smaller, more moderate steps that might appeal to independent voters, like fixing the Affordable Care Act; whether to fight Trump and appease frustrated, angry Democratic voters or try to work with the president on goals like rebuilding infrastructure to win over independent ones.
Battles like that fractured the Republican Party in the wake of Barack Obama's election in 2008 — stoking the flames of the tea party and the ultra-conservative Freedom Caucus, and leading to ideological gridlocks in Congress that prevented Republicans from accomplishing things like a long-promised repeal of Obamacare.
When Ocasio-Cortez beat Rep. Joe Crowley, one of the most powerful Democrats in Congress, in a primary election in June, her victory immediately drew comparisons to the tea party, which ousted top establishment Republicans in 2010. Ocasio-Cortez will be part of a new wave of Democrats joining the House in 2019: outspoken progressives who believe the party's loyalties, and priorities, are too focused on appeasing the country's political center.
Finkenauer is part of a new wave of Democrats, too: a class of moderates from red and purple districts who were key to helping the party win back seats from Republicans — in many cases, by denouncing some of the policies that Ocasio-Cortez has been championing.
How Democrats deal with this divide will matter intensely to the party's future — and to the question of who they nominate to run against Trump.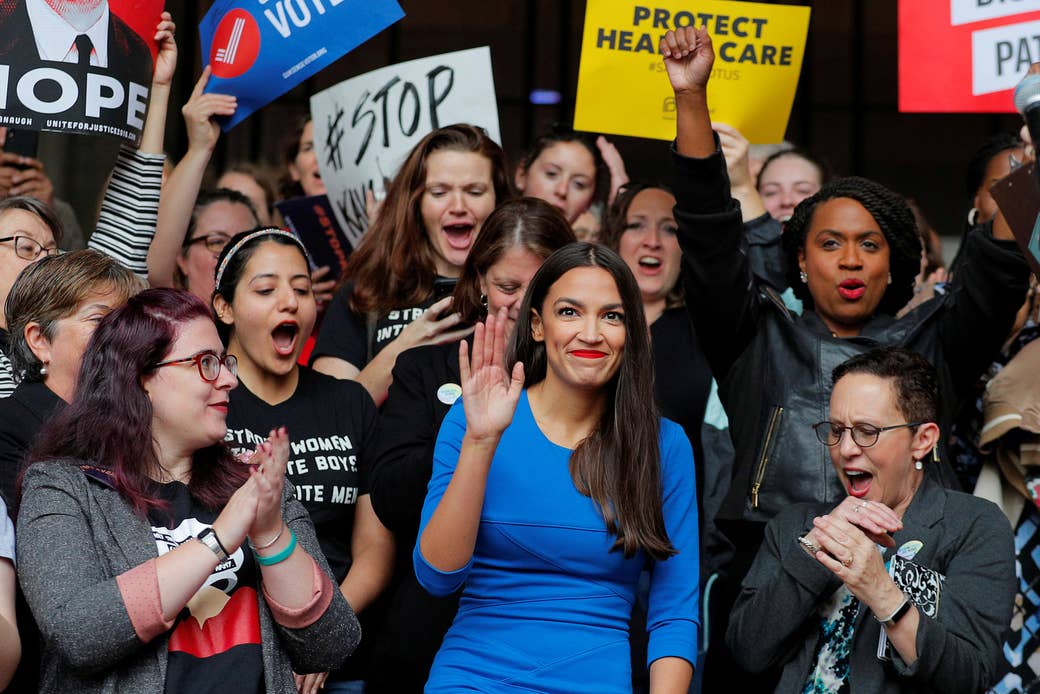 "For too long, we've settled for less than what we deserve just because someone says they are a Democrat. What we're allowed to do is have a greater imagination."
A few weeks before her stunning primary upset in June, Ocasio-Cortez spoke to a tiny group of voters on a rooftop in Jackson Heights, Queens, the roar of traffic behind her. For too long, she told them, their district had been missing an opportunity.
"We don't have to be scared of losing our seat to a Republican," Ocasio-Cortez said, using the easy, careful cadence of a teacher explaining something important. "And because we don't have to be scared of that, this seat can lead the country in progressive changes. This seat can lead the whole nation on health care, education, housing, climate change. This seat can take those risks. This seat can say, 'We can go to the moon, we can turn back the tide.' With this seat, we can do that."
For Ocasio-Cortez, "the moon" is a set of policies that separated her from her mainstream Democratic primary opponent — a list she often recited, in order, in speeches. They are the sole focus of her first ad in the Democratic primary, from May, where she says, "What the Bronx and Queens needs is Medicare for All, tuition-free college, a federal jobs guarantee, and criminal justice reform."
To Ocasio-Cortez, it's not a far-fetched wish list. "It doesn't take 100 years to do this," she says in the ad. "It takes political courage."
The ideas, which were pipe dreams of the far left just five years ago, are no longer on the political fringe. Since the 2016 election, when Sen. Bernie Sanders proposed the single-payer health care plan, Medicare for All has been a rallying cry of many of the country's most prominent Democrats, from Sens. Elizabeth Warren to Kamala Harris and Cory Booker. Sanders and Booker have proposed guaranteed jobs bills. Sanders has been calling for tuition-free college since 2015.
And it was Ocasio-Cortez's victory that catapulted another once-fringe policy, the abolishment of the Immigration and Customs Enforcement agency, into the mainstream. The Democratic establishment was still reeling from the ousting of one of their colleagues when New York Sen. Kirsten Gillibrand called to "reimagine ICE" on June 29. Soon, so did Warren. Harris said she wanted to "think about starting from scratch" on the agency. Sanders said that he wanted to "restructure" it.
Ocasio-Cortez and other progressives have been making the case that left-wing policies can win not just in districts like New York's 14th, which is almost entirely Democratic, but in places like Eastern Iowa, where Ocasio-Cortez thinks voters will be drawn by big-idea social programs that distinguish the right from the left.
The Democrats have done this before, Ocasio-Cortez argues: in the 1930s, with Franklin Delano Roosevelt's New Deal programs. "We are picking up where we last left off — when we were at our last most powerful, when we were at our last greatest."
So far, though, in conservative districts, the Democrats who have been winning primaries look more like Finkenauer than Ocasio-Cortez — moderates with establishment ties and a focus on smaller-picture ideas.
Finkenauer talked about expanding apprenticeships and job training programs, not free college tuition; she touted refinancing student loans at lower interest rates, not forgiving them altogether, something Ocasio-Cortez has said she wants to expand. In fact, Finkenauer wears her own loans as a badge of honor: "Iowans don't want handouts," she says in one ad. "Heck, I'm still paying off my student loans."
Finkenauer didn't campaigned on Medicare for All or abolishing ICE, either. But you wouldn't know that from watching television in Eastern Iowa.
"Finkenauer wants a $32 trillion government takeover of health care that will destroy Medicare for our seniors," said one Republican ad, which branded Finkenauer "too liberal for Iowa." Others claimed she supports "open borders," citing a tweet where she said she wanted to build a flood wall in Iowa instead of Trump's border wall.
Across the country, Republicans have begun to use the policies of progressive figures like Ocasio-Cortez as political weapons against moderate Democrats in places like Iowa's 1st District — even when those Democrats don't back the policies.
Republican attacks weren't enough to sink Finkenauer. But they did illuminate a potentially bigger concern for Democrats in the coming years: that some of the party's central policies may prove to be unpopular, even radioactive, in the parts of the country they need to win back from Trump in 2020.
There's perhaps no better example of that than Medicare for All. Many Democrats have embraced it nationally as an easy-to-understand solution to a broken health care system: Simply put everyone on a single, government-run health care plan, like the system in many other countries.
The phrase "Medicare for All" polls well among many voters, but Republicans have pounced on it. They think that the more that moderate and conservative voters learn about Medicare for All, the more they'll dislike it — and they've been working hard to define the issue before Democrats do, warning of its price tag and governmental overreach.
On health care, Finkenauer says she supports repairing the Affordable Care Act with a "public option," a compromise of sorts that would allow people to buy into Medicare before they turn 65.
Asked about whether she backed Medicare for All, Finkenauer didn't offer a direct answer. She told BuzzFeed News, "I think we need to fix the ACA. That's something we can work across the aisle on, given that we're going to have a Republican administration."
That Finkenauer hasn't explicitly denounced Medicare for All is a sign of the tightrope she and other Democrats are walking — hesitant to say they oppose an idea that has become so central to their party's platform across the country.
But the lack of direct rejection also leaves a door open for Finkenauer — and others like her — to embrace a bolder single-payer system if the political winds seem to change.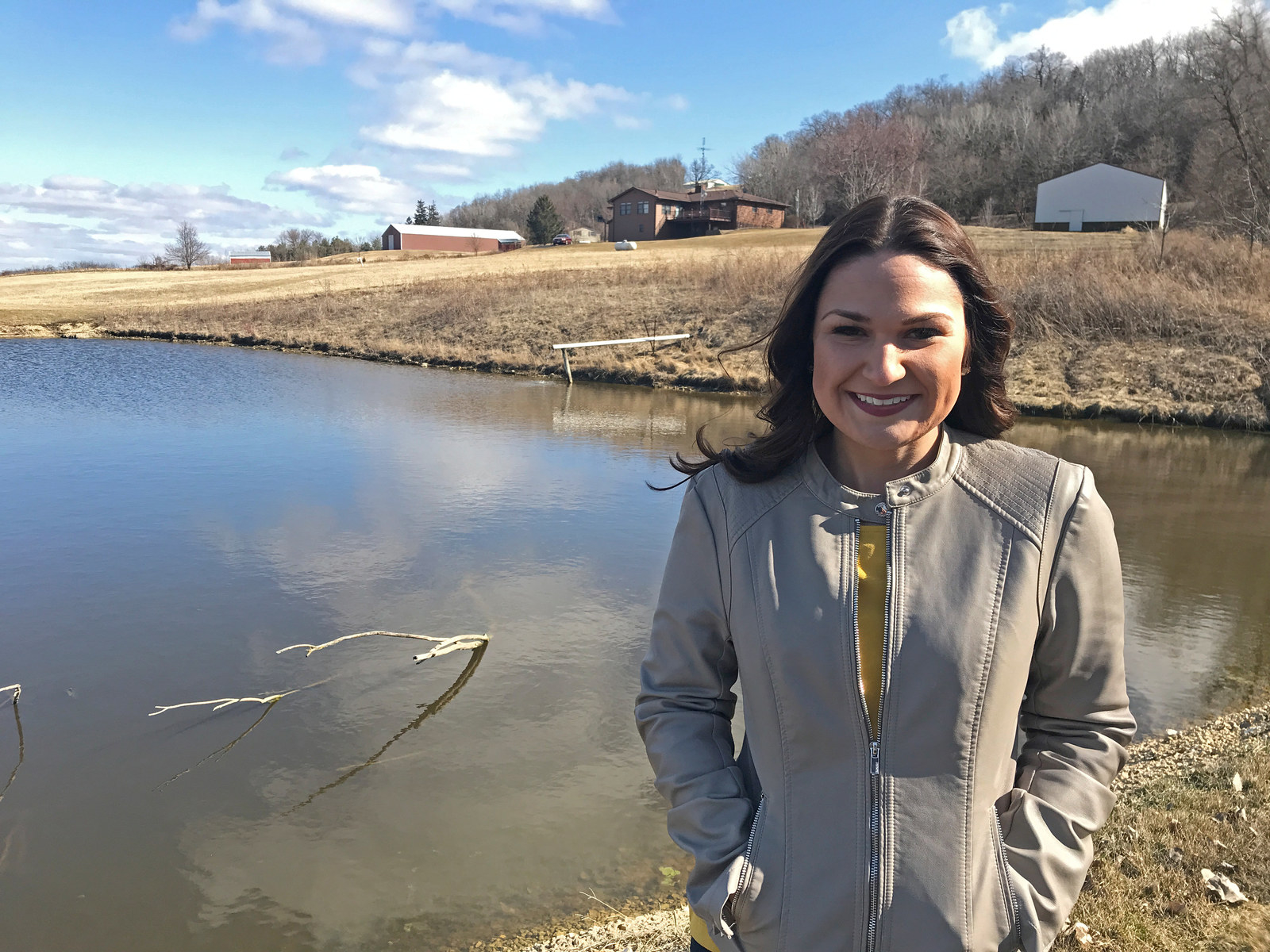 When she spoke at fundraisers and union hall picnics, Finkenauer cited a single moment as the one where she decided, definitively, to run for Congress.
There's a video of what happened first: a grainy shot of Finkenauer, a state representative, on the floor of the Iowa legislature, just before a vote on a Republican plan to strip the state's public-sector workers of many of their collective bargaining rights. In the video, Finkenauer's voice cracked with emotion as she denounced the plan. Of the public-sector union workers, she said, "They are my friends. They are my neighbors. And they are my family."
The moment she decided, Finkenauer told voters, was after, when she looked up into the balcony as the bill passed the Republican legislature, she saw tears in the eyes of union members watching. She tells people that she cried too.
In the wake of their losses in 2016, Democrats across the political spectrum have struggled to define themselves as a party of the working class. In their vastly different districts, Ocasio-Cortez and Finkenauer are both trying to offer the party a way.
If there is something that clearly connects the two women besides the word "Democrat" next to their name, it's that single, short phrase: "Working families like mine."
Ocasio-Cortez says the phrase in the video that introduced her campaign, alongside images of her waking in a cramped Bronx apartment, changing her shoes on the raised platform of a subway train. "Every day gets harder for working families like mine to get by."
On the campaign trail, Finkenauer said it almost constantly too: "I have spent my life fighting for working families like mine."
In their campaigns against older, wealthier men, both Finkenauer and Ocasio-Cortez leaned heavily on their working-class identities. Finkenauer's opponent, Rod Blum, is a self-made millionaire, a business executive whose personal wealth she often cites as evidence of the odds against her.
For Ocasio-Cortez, it was what separated her from Crowley, the influential Democrat, as much as policies like Medicare for All. The daughter of a Puerto Rican–born mother, Ocasio-Cortez likes to call her part of the Bronx and Queens a "first-generation district" — a place where people are connected by their experiences coming to New York City, if not their places of origin.
"It's time to acknowledge that not all Democrats are the same," Ocasio-Cortez said in her campaign video. "That a Democrat who doesn't live here, doesn't send his kids to our schools, doesn't drink our water or breathe our air cannot possibly represent us."
Finkenauer's working-class family is one of the single biggest things that she thinks will set her apart from the rest of Congress, she told BuzzFeed News.
"The fact that it's my friends and family and neighbors who are getting screwed, for lack of a better way to say it," Finkenauer said.
She also thinks her background helps voters understand something else: "I am willing to do more than be a vote — I'm willing to have the tough conversations and work across the aisle if I have to."
In AFSCME Local 2994's tiny square building on the edge of Anamosa, Finkenauer lingered long after her stump speech finished to talk with union members over plates of burgers and someone's wife's homemade pumpkin bars.
The Democrats' lieutenant governor candidate, Rita Hart, stopped into the union office, then ducked quickly out again after her speech. Finkenauer, in a plaid shirt and quilted vest, stayed. Two Department of Transportation workers came to tell her they had been in the state capital with Finkenauer during the vote over bargaining rights.
"We drove from Davenport," one said. "We felt like we should be there."
Finkenauer listens with her hands in her vest pockets. "So you were there, too. There was no reason for that other than going after working families," she said. "That's what kills me."
Waiting near the door for their turn to talk to Finkenauer, a woman turned to the man next to her. "Seems to me like she actually knows who some of us are."