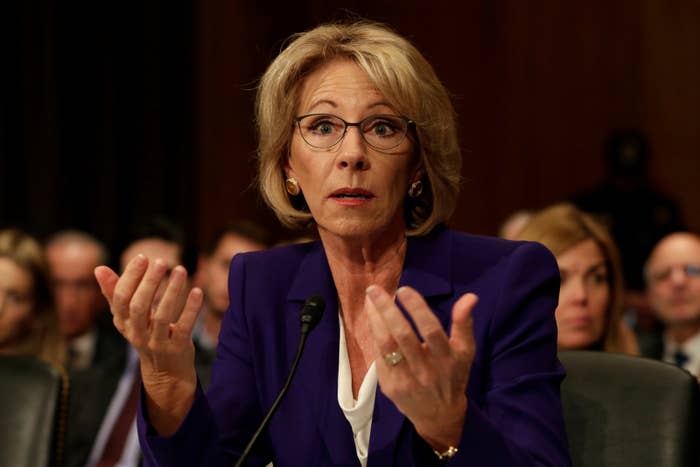 WASHINGTON — Two Republican senators said Wednesday that they would vote against Betsy DeVos, Donald Trump's controversial pick for education secretary, casting her nomination into serious doubt.

In back-to-back speeches on the Senate floor, Republican Sens. Susan Collins and Lisa Murkowski announced that they could not support DeVos's nomination, leaving Senate Republicans one vote short of confirming her. If all other Republican senators support DeVos, Vice President Mike Pence, one of DeVos's biggest advocates, would break the tie. If another Republican opposes DeVos, then her nomination will fail.
"I come to the floor to announce a very difficult decision that I have made, and that is to vote against the confirmation of Betsy DeVos to be our nation's next secretary of education," Collins said on the Senate floor Wednesday afternoon.
Collins, who represents Maine, said Tuesday that she was troubled by DeVos's aggressive advocacy for school choice options like charters and private school vouchers — a virtual impossibility for students in rural areas like Maine, where the only options are typically a handful of public schools for whom losing students might spell closure.
Murkowski, who represents Alaska, said she would vote against DeVos for similar reasons. Murkowski said she had heard from "thousands" of Alaskans who were opposed to DeVos's nomination. "I cannot support this nominee," Murkowski said.
Murkowski has received more than $40,000 in donations from DeVos and her family, who are longtime Republican donors.

Both senators said they worried that DeVos has spent significant time working as an advocate for vouchers, but has little experience with public schools. "Her concentration on charter schools and vouchers raises the question about whether or not she fully appreciates that the secretary of education's primary focus must be on helping ... strengthen our public schools," Collins said.
"I think that Mrs. DeVos has much to learn about our nation's public schools, how they work and the challenges they face. And I have serious concerns about a nominee to be secretary of education who has been so involved on one side of the equation, so immersed in the push for vouchers, that she may be unaware of what actually is successful within the public schools and also what is broken and how to fix them," Murkowski said.

When informed of the news by reporters during his press briefing on Wednesday, White House press secretary Sean Spicer told reporters he was "100% confident" DeVos would be confirmed.
"She is an unbelievably qualified educator, advocate for students, teachers, parents," he said. "I think that the games that are being played with Betsy DeVos are sad."
Many other senators have been flooded with an unprecedented number of phone calls about DeVos, almost all of them in opposition to the Trump nominee.
The Senate take a final vote on DeVos's nomination by the end of this week potentially. With both Collins and Murkowski voting against DeVos, the vote could end up at 50–50, as no Democrats are expected to vote for her and no other Republicans have so far said they are opposed.