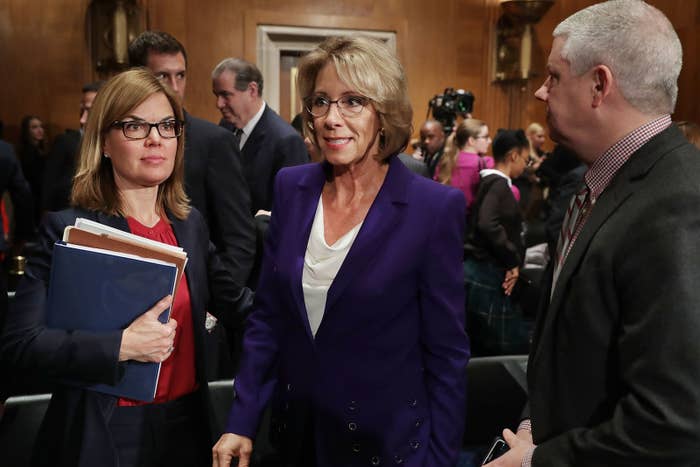 WASHINGTON — Two key Republicans expressed their doubts about the nomination of education secretary Betsy DeVos on Tuesday, saying that they had not yet decided to vote for her confirmation when it comes before the full Senate.
Sens. Lisa Murkowski and Susan Collins both questioned DeVos's commitment to public education, with Murkowski saying that DeVos's "one-sided" involvement in the education world raise questions about whether she was aware of "what's broken in our public schools." However, both Murkowski and Collins voted Tuesday to push DeVos's nomination out of committee and through to the Senate floor, over the objections of Democrats, none of whom voted in favor of DeVos's nomination.
They are the first Republicans to speak up publicly about concerns over DeVos's nomination, which has prompted an unprecedented outcry from Democrats and members of the public, who flooded congressional phone lines to express opposition to her nomination.
Collins said she was "surprised and concerned" about DeVos's lack of familiarity with education laws, like the Individuals With Disabilities Education Act, which DeVos indicated at her hearing she did not know was a federal law.
Murkowski and Collins both come from primarily rural states where the issue of school choice — one that DeVos has made a decades-long personal crusade — is complicated. In rural areas, options like charter schools and vouchers are typically not available to students, Murkowski noted.
"This nomination is very difficult to me," Murkowski said. "I have to acknowledge that thousands of Alaskans have shared their concerns with me about Betsy DeVos."
Murkowski and Collins both noted instances in which they had voted for a nominee in a committee hearing, as they did with DeVos Tuesday, and later voted against their nomination on the Senate floor.