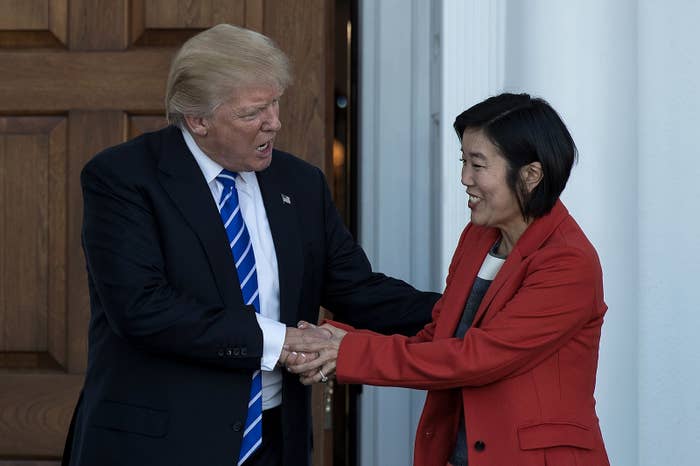 President-elect Donald Trump's search for a secretary of education has narrowed to two candidates, the school reformer Michelle Rhee and Republican megadonor Betsy DeVos, according to two people familiar with the search process.
DeVos is in most ways a conventional choice for the position: a longtime advocate of alternatives to the public school system, with close ties to many on Capitol Hill, she is closely aligned to Republican education officials like Sen. Lamar Alexander and serves on the board of Jeb Bush's education foundation. She has also proclaimed herself an opponent of the Common Core education initiative, which Trump often denounced at his rallies with promises of a "repeal," though she initially supported the standards.
"Rationally, she's the one that makes sense for Republicans," said one school choice advocate who has worked closely with both DeVos and Rhee. "She's much more aligned policy-wise. And she's a get-things-done type person — she's got a team of people and she can work very quickly to get a bill through."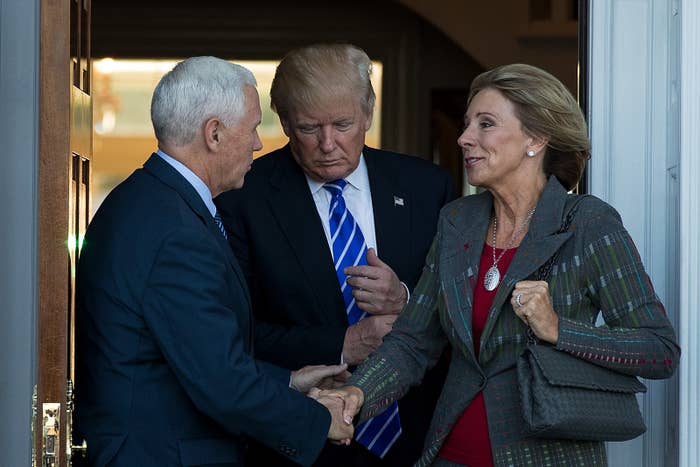 But Rhee may hold a strong allure for Trump, who sometimes deviates from the Republican orthodoxy in education and has embraced controversial picks in many of his early cabinet positions.
The former chancellor of Washington, DC, public schools, Rhee is an unconventional pick. She's a former Democrat and a polarizing firebrand who made a name for herself by fighting teachers unions and advocating fiercely for the expansion of charter schools.
"If you're just trying to send a message with your pick — if you want to say 'fuck you' to teachers unions — then [Rhee] is the right choice. That may be what Trump wants to do," said the education advocate.
"Michelle is a lightning rod, and that's something he likes — he likes people who stir things up and make a lot of noise."
Both Rhee and DeVos met with Trump this weekend at his golf course in New Jersey.
Many conservatives have rallied around DeVos, said one Republican operative, in part because she is aligned ideologically on key issues like the promotion of school vouchers. But they also support DeVos because of several black marks on Rhee's record: Rhee is a supporter of the Common Core, and her husband, Kevin Johnson, is a prominent Democratic politician.
Trump campaigned on a promise to repeal the Common Core — though it is not a federal law. The conservative Federalist proclaimed, "Michelle Rhee Would Be a Terrible Choice for Education Secretary," largely because of her Common Core stance.
But DeVos may have a few black marks of her own, making her unlikely to please Trump's most ardent right-wing supporters. Though she now says she's opposed to the Common Core, she once advocated for it alongside Jeb Bush, one of Trump's biggest foes. And as a DC insider and large-scale donor to the Trump campaign, her hiring may be a liability for an administration that has promised to "drain the swamp" of Washington.