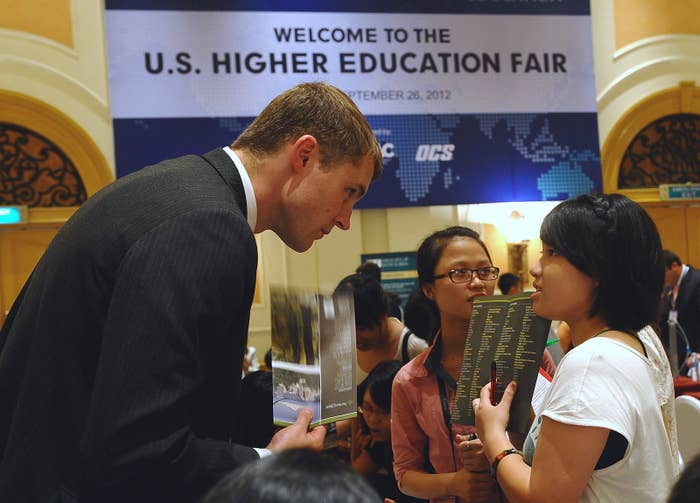 International students are choosing to enroll at American colleges at rates largely unchanged from previous years, according to a report released Thursday, which eased months of concern that Donald Trump's hardline immigration rhetoric would curb interest from foreign students.

The Institute of International Education found there was virtually no change in the so-called yield rate of international students — a measure of how many students accepted admissions offers from US colleges. The metric was closely watched this year, because most students sent their applications out long before Trump announced his immigration ban on a handful of Muslim-majority countries, while acceptances came afterward.
International student admissions offers declined by 2% — in line with a slight drop in offers to domestic students — and the yield rate also dropped 2%.

But there was one regional exception: the South.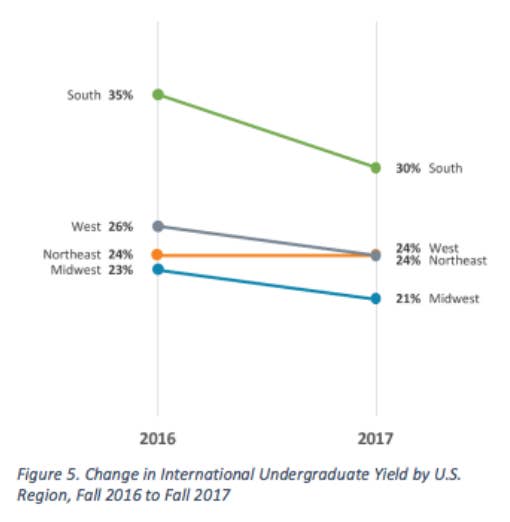 Admissions offers to international students at Southern colleges fell 13%, and in Texas they fell 18%. The yield rate in the South fell by 9%, well above the national average. Texas is one of the country's largest destinations for international students; the other biggest states, like New York and California, saw little change in their numbers.
Among students from India and the Middle East, IIE found, anxiety about studying in the United States is high. Eighty percent of colleges said that Indian students have expressed concerns about their physical safety, after a widely publicized hate-fueled killing of Indian-Americans in Kansas City in February. Middle Eastern students, the survey found, worried equally about securing visas and feeling welcome in the United States.
Colleges have increasingly relied on international students, who often pay full tuition, as sources of steady revenue. In the wake of President Trump's election, they worried publicly about how his rhetoric criticizing immigrants and refugees might discourage students from applying to US colleges.
An earlier survey by IIE found that while 38% of colleges had seen a decrease in international applications, many from the Middle East, 36% saw an increase, and 25% saw no change. But there are some indications that international students are turning elsewhere for college: Many Canadian universities said they saw international student applications increase by 20% or more. Australia, too, saw sharp increases in foreign student visa applications.
When Trump enacted his immigration ban in January, schools began to worry that international students, particularly those from the Middle East, would not actually accept their admissions offers. Even with their fears about yield rates calmed, the survey found, schools still worried that their Middle Eastern and Indian students may not arrive on campus in the fall.
Many schools have adjusted their approach to admissions, ramping up outreach efforts to recruit students abroad and reassure those who have been admitted.