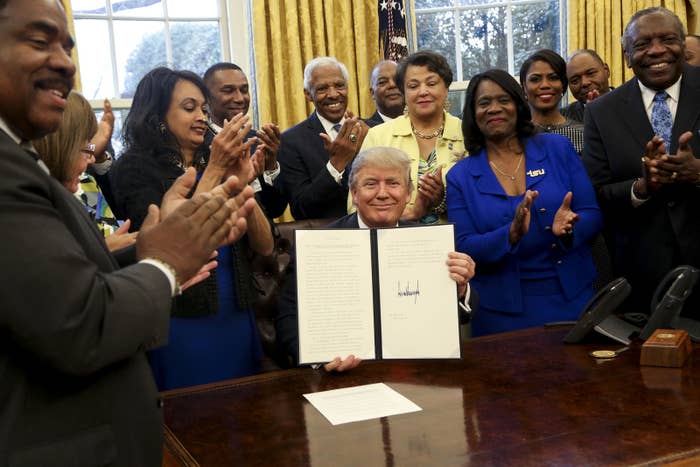 WASHINGTON — Despite a recent and much-publicized overture to historically black colleges by the Trump administration, the new executive order on HBCUs issued Tuesday does not advocate for any increase in federal funding for the schools — falling short of one of the two key demands that black college leaders had made of the administration.
The order does, however, move an initiative to help historically black schools under the umbrella of the White House, rather than the Education Department, something black college groups had advocated for in hopes of having better access to the president.
The Trump administration and Republicans have been hoping to improve on the rocky relationship that black colleges had with the Obama administration, which declined to include either of HBCU presidents' demands — the funding increase or the shifting of the initiative to the White House — in its own HBCU order.

A coalition of HBCU presidents and advocacy groups had asked Trump to write increased federal funding into the executive order, including an "aspirational goal" that at least 5% of federal grant funding should go to historically black schools. HBCUs have long struggled with chronic underfunding from states and low endowments compared to their predominantly-white counterparts.
But the executive order, which does little to depart from the language of a 2009 order by the Obama administration, made no references to increasing funding to black colleges. It also does not address increasing Pell Grants funding, earmarked for poor students, another item on the wish list of black college presidents.
The order also departs slightly from Obama's by calling for "increasing the private-sector role" in historically black schools.