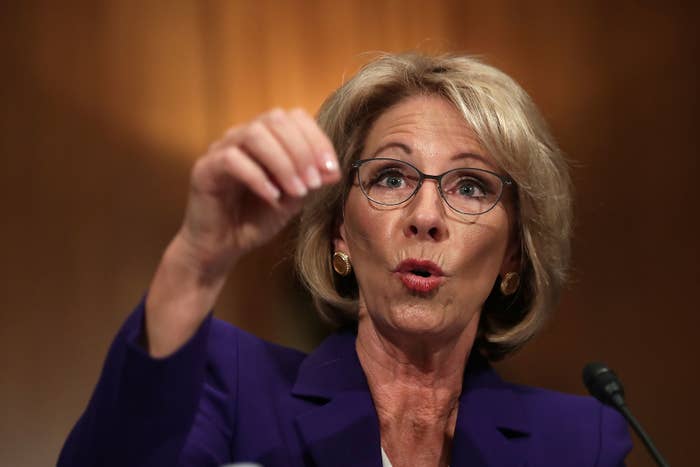 WASHINGTON — Betsy DeVos, Donald Trump's nominee for education secretary, weathered an unusually contentious confirmation hearing Tuesday night, where she stumbled over several basic questions about education policy and denied she served on a board of a private foundation that donated to anti-LGBT causes, despite years of tax filings that indicated otherwise.
DeVos, a Republican megadonor who has worked for decades to expand school choice, said she would wanted to end "one-size fits all education," steering taxpayer money away from traditional public schools and into charter schools, as well as private schools, religious schools and online charters.
Democrats harped on what they said was DeVos's history of opposition to gay rights, pointing to donations from DeVos's family members to anti-LGBT groups. But DeVos, who said she was opposed to discrimination against gay students, tried to distance herself from those donations.
In an unusual exchange, she denied sitting on the board of a private foundation, run by her mother, which gave more than $5 million to the evangelical Christian group Focus on the Family. Pressed by Democrats, she later claimed that three years of tax forms that listed her as a vice president of the foundation were a "clerical error."
Republicans presented DeVos's views, particularly those on charter schools, as "in the mainstream of public opinion." But Democrats emphasized more contentious positions, like her support of vouchers, which allow parents to use taxpayer money to pay private school tuition. Patty Murray, the committee's leading Democrat, accused DeVos of attempting to "privatize public education."

DeVos suggested she would walk back or reexamine several key Obama-era higher education policies, including current guidelines on campus rape, which she would not commit to enforcing, and rules that cut off funding to poorly performing for-profit colleges.
In higher education, DeVos said she would move away from steering all students to traditional colleges, instead emphasizing technical and vocational education and online schools in addition to traditional brick-and-mortar institutions.

Democrats worked to present DeVos — who has not yet completed a federal ethics review — as inexperienced and vulnerable to conflicts of interest because of her complex financial dealings. They fought unsuccessfully to subject DeVos to a second round of questioning, accusing Republican senator Lamar Alexander of trying to shield DeVos from scrutiny.
DeVos stumbled when she said she "may have ben confused" about whether the Individuals with Disabilities Act, one of the biggest items in the federal education budget, was a federal law — walking back an initial claim, which veered drastically from current policy, that she would let states decide whether or not to comply with disability rules.

And she did not appear to understand another key piece of education policy: the difference between two types of standardized testing, one of which measures student growth and the other which holds students accountable to a single proficiency standard.

"I'm surprised you don't know this issue," said Senator Al Franken, a Democrat, who had asked DeVos which type of tests she favored.
Pressed on her and her family's past investments in companies that worked in the industry DeVos would oversee, including an online charter school company and several student lenders, DeVos said she would divest from any conflicting investments and would not take advantage of tax loopholes when selling the stock.

"I will not be conflicted. Period. I commit that to you all," she said.