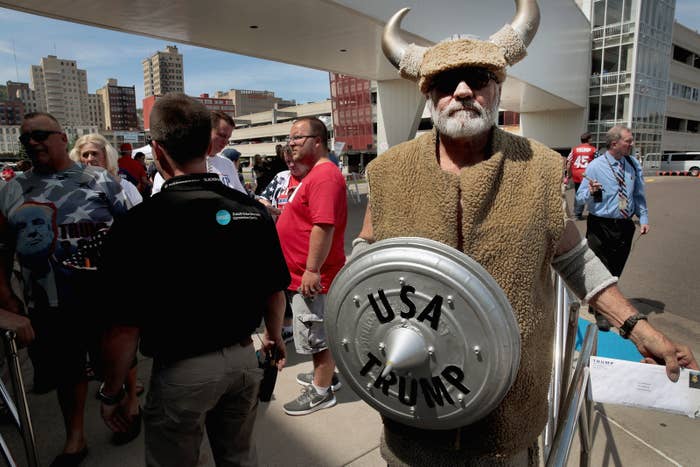 The "child migrant crisis"? Cooked up by Democrats and the media, possibly to distract from an inspector general report that exposed Hillary Clinton and the Deep State. The photos of children in cages? From 2014 — or even, possibly, faked. The separation of children at the border? "It's been going on for years."
In Duluth, Minnesota, on Wednesday, in a packed arena on the shores of Lake Superior for a campaign rally starring the president, Donald Trump's supporters were ready with a fact-skirting defense of the administration's family separation policy at the border that has been roiling the country for days. It varied little from person to person — even before Lara Trump repeated many of the same lines about the "hysterical" border policy response to the roaring crowd ahead of her father-in-law's arrival in Duluth.
"It's a manufactured crisis," said Alex, from Duluth. "This has been going on for years, and then all of the sudden the [inspector general] report comes out and they want to talk about it."
But when it came to the president's new executive order intended to keep immigrant families detained together, signed just hours earlier as most people waited in line in the blazing sun, there was less consensus.
"I wish he would have held true, honestly," said Kyle Gilbertson, from Duluth, who said he thought the policy acted as a "deterrent" against illegal immigration. "I wish he would have stayed strong on that. So often the Republican Party rolls over and the Democrats stick together."
Was signing the order — which is at most a temporary solution — the right decision? Deb, from Duluth, paused for several long seconds before answering. "I'm not sure. All I can say is the left will twist it anyway — it doesn't matter what he does."
Trump, known to brag about his accomplishments, mentioned the day's executive order only once during his speech, almost as an afterthought. "And by the way, today I signed an executive order," he said, in front of a roaring crowd of people who had waited since the early hours of the morning to get into the arena. "We're gonna keep families together, but the border is going to be just as tough as it has been."
Other supporters defended Trump's order to stop separating families in the same breath that they praised his decision to separate them — something they said had not, in fact, been a decision at all.
To Gayle Taylor, of Superior, Wisconsin, Trump's separation policy "was upholding the law. He was doing it for us, for the American people." But his executive order, she said, is a sign that "he does care about the families. I think he did the right thing, as of today. He's letting families be together."
Duluth, near Minnesota's mining country, was once a Democratic stronghold, but Trump won the surrounding region by a wide margin in 2016. His presence there could be a boon to Republicans who are hoping that Duluth's congressional district, Minnesota's 8th, could flip to Republicans — a rarity in a midterm year in which the party is staring down the prospect of significant losses in other parts of the country.
Trump brought the Republicans' nominee there, Pete Stauber, out on stage inside the arena, calling him "the person we're really here to support."
Nearly as far from the US–Mexico border as possible — and in a congressional district that is more than 92% white — many supporters said they nonetheless cared deeply about illegal immigration. They roared when Trump spoke of "the impact of uncontrolled immigration." Later, as they clashed with protesters outside the arena, Trump supporters turned again and again to chants of "Build that wall."