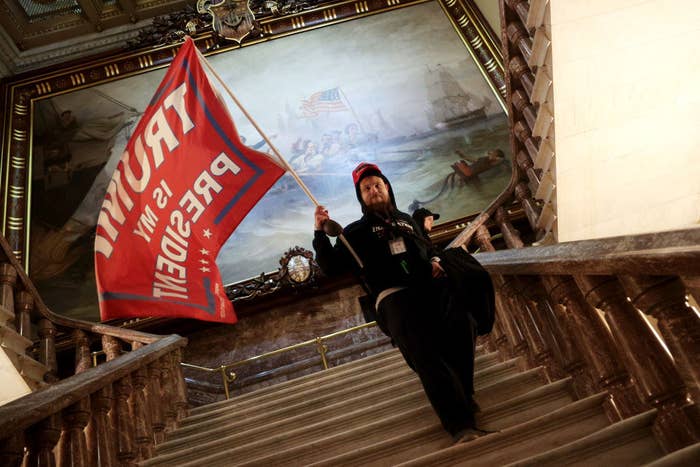 WASHINGTON — Donald Trump launched a deadly attempted coup on Wednesday by unleashing a violent mob on Washington, DC, with thousands of extremists breaching the US Capitol and forcing senators and representatives to flee as they were certifying Joe Biden's presidential election win. The Trump mob, flying MAGA and Confederate flags, sprayed police officers with chemicals, looted, and hung nooses, claiming to avenge their cultish leader's delusional claims that the election was stolen from him. It was a terrifying and dark moment in American history.
Gunfire erupted in the halls of Congress, and one woman, draped in a Trump flag, was shot by Capitol Police. She was seen on television cameras being wheeled from the building on a gurney, bleeding from the neck, while someone delivered chest compressions. She later died, as did two other men and a woman who police said suffered unspecified medical emergencies near the Capitol, though it was unclear if they were part of the demonstrations.
Law enforcement officers — who in 2020 were quick to use force on anti-racism protesters — were easily overwhelmed by the predominantly white domestic terrorists. They had appeared just minutes after Trump, in a speech to the mob, urged them to "march" to the Capitol in a show of "strength." The mob easily pushed through metal police barricades, forced open the doors to the Capitol, and occupied offices. Officers barricaded the doors to the House of Representatives, drawing handguns as the rioters broke through windows and eventually claimed the speaker's podium.
As smoke rose from outside the Capitol and after the National Guard rolled in, the president endorsed the chaos. "Remember this day forever!" he tweeted.
Rioters destroyed news equipment and formed a noose out of camera wires, acting on years of Trump's claims that journalists are "the enemy of the people."
"We're coming for bodies. We are at war," rioters said from amidst piles of smashed cameras.
Many Republicans, including Trump's children, acted stunned by the insurrection, though it had been planned publicly online for weeks, and they had enabled Trump's dangerous behavior for years. The attempted coup was the culmination of massive institutional failures — the Republican Party embracing Trump's racism and populism; social media platforms allowing him to spread bogus conspiracy theories far and wide; Trump's destruction of trust in government institutions, science, and facts; and a failed police response.
When asked why more people weren't arrested, Washington, DC, Mayor Muriel Bowser said authorities were reviewing video and would issue wanted notices in the next several days.
It took hours to regain control of the Capitol, which was only declared secure around 5:30 p.m. DC's mayor called a 6 p.m. curfew, and 1,100 National Guard troops were brought in to help police. Virginia Gov. Ralph Northam instituted a curfew in the state's DC suburbs for the same time period. Police confiscated at least six firearms and arrested more than 52 people, a stunningly low number. Of those, four arrests were for carrying pistols, 47 were related to curfew violations and unlawful entry. In all, 26 were made on the Capitol grounds. Police recovered two pipe bombs and a cooler containing Molotov cocktails, officials said.
Just before 4 p.m., Congressional Democratic leaders Sen. Chuck Schumer and House Speaker Nancy Pelosi put out a statement pleading with Trump to do more. "We are calling on President Trump to demand that all protestors leave the U.S. Capitol and Capitol Grounds immediately."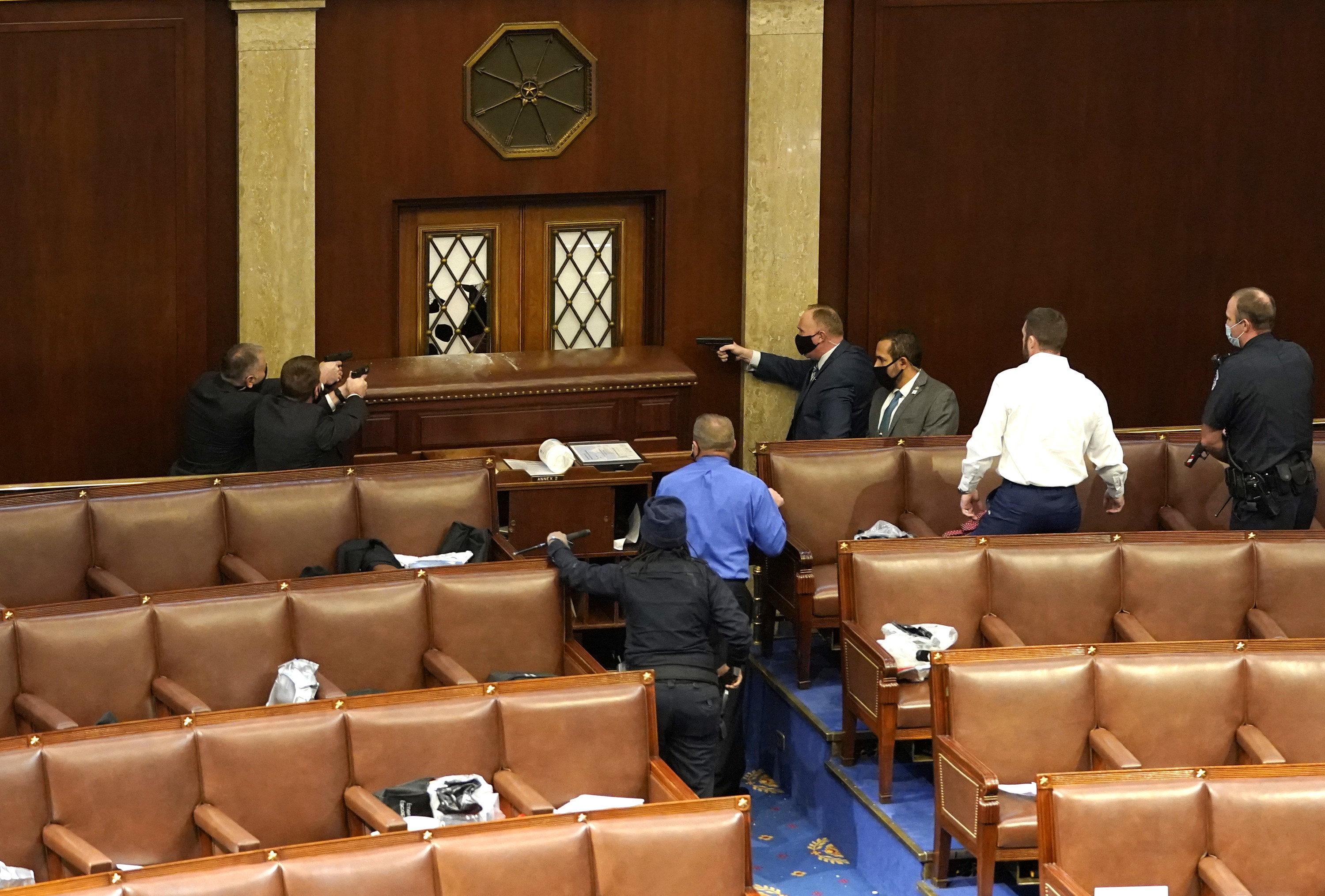 Footage showed a scene of unprecedented lawlessness and chaos unfolding inside the Capitol — rioters smashing through windows with shields, vandalizing lawmakers' offices, and replacing the American flag with Trump banners. Rioters were photographed lounging on the platform where, hours earlier, Vice President Mike Pence began the process of certifying the election in favor of Biden.
"We have a president who has incited and encouraged an armed attack on the Capitol of the United States," Democratic Rep. Tom Malinowski told reporters after being evacuated from the House chamber.
Lawmakers, staffers, and reporters trapped inside the building were given "escape hoods," respiratory devices designed to aid breathing in the face of tear gasses or fires, and taken to shelter in tunnels and rooms beneath the Capitol. Rep. Scott Peters told a Hill reporter that members were told by law enforcement to take off their congressional pins so they wouldn't be identifiable as elected officials.
Rioters waving Trump flags and "Thin Blue Line" banners ostensibly in support of police openly clashed with law enforcement officials, who seemed unprepared for the onslaught of people that the president has been promising for days now. Police resorted to pepper spray, shields, and metal barriers to stop people, but it was no use.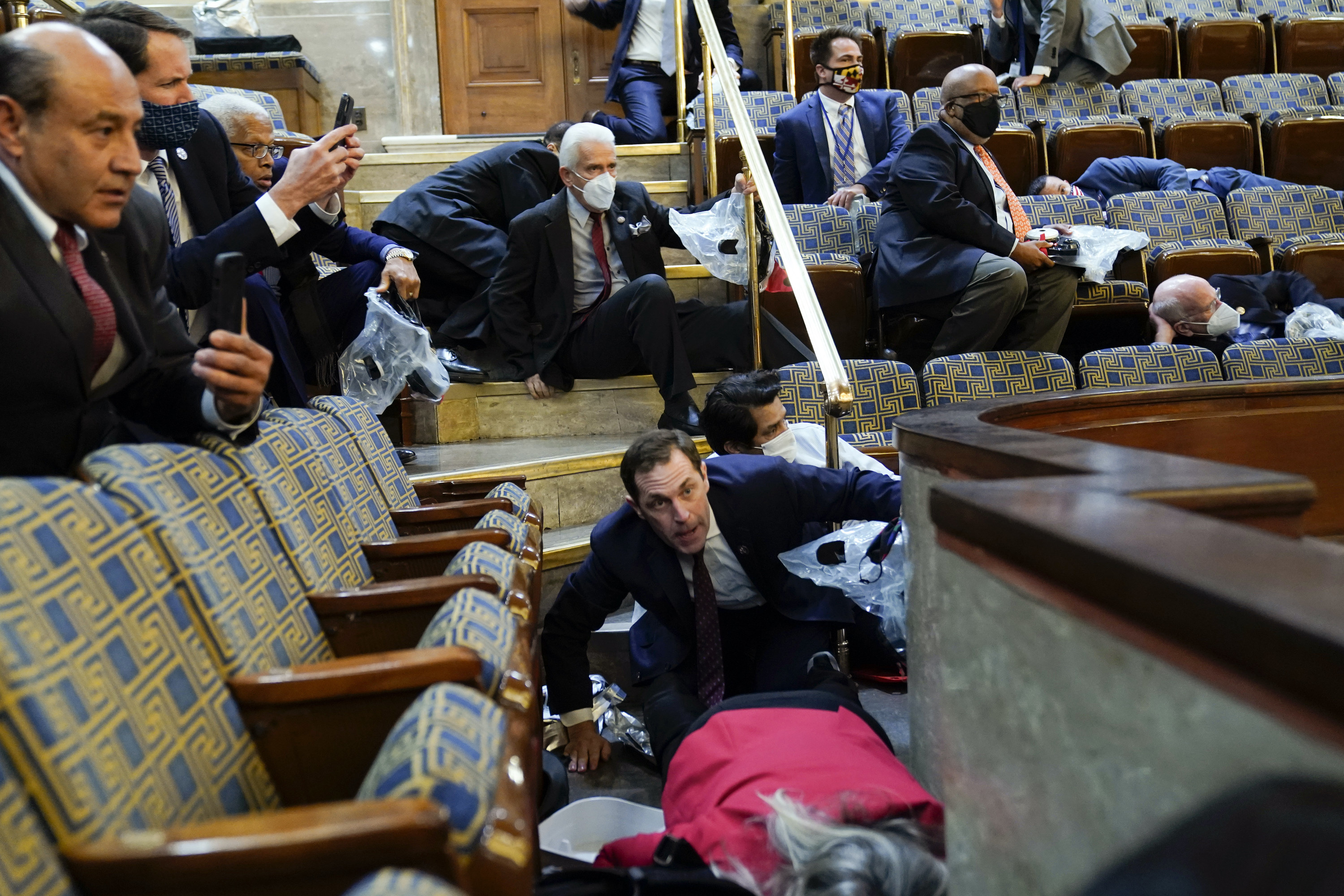 Members of Congress said tear gas was being dispersed inside of the Capitol, with members being asked to grab the gas masks below their chairs. According to a pool report, as Capitol Police told members to prepare to relocate to their cloakrooms, Democratic Rep. Steve Cohen yelled, "Call Trump! Call your friend!"

Just after 2:15 p.m., the House and Senate recessed and Capitol Police locked the doors to the House gallery, warning members not to leave, as House leaders were escorted out, according to pool reports. Rep. Dean Phillips of Minnesota reportedly yelled, "This is because of you," apparently in reference to his Republican colleagues objecting to certifying electoral results.

In the Senate, reporters said, about 200 people were sealed in the chamber — an officer "with an orange POLICE badge across his chest appeared on the floor with what appeared to be a semi-automatic weapon" stood between Senate Majority Leader Mitch McConnell and Minority Leader Chuck Schumer, according to a pool report.
Police began evacuating members of Congress from the House around 2:40 p.m. The Senate parliamentarian grabbed the boxes holding the Electoral College certificates before leaving, the pool reported. A Department of Homeland Security spokesperson told BuzzFeed News that the Federal Protective Service and the Secret Service have been requested to provide assistance to Capitol Police, and they are fulfilling that request.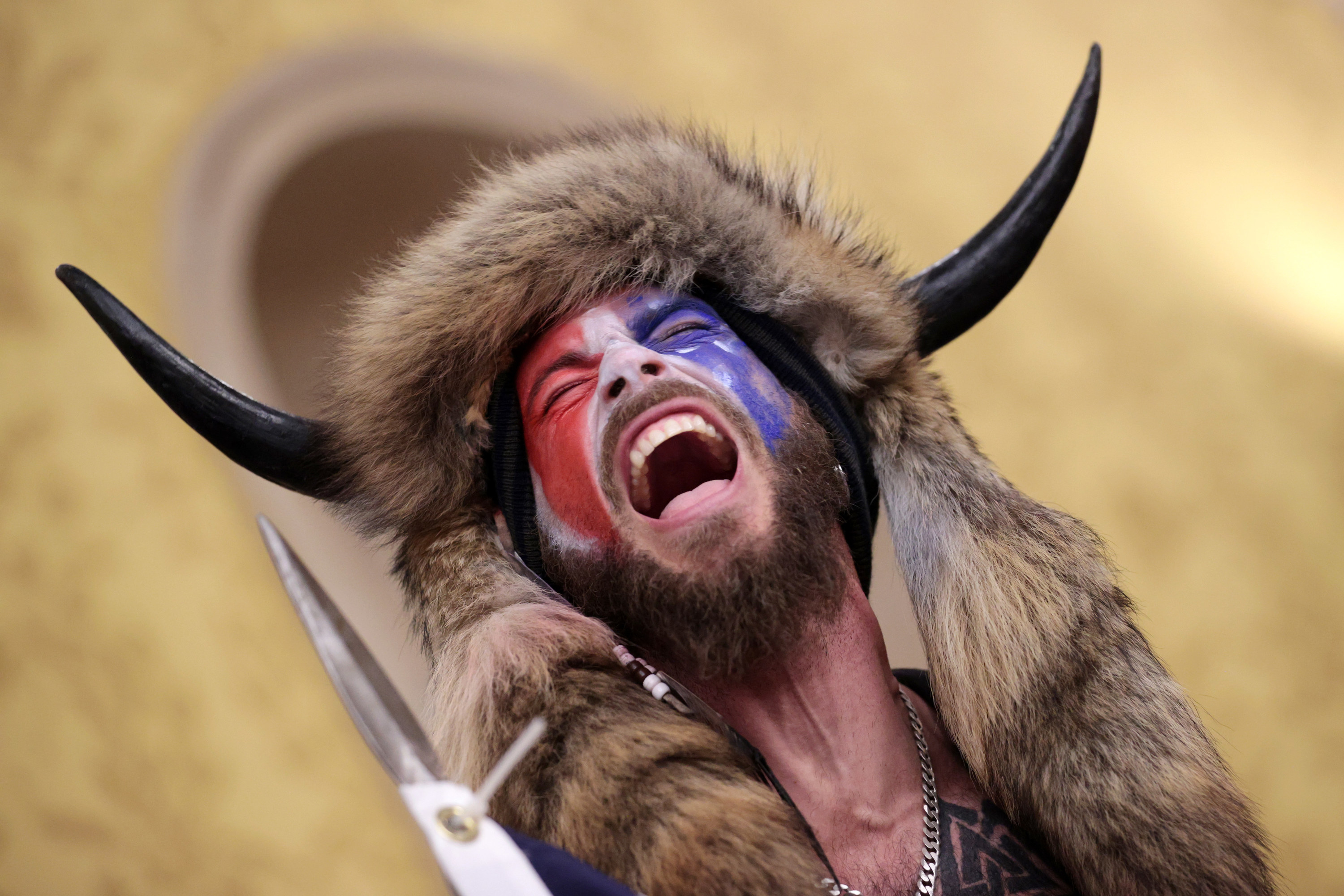 House Minority Leader Kevin McCarthy made a brief appearance on Fox News around 3:15 p.m., where he said he was with Capitol Police and heard over the radio 10 to 15 minutes earlier that shots had been fired. He did not answer when asked if shots were fired inside or outside the Capitol.

McCarthy also said he spoke with Trump and explained the situation at the Capitol. Asked what the president said, McCarthy said, "He put out a tweet too."
A reporter with evacuated House lawmakers said many of them gathered to say a prayer, some kneeling or bowing their heads.
Trump had urged his supporters to "peacefully" march toward the Capitol, falsely claiming that Democrats were stealing the election.

"Because you'll never take back our country with weakness," he told supporters gathered in front of the White House, "you have to show strength, and you have to be strong. We have come to demand that Congress do the right thing and only count the electors who have been lawfully slated. Lawfully slated. I know that everyone here will soon be marching over to the Capitol building. To peacefully, patriotically make your voices heard."
Instead, livestream videos showed Trump supporters outside the Capitol yelling at police for holding them back. "They didn't win shit. They stole it and you're fucking defending it," yelled one member of the mob. "Those are our representatives in there stealing our freedom," screamed another. One rioter attempted to steal an officer's baton. A rioter used a shield to smash windows in the Capitol, and rioters then scrambled inside. Others used rope to scale up the side of the building.
Reporters in the Capitol said an audio message played asking people to stay away from exterior windows due to an "external security threat." The message said no entry into or exit from the building was allowed, meaning the complex is functionally in a lockdown.
Videos show a mass of Trump supporters carrying flags and banners storming law enforcement officials, who pushed, used shields, and fired what appeared to be pepper spray in defense.

Cellphones are not permitted in the Senate chamber, meaning many lawmakers were likely unaware of the chaos unfolding outside the Capitol while they debated the objection. According to a pool report, Senate leadership appeared to be passing notes during the debate and looked concerned. Soon after, the Capitol was locked down.

Capitol Police had ordered the evacuations of two Capitol campus buildings: the Madison Building and Cannon House Office building. It was unclear why the buildings were evacuated, but alerts sent to staffers said it was due to "police activity."
Police also sent an alert saying they were investigating a suspicious package on the 300 block of First Street SE. Capitol Police later gave the all-clear to staffers in the Cannon House Office Building.
Members of Congress tweeted that they were being evacuated or sheltering in place because of the police activity.
South Carolina Rep. Nancy Mace tweeted that she evacuated her office in Cannon "due to a nearby threat." "Now we're seeing protesters assaulting Capitol Police," she tweeted. "This is wrong. This is not who we are. I'm heartbroken for our nation today."
Virginia Rep. Elaine Luria, who also evacuated her office, tweeted, "I don't recognize our country today and the members of Congress who have supported this anarchy do not deserve to represent their fellow Americans." Michigan Rep. Haley Stevens said she was sheltering in place due to evacuations in the next building. "I can't believe I have to write this," she said in a tweet.

A police officer told lawmakers that the lockdown was due to rioters breaching the building, and urged members not to leave. Some lawmakers applauded and thanked the Capitol Police.
House Majority Leader Steny Hoyer, the second-highest-ranking member, was seen being escorted from the chamber by reporters in the room, seemingly by Capitol security, as were other members of House leadership and Vice President Mike Pence, who was on the Hill to preside over the joint session in his role as the president of the Senate.
The House resumed its debate just after 2:25 p.m., though only minutes later went back into recess after staff entered the chamber and made motions for the members to get down. According to a pool report, lawmakers were told they may need to take shelter under their chairs, and reporters were told rioters had made their way into the Capitol rotunda.
Trump's supporters converged on Washington on Wednesday, with Congress set to confirm Biden's victory, at the direct urging of the president. In a tweet, Trump told supporters the day's events "will be wild."
The mayor of Washington, DC, ordered a 6 p.m. curfew in response to the violence.

Hamed Aleaziz contributed reporting to this story.

This is a developing story. Check back for updates and follow BuzzFeed News on Twitter.‏