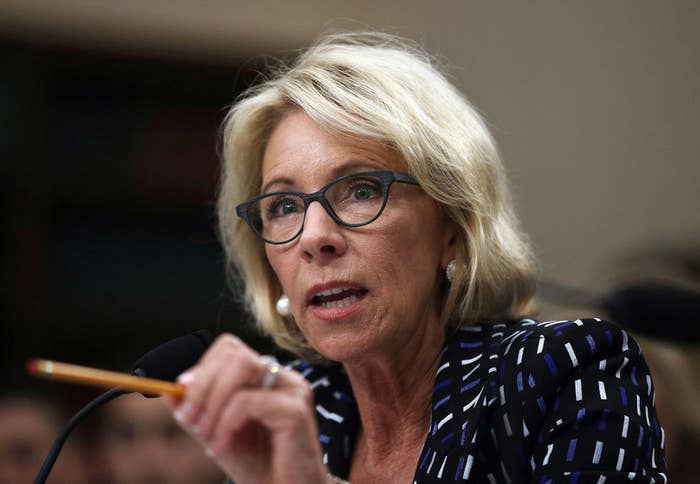 The Trump administration moved today to roll back two regulations designed to protect students against predatory for-profit colleges.
In federal filings, the Education Department said it would renegotiate the federal "gainful employment" rule, which stops government money from flowing to for-profit colleges whose students take on too much debt, but earn little after they graduate. Years in the making — it went into effect in 2015 after surviving two lengthy court battles with the for-profit college industry — the regulation is arguably the most significant piece of President Obama's higher education legacy.
The department also said it would also delay the implementation of a second rule, widely known as "borrower defense to repayment," which would allow students who said they had been defrauded by their schools to more easily have their federal loans forgiven. Those regulations — which were set to go into effect on July 1 — also included provisions to prevent colleges from forcing their students to sign away their right to sue.
In a statement, Education Secretary Betsy DeVos called the borrower defense rules "a muddled process that's unfair to students and schools."
"It's time for a regulatory reset. It is the Department's aim, and this Administration's commitment, to protect students from predatory practices while also providing clear, fair and balanced rules for colleges and universities to follow," she said.
The move was quickly decried by Democrats and student advocates who fought for the regulations' passage — frequently sparring with the Obama administration over whether they went far enough in penalizing for-profits.
"Today, Secretary DeVos chose for-profit colleges over students and taxpayers," Democratic Senator Dick Durbin of Illinois said in a statement. "Her actions to eliminate important protections in higher education will harm students and waste millions in taxpayer dollars."
The rules will not simply vanish. The gainful employment regulation, which has already gone into effect, will be renegotiated — most likely, observers say, in a way that does not stringently penalize poorly performing schools or single out for-profits. In her statement on Wednesday, DeVos said that the Obama administration's rules were "overly burdensome and confusing for institutions of higher education." The re-regulation will take months of procedures and comments before any new rules go into effect.
Democratic attorneys general quickly jumped to protect the Obama-era regulations, with Massachusetts Attorney General Maura Healey saying she would sue the Education Department for "abandoning critical student protections." A group of eight attorneys general filed yesterday to intervene in a lawsuit over the borrower defense rules, saying they feared DeVos would not defend them.

Two advocacy groups, Public Citizen and Harvard University's Project on Predatory Student Lending, said in a statement that they would "use all legal means" to fight the delay of the borrower defense rule.
For-profit colleges were the primary critics of the gainful employment rule, saying they unfairly singled out for-profits and other career programs, but did not punish poorly performing programs at nonprofit institutions. The defense to repayment regulation, however, is disliked by a wide swath of colleges, which said it was too broad and would unintentionally hurt schools like historically black colleges.
Nevertheless, the rollback of the rules is "positive for for-profit colleges," Jeffrey Silber, an analyst with BMO Capital Markets, said in an investor email. "It was cloud hanging over the sector," Silber said.