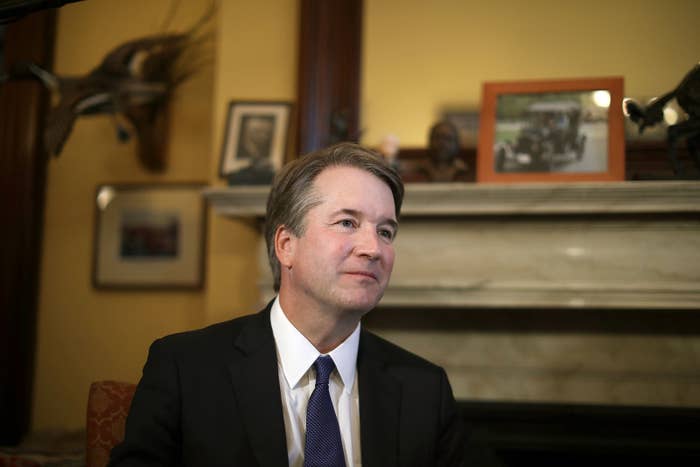 Brett Kavanaugh, President Donald Trump's pick for Supreme Court justice, was in a secret society at Yale called Truth and Courage — a lofty name for what was, in reality, an all-male club that one former member said more closely resembled a fraternity.
The name was widely known to be a jab at Yale's older, more formal secret societies, like the Bushes' Skull and Bones, said Kristin Sherry, who attended in the early 1980s, a few years before Kavanaugh, and knew several members of Truth and Courage — all "nice party guys," Sherry said. "It was a bit of a joke."
The former Truth and Courage member, who graduated several years after Kavanaugh, said the group was young and loosely organized. It had no ancient tomb, and in his time, he said, it met mostly in members' apartments or fraternity basements.
Yale's network of secret societies, particularly in Kavanaugh's time, was mostly decades-old, monied establishments that met in imposing stone buildings known as "tombs." In Skull and Bones, for instance, members meet frequently to debate political and academic topics, dine on elaborate meals, and listen to distinguished speakers. The club is famously alcohol-free.
Not Truth and Courage, which was also known simply as TNC.
"It was nothing like Scroll and Key, nothing like Wolf's Head," said one woman who graduated a year after Kavanaugh and said she knew members of Truth and Courage. "They just drank a ton. They got drunk." She paused. "All I remember is them drinking."
Kavanaugh was a member of the fraternity Delta Kappa Epsilon, according to his Yale yearbook entry, where he also listed Truth and Courage — a rarity at Yale, where fraternity life is relatively subdued. He wrote about sports for the Yale Daily News.
In a private Facebook group composed of more than 20,000 Yale alumni this week, some members have noted Kavanaugh's stated membership of TNC; most people commenting on the group have described it as "informal" and "minor."
"Other societies were looking for a prestigious family background, or your GPA. Each had their own personalities," said Sherry. TNC, Sherry said, was unique: It was "organized around having sex with coeds."
Several years before Kavanaugh was initiated into TNC, Sherry said, the people on campus called the group by an "alternate nickname": "Tit and Clit."
That was a name that wasn't familiar to the woman who had graduated in 1988. The former member said he hadn't heard of the "Tit and Clit" nickname in his time there, either, and that the group didn't have get-togethers with women's societies.
But, of the nickname Sherry described, he said, "I can see how people would say that. When it really comes down to it, it was basically a fraternity extension."
Kavanaugh is a steady conservative and a devout Catholic who attended Georgetown Prep, a Jesuit school in North Bethesda, Maryland. He's spent much of his career inside the Beltway, forging tight connections to the Washington Republican establishment. His confirmation has ignited ire on the left, who fear he will tilt the Supreme Court to the right and could help roll back abortion rights, among other issues.
Sherry took issue not with Kavanaugh's membership in TNC — "Yale in the '80s was very sexually liberal," she said — but with the idea that someone who had "partied" so liberally might take part in overturning Roe v. Wade. "It's the height of hypocrisy," Sherry said.
TNC did follow some secret society traditions, the former member said. It sent masked members running around campus, often while singing, on the night known as "Tap Night," and initiated new members with elaborate drinking games.
In one way, though, TNC distinguished itself from other Yale societies. In the 1980s and 1990s, most Yale societies became gender neutral; Skull and Bones famously began to admit women in 1991. In a 2012 list of all of Yale's societies, TNC's members were, still, all men — making it, by then, one of only a tiny fraction of all-male societies left on campus.