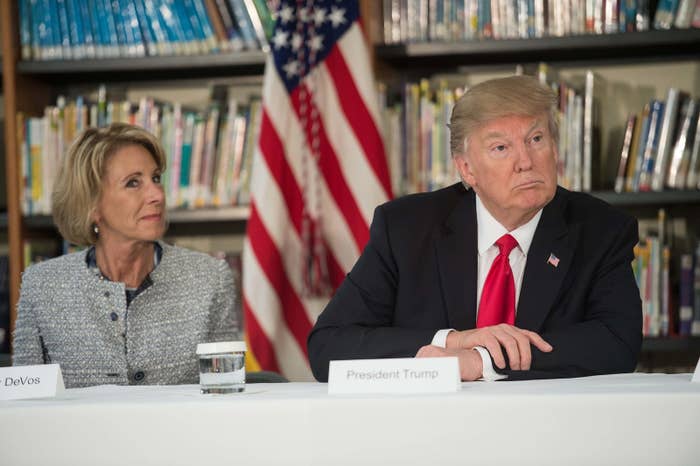 The Education Department is delaying enforcement of a rule requiring for-profit and career colleges to warn prospective students that the school is at risk of losing federal funding due to high student debt levels.
The Obama-era rule set this Friday as the deadline for schools to make the disclosures, but that has now been pushed back. The delay, announced late Monday, is the first indication that the Trump administration may roll back regulation of for-profit colleges, with the Education Department slowing the implementation of a signature piece of the Barack Obama's higher education policy.
Under the "gainful employment" regulations, introduced by the Obama administration, for-profit colleges whose students take on high amounts of debt while earning too little would lose access to federal financial aid money, a virtual death sentence for most schools. The Education Department said in a release Monday that it had delayed enforcement of the disclosure rule "to further review the [gainful employment] regulations and their implementation." The department did not respond to a request for further comment.
In the latest data released by the Obama administration in January, 800 colleges, which graduated more than 115,000 students in a two-year period, failed the metrics. By Friday, those schools would have had to notify prospective students that they were in danger of losing access to federal funding. They now have until July 1 to post those warnings.

Liberals quickly panned the department's move. The delay in enforcement "was a proactive choice to make it easier for lousy career training programs to avoid telling their students they're a bad deal," said Ben Miller, the senior director of post-secondary education at the left-leaning Center for American Progress.

An Education Department official told the Wall Street Journal that the delay was rooted in concerns about the accuracy of data underlying the rules, as well as a worry that colleges are violating federal privacy laws.

The school at the top of the list of colleges failing gainful employment, the Kubert School of Cartoon and Graphic Art, said it had been "misrepresented" by "grossly inflated" numbers and was appealing its failure. And earlier this year, the department said that had drastically miscalculated the student loan repayment rates of hundreds of colleges.
Despite the delay in enforcement, the clock is still ticking on the date at which colleges will lose access to federal money, Miller said. "The problem is at the end of the day these rules are still on the books, so [the Trump administration] needs to find some legal way to address that."

Congress is also expected to eventually tackle the gainful employment regulations, which Republicans have maligned as federal overreach that unfairly targets for-profit schools. Though they cannot be rolled back under the Congressional Review Act, Republicans could kill the regulations off relatively easily by voting to defund their implementation in the federal budget.