The Top Democrat In The Senate Now Supports Decriminalizing Cannabis
In a broad outline of planned legislation shared with BuzzFeed News, Sen. Chuck Schumer also plans to boost minority- and women-owned cannabis businesses.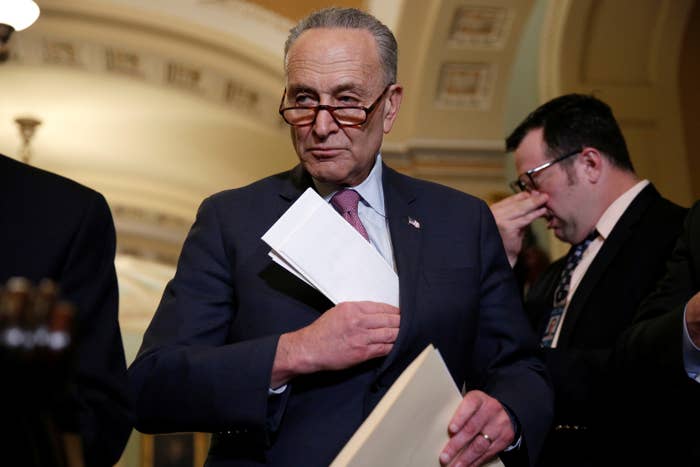 Sen. Chuck Schumer now supports decriminalizing cannabis.
Schumer, the Senate's top Democrat, has crafted a broad outline for a bill that includes "removing marijuana from the list of scheduled substances" and boosting minority- and women-owned cannabis businesses, according to a copy of the outline Schumer's office shared with BuzzFeed News. Schumer also plans to include in the legislation an investment "to better understand the effects of THC on the brain and the efficacy of medicinal marijuana for specific ailments."
Schumer is working on the legislation himself, his office said, and is not currently in the process of courting cosponsors but has spoken broadly about the outline with other senators. Schumer first made the announcement that he supports decriminalizing cannabis in an interview with Vice News.

In a series of tweets Friday morning, Schumer said he had changed his stance in part because of overwhelming popular support for marijuana legalization.
Schumer's support of decriminalizing the drug will be a huge boost to the national movement to legalize cannabis, which has been picking up steam among both parties. Just last week, John Boehner, the former Republican House majority leader, also announced his support for de-scheduling cannabis, saying he was joining the board of a cannabis company.

"With this announcement, Sen. Schumer has effectively made it clear that a legislative priority for the Democratic Party is to end the federal prohibition of marijuana," said Justin Strekal, political director at National Organization for the Reform of Marijuana Laws.

There's already a cannabis bill in the Senate: Sen. Cory Booker's Marijuana Justice Act, which comes with a litany of other provisions around criminal and racial justice, including reparations for people harmed by the drug war.
But that bill has attracted just three Democratic cosponsors. A more moderate version by Schumer would be more likely to pick up steam in the Senate, even potentially attracting bipartisan support.
In New York, Schumer's home state, actor Cynthia Nixon is running an insurgent primary campaign against incumbent Gov. Andrew Cuomo based in part on her support for legalizing cannabis. She's using Cuomo's track record of opposition to pot, which he once called a "gateway drug," as a weapon against him.
UPDATE
This post has been updated with Schumer's tweets.
Kate Nocera contributed additional reporting to this story.