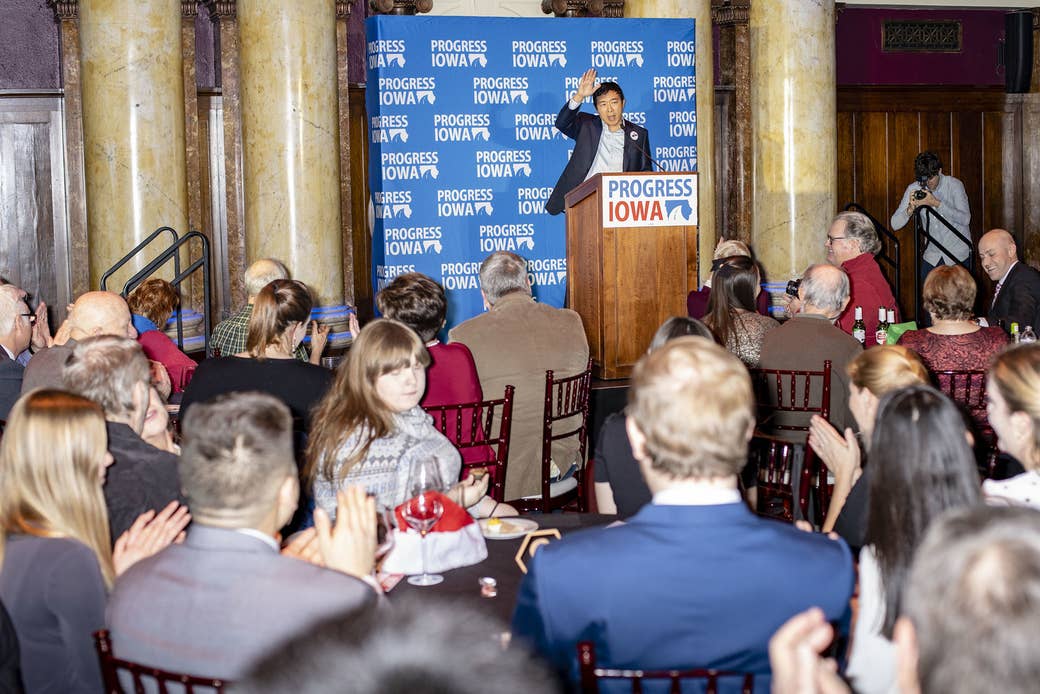 DES MOINES — Just before he stepped down from the podium, the entrepreneur Andrew Yang had a message for the crowd of Iowa progressives, to whom he'd touted a universal basic income and economic revitalization.
"The opposite of Donald Trump," he shouted, "is an Asian man who likes math!"
Yang was one of a parade of lesser-known Democrats who tried out potential presidential campaign slogans and honed their personal brands at the annual Progress Iowa dinner Thursday in Des Moines, hoping to stake out a niche in what's likely to be a historically massive field of Democrats running for president in 2020.
From Pete Buttigieg, the 36-year-old mayor of South Bend, Indiana, there was a promise of generational change delivered in red state–friendly language: "Freedom! Security! Democracy!"
Rep. Eric Swalwell, of California, spoke at length of his family's humble Iowa roots, promising to "Go big, be bold, do good." Sen. Jeff Merkley opened by reminding Iowans of his trip to the border during the height of child separation and his commitment to environmental justice. Yang talked about the looming threat of robot trucks.
Officially, only Yang was running for president. But unofficially, the dinner was one of the first proving grounds of the 2020 presidential campaign — and a preview of an onslaught of presidential hopefuls who will come to Iowa, home of the nation's first presidential caucus, in the new year.
Merkley, who said he was edging toward a presidential run, called his possible 2020 campaign a "David and Goliath" venture. Buttigieg told BuzzFeed News a presidential run would be "very much an underdog project."
But Merkley and his fellow speakers were all well aware of the possibility that a presidential campaign offered. "There are so many curious and unexpected things that can happen in the course of a campaign," Merkley said. "Who knows how that will all unfold?"
As one attendee, a fan of Swalwell's, put it: "It's Iowa — so it could be anyone."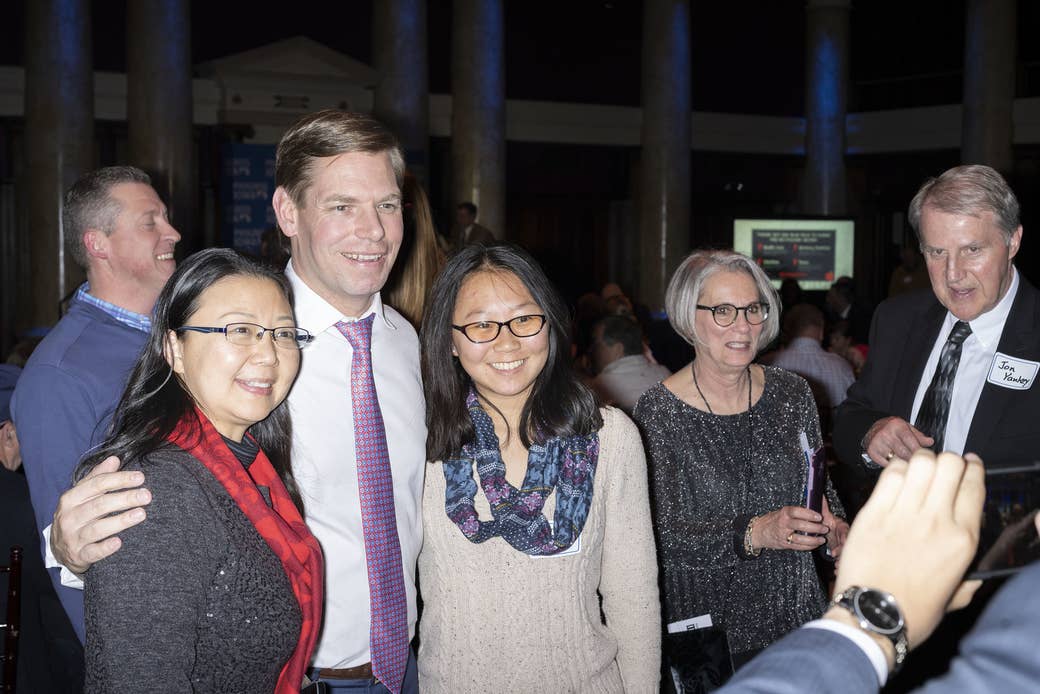 In a field so massive that it likely won't fit on a single debate stage, even the better-known presidential hopefuls will be scrambling to stake out their place and set themselves apart.
Sen. Kamala Harris, a former prosecutor, is conspicuously repeating the phrase, "If it's worth fighting for, it's a fight worth having"; Ohio Sen. Sherrod Brown, an economic populist, is talking nonstop about the "dignity of work." Colorado Gov. John Hickenlooper is selling a particular brand of Western-style down-to-earthiness with a new PAC called "Giddy Up"; Minnesota Sen. Amy Klobuchar is promoting the importance of "voices from the Midwest"; and Cory Booker can't stop spreading a message of love and unity. Rep. Beto O'Rourke, who built up a national following in his losing Senate campaign against Ted Cruz, has his skateboard and a throng of Democrats eager to find the next Barack Obama.
The dinner Thursday ended with an auction — each candidate offering a piece of their own brand. For $125, someone bought Yang's autographed book, The War on Normal People. Merkley's climate change–themed hat, stitched with "Make Earth Cool Again," sold for $210. Swalwell offered a DVD of a documentary about collusion between Trump and Russia, and Buttigieg, a South Bend pocket watch.
If he runs, 36-year-old Buttigieg will be the "generational change" candidate, said one adviser — a contrast to a Democratic field whose biggest names are likely to be well over 60. A veteran of post-9/11 wars who married his husband in June, "He represents the voice of a new generation — a generation that hasn't been elevated despite being the largest voting block," the adviser said.
The Democratic field is so massive, however, that another millennial veteran is also making moves toward a presidential run: 37-year-old Rep. Tulsi Gabbard of Hawaii.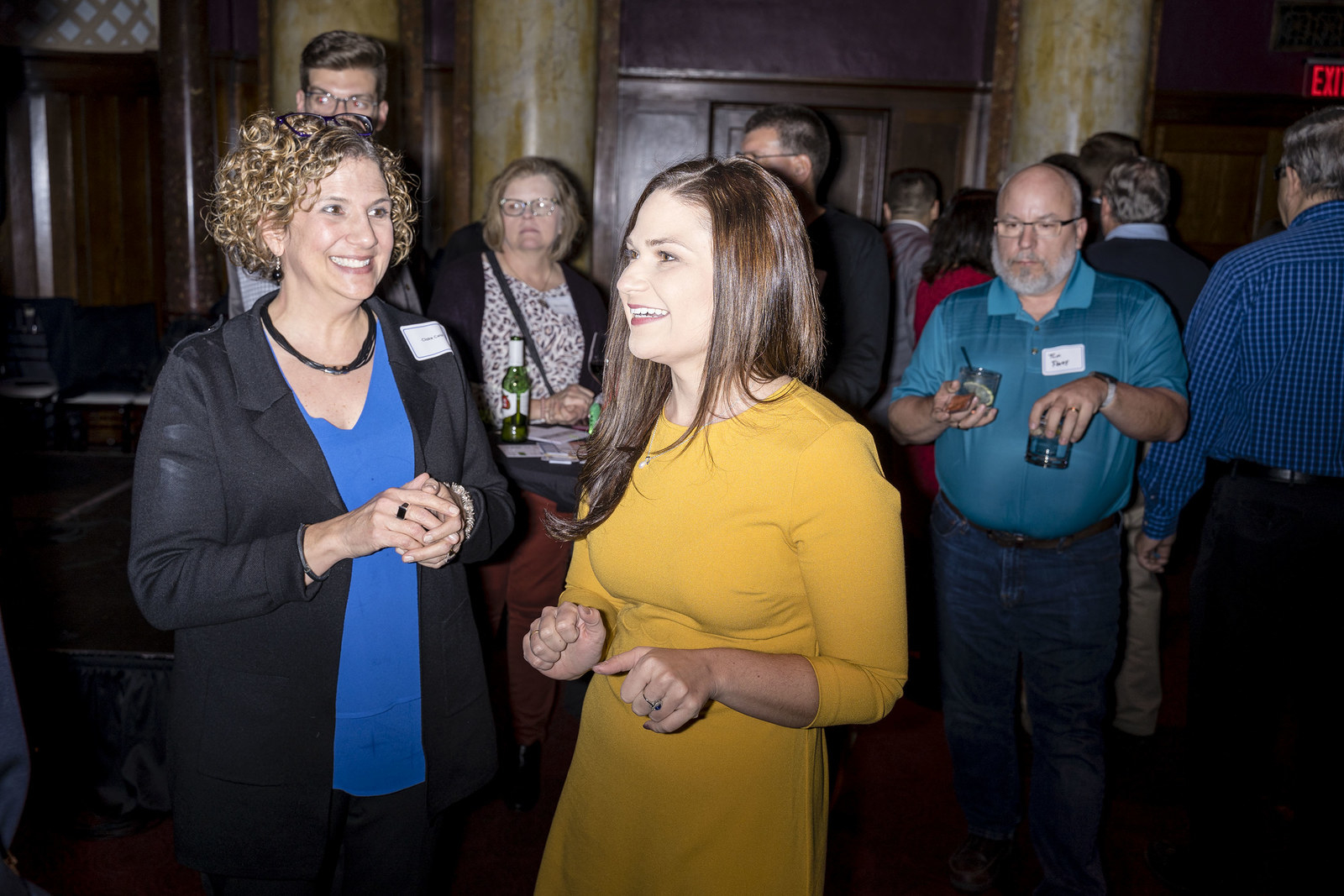 "You have a different sense of urgency," Buttigieg told BuzzFeed News of his perspective as a candidate just barely eligible to be president. "If you're planning to be here in 2050, then you read some of these news stories a little differently — whether it's around climate, or the finances of this country."
Not to mention the "embarrassment," Buttigieg said, of watching prominent politicians, illiterate in technology, who were "more or less incapable of holding tech executives accountable at hearings."
In Iowa, Buttigieg spoke about those issues in what he called the "vocabulary of the Midwest," couching health care, marriage equality, voter suppression, and economic opportunity in the three things he said he valued most: "Freedom, security, and democracy."
In his speech, Yang, an entrepreneur, blamed Donald Trump's victory in 2016 squarely on the automation of manufacturing jobs. "When jobs disappear, people get angry, and blue turns to red," he said. With his "friends in Silicon Valley" threatening millions more jobs, Yang said, the solutions were single-payer health care and something called the "Freedom Dividend."
It is, he admitted, essentially universal basic income — a favorite of Silicon Valley that involves giving monthly cash handouts to all Americans. "I rebranded it because it tests better," Yang told BuzzFeed News.
Voters at the Progress Iowa dinner said they were digging in for a long year crowded with presidential candidates — and few of them wanted to even hint at a favorite.
"They're all wonderful," said Virginia Wadsley, of Des Moines. "I'm just so excited to hear about all of them and see what they have to say. We've got an exciting decision to make."
One attendee, though, felt differently. "It's a wide-open field, and I want to give everyone a chance," said Barb Yankey, a retired social worker. "But I am waiting for Beto."