Baltimore's Challenge: Buy Tablets For 100,000 Kids, And Don't Mess It Up
The Los Angeles school district's attempt to give all its students an iPad was a billion-dollar disaster. Baltimore County and its ambitious young superintendent hope to succeed where L.A. failed.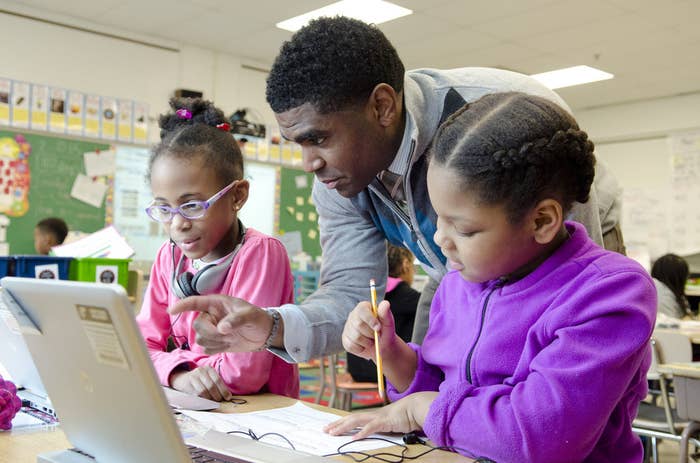 As the Baltimore school system goes all-in on an ambitious plan to equip every student with a tablet computer, it's tough not to see the ghosts of the Los Angeles Unified School District's $1 billion iPad disaster looming over the project.
In L.A., everything that could have gone wrong with the program did. Teachers' unions opposed it almost from the beginning, and were reluctant or unable to integrate the devices into their classrooms. The expensive software was unfinished and rarely used, and the district's infrastructure was ill-equipped to handle the influx of gadgets. Leaked emails hinted at corruption on behalf of district officials. The whole thing eventually collapsed, leaving behind a contentious fight for refunds from Apple and education giant Pearson, and investigations by the FBI and SEC into the entire process.
While the L.A. disaster was a setback for digitizing America's classrooms, it has given school chiefs across the county a practical lesson in the pitfalls of a technology rollout. It led many districts, like the massive Miami Dade district, to pause and rethink their own initiatives, scaling them back or taking a closer look at how the devices would be used.
Baltimore County Public Schools are forging ahead with their own tablet program, which will be one of the country's largest. But consider superintendent S. Dallas Dance's apparent blueprint for the rollout: Look at everything that L.A. did, and then do the opposite.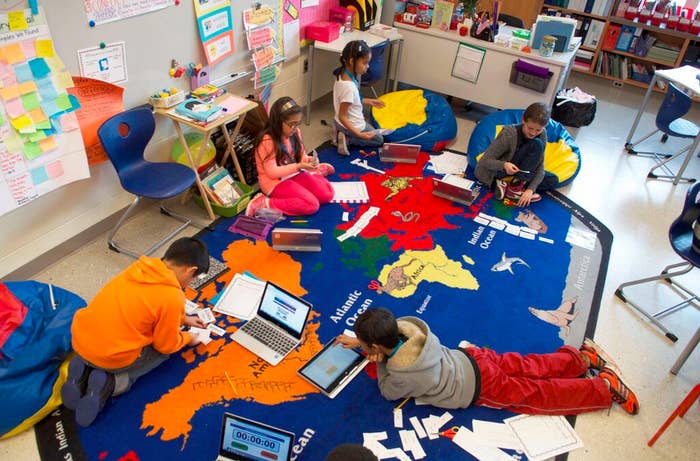 LA's specter aside, there have been other successful digital rollouts in other districts. Dallas Dance is a protegé of Mark Edwards, the superintendent who oversaw one of the country's most-acclaimed digital initiatives in North Carolina's Mooresville Graded School District, which bought a MacBook for every one of its students. The New York Times called it a "laptop success story."
But that involved just 4,400 students in grades four through twelve. What Dance wants to do is much bigger and more expensive — and much riskier.
Dance was just 30 years old when he was brought in from Houston in 2012 to run the Baltimore County Schools, the country's 18th-largest school system: A $1.6 billion budget, more than 100 schools, 17,000 employees, and 100,000 students, half of whom are from low-income families and more than half of whom are students of color. (Baltimore County's school district is made up of the suburbs and outlying towns of Baltimore; the city of Baltimore has its own, separate, school system.)
Dance's office, in the leafy suburb of Towson, Maryland, sits in a beautiful old brick building on a hill. Dance, handsome and broad shouldered, strides in and out of almost-constant meetings, talks fast, and rarely goes off script.
"We asked ourselves, what's our purpose of our school system?" Dance said, seconds after sitting down for an interview. "We want to prepare students to be globally competitive, and for that, we need a digital learning environment. We need to level the playing field so that everyone gets access, regardless of school, regardless of community."
As the district's youngest-ever superintendent, Dance immediately attracted controversy in Baltimore County, where teachers and residents balked at his youth and lack of experience. He needed to get a special waiver to take the job, lacking the minimum of three years' teaching experience required by the district.
Once in place, Dance moved fast, ordering a rewrite of curriculum to align with Common Core standards, closing some schools and opening others, and overhauling student schedules. Just a year into the job, he set out to put a tablet into the hands of every one of Baltimore County's 100,000 students. The $205 million "one-to-one" initiative was approved in March of 2014; by September, the first devices were in classrooms.
By the time Baltimore's initiative was approved, L.A.'s much-touted $1 billion iPad initiative had already begun to unravel, taking with it the reputation of the district's superintendent, John Deasy. Less than a year old, the program had been plagued by reports that teachers had received almost no training, that the pricey Pearson curriculum preloaded on the iPads was unfinished and rarely used, and that within days, high school students had figured out how to break through the device's security features.
Months later, the initiative collapsed entirely in the wake of emails released by the L.A. Times suggesting Deasy had improperly favored Apple and Pearson executives during the initiative's bidding process. The FBI and the Securities and Exchange Commission both launched investigations, and the program was quickly suspended, then dropped.
Weeks later, a report by an outside firm found teachers had barely used the iPads or the curriculum — just one teacher out of 245 was using Pearson's software, and just 30 were using the devices to teach English or math.
In Baltimore County, Dance vows, things will be different.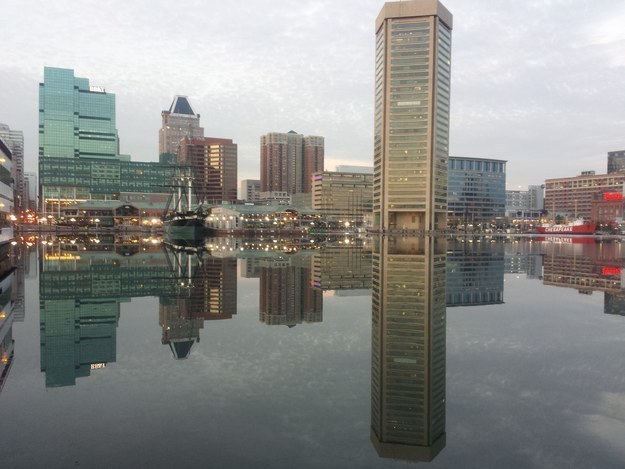 When L.A. school chief John Deasy announced that the district was going to spend an eventual $1 billion on iPads for each one his 650,000 students, he was unabashed about the fact that he wanted things to move fast. He saw it, he said, as a civil rights imperative.
"I'm not going to be interested in looking at third-graders and saying, 'Sorry, this is the year you don't learn to read,' or to juniors and saying, 'You don't get to graduate,'" he told the radio station KPCC in May 2012. "So the pace needs to be quick, and we make no apologies for that."
The speed in LAUSD was breakneck: The initiative was first proposed in November of 2012 and piloted in 13 schools that spring. In September of 2013, the project hit "Phase 1," with 30,000 iPads in 47 schools, then another 35 in the spring. The district would add 200 campuses in the fall of 2014, then 250 more; by the end of the school year, two years after the first tentative pilot, every student and teacher in LAUSD would have an iPad.
"A lot of districts choose speed, because they think of the rollout as an equity thing," said Michael Horn, director of the Clayton Christensen Institute, a centrist think tank. "But giving a laptop to a kid when it's going to go badly — that's not a good thing. Districts should forget about equity. Do it in a small way, and put a lot of energy into making sure they don't set thousands of kids back."
One of the most-used lines in Dance's script is this: "Start slow to go fast." He says it three times in the space of a 30-minute interview. Dance is determined that the $205 million tablet initiative won't fall into the speed trap that tripped up LAUSD.
So Baltimore County has decided to roll out its devices over an almost unthinkably slow five-year period. It means that while the first students got their tablets in September of 2014, the last won't get them until 2018.
In the initiative's first year, the only schools to get the devices were 10 so-called Lighthouse schools, which have served as testing grounds for a wider districtwide rollout that will start next year. Lighthouse schools are among the district's most successful, carefully chosen through an application process in which 80% of the staff must say they are "on board" with using the devices in their classrooms.
This year, only the Lighthouse schools' youngest students, in kindergarten through third grade, were given tablets. Next year, all of the district's kindergarten through third-grade students will get devices; so will Lighthouse middle schoolers, who will pilot the tablets' use with older students. The year after, there will be tablets in Lighthouse high schools, and finally, a tablet for every student in every grade.
The plan gets even more detailed than that: Rather than handing out the devices in bulk each August, the district has grouped schools into three categories based on the amount of help campuses will need. Schools that need better IT support, bigger instructional changes, and infrastructure upgrades won't get their devices until October or November.
Most districts that set out to give a device to every student start with high school, where the need appears to be the greatest: typing papers, doing research online. But because Baltimore County had already rewritten its elementary school curriculum, Dance said, it made sense to start with younger students — he wanted a cultural change in classrooms, not just a tablet in front of every kid, and a new curriculum was a necessary piece of that.
"Elementary kids and teachers are more adaptable to change. This way, the young kids are going to be driving the system — they're going to grow up with these devices and this learning environment."
The speed of Baltimore's rollout is one of the district's biggest innovations, said Karen Cator, the CEO of Digital Promise, an education nonprofit launched by the Obama administration. "The slowness is because they want it to be successful and long-impact," Cator said. "They're being very careful and deliberate because they have a big district — that can be very difficult to manage, to make sure everybody's on board."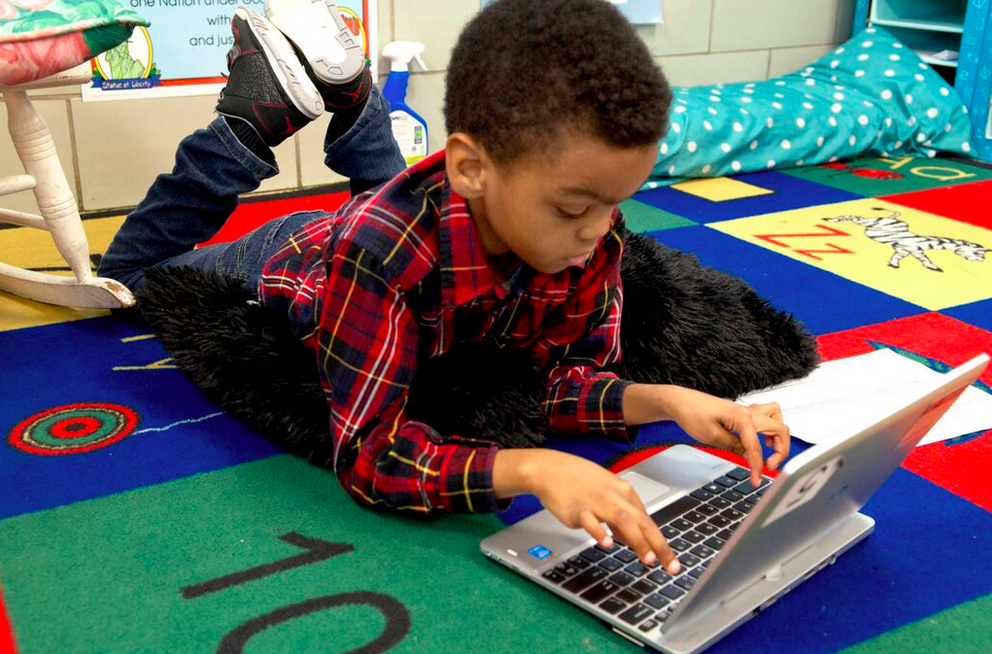 Despite a troubled implementation, it was the devices themselves that ultimately killed the iPad experiment in Los Angeles. Last year, the L.A. Times and the radio station KPCC revealed unsavory connections between Deasy, the superintendent, and the initiative's biggest corporate partners, Apple and Pearson. Last December, the FBI raided the offices of the L.A. school district, seizing 20 boxes of documents as part of a broad investigation into its technology program, including the iPad rollout.
The controversy centered around a perception that Deasy and his cohort had offered an unfair advantage to Pearson and Apple, appearing to court them long before the contract was signed.
Part of the outrage, though, was rooted in a growing consensus that iPads are not always an ideal choice for classroom technology. Their market share has been sliding sharply in the past two years: They're fragile, expensive, and lacking in important features, like keyboards, which many consider necessary for older students, who spend more time writing longer assignments. LAUSD paid a hefty $768 per device for the iPads, a price that included digital curriculum from Pearson, which received plenty of criticism in its own right.
Chromebooks, cheap Google-made laptops that cost around $200, have become the most common alternatives to iPads in the classroom, and Chromebook sales in education outstripped iPads for the first time last year. But Baltimore's technology is drastically more expensive than even LAUSD's inflated iPad price tag. The devices, HP machines that combine both tablet and laptop features, will cost the district more than $1,500 over four years, a district spokesman said.
That's more than the cost of an expensive Chromebook and high-end iPad combined.
The device, an HP EliteBook Revolve, retails for $1,450 and is a combination of laptop and tablet, with an attached keyboard that swivels beneath the touchscreen.
To choose between multiple devices, the district "cleared out" the shelves of a local tech store and put 25 different gadgets in front of students and teachers across the district, said Lloyd Brown, Baltimore County's director of technology. They made note of what students wanted — touchscreens, ease of use — and what teachers said they needed: a keyboard, for example, and a screen that wouldn't break. And they worked closely with the other side of the district's tech team, responsible for the content and software that went onto the devices.
The district used the criteria to formulate a tender for bidders; it received four, Brown said, which went before a committee. The EliteBook, though it hadn't been among the devices tested by students, was a clear winner.
PCWorld describes the device as "rugged" and "built to last," with a screen made of gorilla glass, stainless-steel hinges, and a body of magnesium alloy. There's a rubber grip that makes it tougher to drop. Unlike many other tablet-to-laptop devices, the keyboard isn't detachable — and therefore can't be lost. And unlike Chromebooks, the device isn't dependent on a constant connection to the internet.
Even if the machines and software work perfectly, the crucial factor in making Baltimore's initiative succeed will be the buy-in of the district's teachers, said Abby Beytin, the president of the Baltimore County teachers union.
That, many agree, was one of the biggest things that went wrong in Los Angeles: If teachers don't use the devices, they become expensive paperweights. The powerful teachers union in L.A. was opposed to the iPad program almost from the start, and while a survey found that 90% of administrators supported continuing the program even after its troubled initial rollout, just 36% of teachers did. Most of LAUSD's tablets were barely used, at least for their intended purpose.
Much of that was because teacher training on how to use the devices was minimal at best. In the 47 schools that got the devices at launch, some teachers had a single three-day training program before putting the devices to use in their classrooms. Most were unfamiliar with the basics of how to use the apps and controls.
Beytin has clashed in the past with Dance, leading the district's teachers to file a complaint with the school system, since resolved, over their workload, and criticizing the process that led to Dance's appointment as superintendent, which she said shut out teachers' voices. And she was widely critical of the way Dance handled the futures of 100 "technology" teachers, whom the district decided it would no longer need once it shifted away from computer labs.
But Beytin is, for the most part, behind Dance and the district's technology rollout.
"The teachers were honestly worried and fidgety — it can be nerve-racking, every time there's anything new," Beytin said. "But we're very happy it was done slowly like this, so we can find out where the weaknesses are."
So far, the feedback from teachers using the tablets in their classrooms has been positive, Beytin said. She credits the district's extensive teacher training, which has been focused on helping transition to student-centric classrooms. A full-time technology coach in each of the 10 schools is on hand to help teachers develop lessons on tablets as well as work through kinks and glitches.
And the tablets, coupled with changes in classroom culture, have so far been making a difference, Beytin said. "Teachers tell me that it's not that there's not still problems, but behavior's a lot better. Kids are able to work at the level that's appropriate to them, with not as much busywork."
In a Lighthouse school Beytin observed, she said, "There was never a time when the kids weren't actively engaged."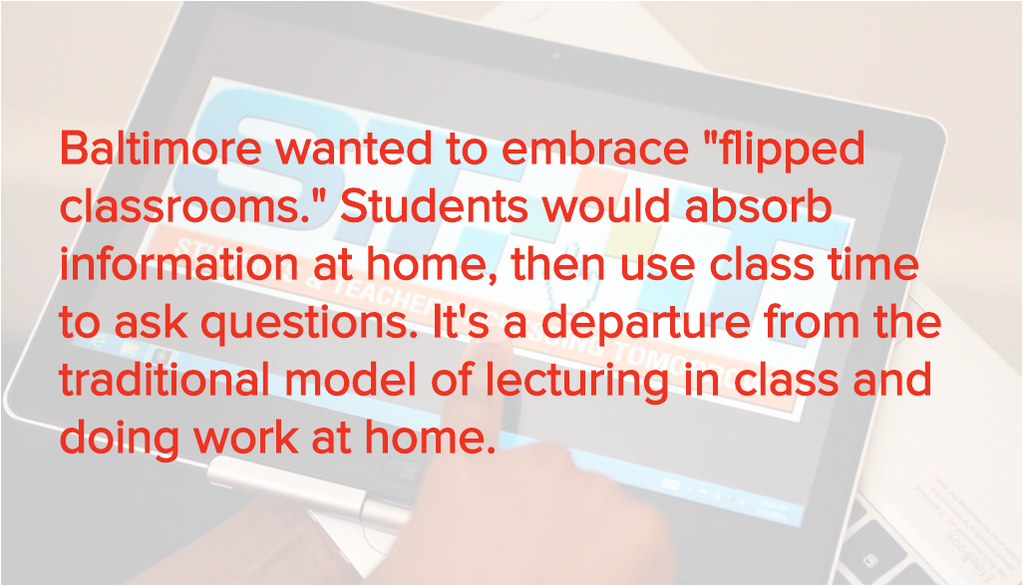 Perhaps the most important piece of Baltimore's tablet initiative is that it's not actually a tablet initiative.
The idea of putting devices into the hands of Baltimore County's students, Dance said, came as part of a rethink about how the district's teachers taught and how its students learned. The district wanted to shift to a "student-centered" model that kept kids engaged in class, allowed them to move more easily at their own pace, and to learn in ways that suit them. Out was a teacher standing in front of rows of desks, lecturing in front of a blackboard. In were small-group lessons, teachers moving from one group to another, and assignments whose difficulty was based on how comfortable students were with their work.
In education jargon, Baltimore wanted to embrace "flipped classrooms." Students would absorb information at home, then use class time to ask questions, discuss, and work on assignments, all under the teacher's supervision. It's a departure from the traditional model of lecturing in class and doing work at home.
The tablets would be there to enable the bigger-picture change. They would allow teachers to send different assignments to different students: longer, more involved readings or more problems for kids who already knew the material. It would make it easier for students to work in groups — kids are more engaged with devices than without them, and teachers can more easily keep track of what's going on by monitoring students' screens from their own. In younger grades, the devices, paired with headphones, could read text to students, freeing up teachers' time that was absorbed by reading and rereading questions to less adept readers.
"We've believed from the beginning that this is an instructional initiative," said Ryan Imbriale, the executive director of the district's Department of Innovative Learning. "This work is about teachers and students and what's happening in the classroom, and the devices are a natural addition to the process."
Dance also set out to rewrite and reshape curriculum to align with Common Core standards — and, he said, to "reflect our student-centered approach." You couldn't change the culture of Baltimore County's classrooms, he reasoned, without also changing the material students were given.
Academic studies have shown that devices themselves, despite their promise, do very little to change how teachers actually operate their classrooms. Most teachers still use technology to simply replace older classroom practices, rather than change them: SmartBoards in place of whiteboards, word processors in place of pencil and paper. Others use technology to minimize administrative tasks.
In his book Inside the Black Box: Change Without Reform in American Education, Stanford professor Larry Cuban studied technology rollouts in schools and found only a handful of innovative teachers making use of technology. "Even in computer-based classes, teacher-centered instruction with a mix of student-centered practice was the norm."
So far, Beytin said, teacher training has been a "mixed bag," intensive at Lighthouse schools, where the full-time coaches have been key. But at non-Lighthouse schools, which are also supposed to be transitioning to the student-centered classrooms this year, it has been less extensive.
"It depended on what school you were in as to whether your training was as good," Beytin said. "It's not enough to say, 'Here's your material, your kids are going to run the class now.' There was a lot of confusion, like, 'What do I do now?' But it takes time — more and more, I see teachers coming on board."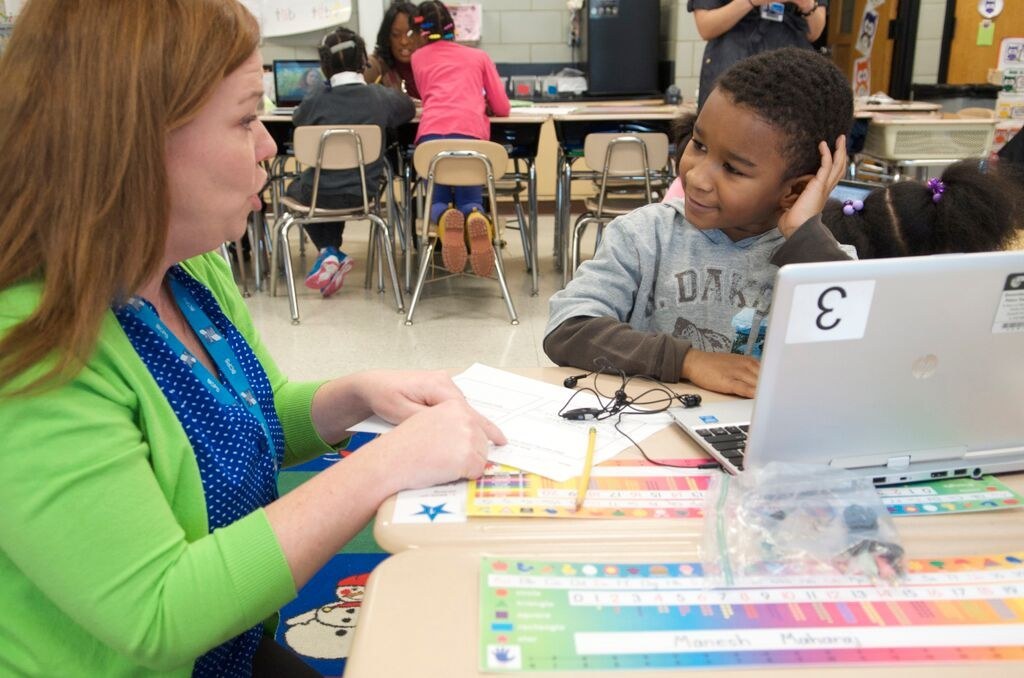 Sue Hershfeld, the principal of West Towson Elementary school in Baltimore County, had a chance to make her campus into a Lighthouse school last year, putting tablets into all of her kindergarten through third-grade classrooms. She said no.
"We really wanted time to learn about what needed to be in place, in terms of teaching, before the devices came in," Hershfeld said. "We had a lot of work to do."
For the past year, West Towson's teachers have been working to transform their classrooms, both physically and culturally. To build "student-centered" classrooms, they've replaced desks with tables, gotten rid of assigned seats so students can move from place to place, and lowered bookshelves and display boards to child-friendly heights to give students more ownership over the classroom.
One teacher removed the bottom half of a table's legs and surrounded it with carpet squares, so that kids could sit on the floor. For antsy students who struggle to sit still, she has a standing desk and a pair of Hokki stools with rounded bottoms so that kids can rock back and forth at their desks as they work.
One West Towson teacher filled binders with copies of reference posters and worksheets and stowed them on an easily accessible shelf. The idea was to help students get used to finding answers on their own, or with classmates' help, rather than asking their teacher. In a few years, when the students have their tablets, they'll have learned to investigate independently.
Teachers at West Towson are gradually easing the devices into their students' learning days by using laptop carts purchased by the district. In the last months of the year, the teachers have been learning the system the tablets will operate on — a district-developed "ecosystem" called BCPS One that hosts applications, takes attendance, keeps grades, and allows them to distribute content and lessons to students' devices.
For Mays Chapel, one of the district's Lighthouse schools, the introduction of tablets seemed a natural fit. The school was in its first year, and its principal, Steve Coco, saw an opportunity to weave devices into the school's classrooms from the beginning.
Twenty years into working in education, Coco said what he sees in Baltimore County is "the most exciting transformation as far as teaching and learning is concerned."
Megan Stewart, a third-grade teacher at Mays Chapel, said she initially "wasn't sure" about how well the devices would work in her classroom. Her preliminary training, she said, coupled with the presence of a tech teacher, has made the transition smooth.
"The devices make things more relevant to my students," Stewart said. "They see them as something they want to really engage with, that they want to invest their time in."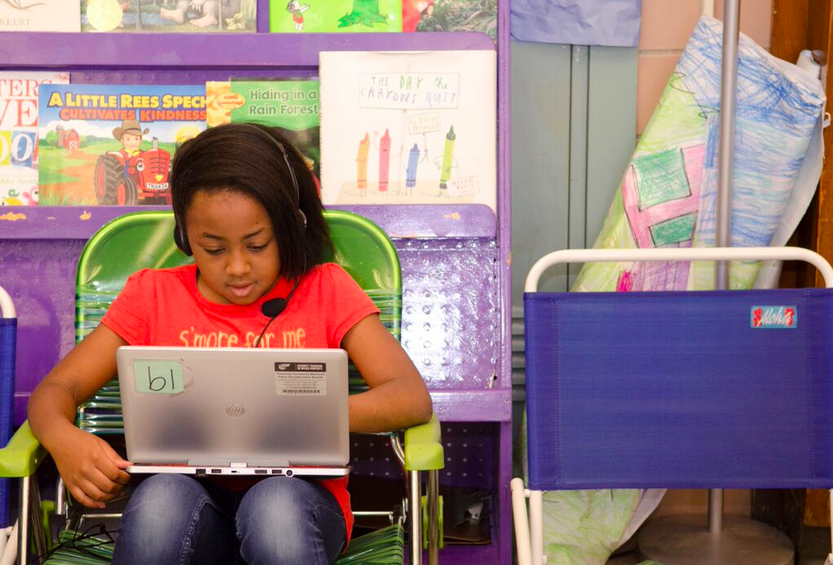 Finding success in the early years of a digital rollout as deliberate as Baltimore's, with a handful of carefully chosen schools and no middle schoolers or high schoolers to deal with, is relatively easy.
But this September, the second part of Dallas Dance's favorite saying will start to emerge: Baltimore is starting slow, but soon it will have to go faster. By the end of November, there will be 100 schools with devices.
"Piloting in 10 schools is one thing, and that's been great," said Beytin. "They've had tons of oversight and lots of support. But we're not talking about 10 schools anymore — this is going to be a lot of schools coming online at once."
At the behest of its school board, Baltimore County has hired John's Hopkins as an independent overseer of the initiative. In the first year, Dance said, researchers will monitor how student engagement shifts in classrooms with devices, as well as usage by parents and teachers of the digital ecosystem, BCPS One. By the second year of using the devices, they will be looking for "instructional shifts" in classrooms.
By the third year, Dance said, they expect transformation in more concrete ways, like seeing a bump in test scores: He calls it "academic ROI."
"We know there's no research out there that shows that giving a kid a device will improve his test score," Dance said. "But getting kids more engaged in their learning will increase test scores."
"It didn't feel to me that L.A. had a very clear sense of why they were going one-to-one, and how the learning itself would change," said Horn, of the Clayton Christensen Institute. "Districts should have a very clear problem they're trying to solve, and really clear metrics of what success looks like. Then you design around that."
The principal of West Towson Elementary is named Sue Hershfeld. A previous version of this article misspelled her last name.