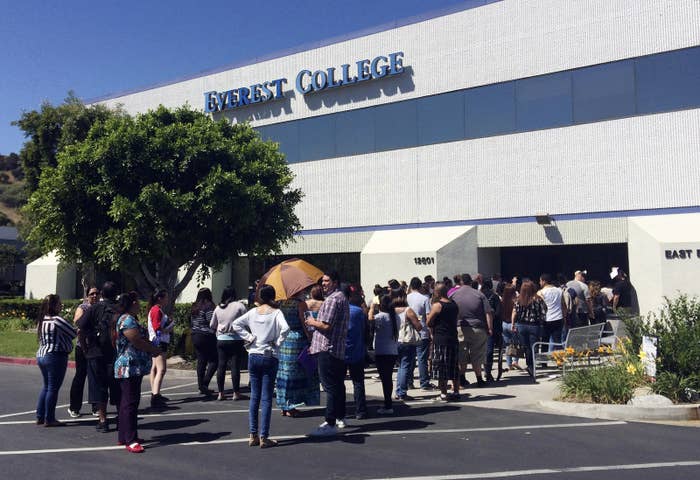 The nonprofit that stepped in to save the campuses of the collapsed for-profit giant Corinthian Colleges is closing 21 schools nationwide, all but ending its sprawling $500 million attempt to turn around what was once the country's most troubled for-profit college chain.
Zenith Education said Wednesday it would keep just three schools open, in Georgia, Texas, and Florida, winding down operations at the rest of its former Everest and Wyotech College campuses in what it called, in a press release, "a new phase in delivering on [a] mission of helping students succeed."

When it bought 56 campuses from the bankrupt Corinthian for $24 million in 2014, Zenith Education — owned by the student loan guarantor ECMC, which had never operated a school — promised a new, ethical kind of career college, one that would shed Corinthian's long history of defrauding students, cut prices and ease student debt burdens, and offer only programs that benefited students. The deal was brokered with the help of the Obama administration, which hoped to save schools from closure and reverse their fortunes by converting them to nonprofits.
But from the beginning, Zenith struggled to enroll students — it had promised to drop Corinthian's more aggressive recruiting tactics — and generate enough revenue from its lower tuition to remain in operation. It had more than 30,000 students when it first bought the schools; there are now just 5,400 at the 21 campuses Zenith plans to close.

In all, Zenith spent half a billion dollars in cash to keep Corinthian's old schools afloat, the company said. It also forgave nearly as much — some $480 million — in private student loans made by Corinthian, after the Consumer Financial Protection Bureau alleged Corinthian misled students into taking on the debt.
Zenith even came up with a new name earlier this year to replace Corinthian's old Everest College brand — Alterius Education, a fake-Latin brand meant to lend authority to a college tainted by government lawsuits and a brand most commonly associated with cheesy commercials on daytime television.
Corinthian was the first giant for-profit college to collapse in 2014, ultimately going bankrupt more than a year after the government restricted its access to federal financial aid money, triggering financial ruin. A string of school closures and sales followed, affecting tens of thousands of students, including ITT Tech, the Art Institutes, Le Cordon Bleu, and others.
Zenith's closures are a sign of the difficult economics of operating career colleges, especially those that limit recruiting and student borrowing. The crumbling of the industry was thanks, in part, to an Obama administration crackdown, but most for-profit colleges had also been dealing for years with sliding enrollments as the economy improved, prompting fewer students to enroll in their programs.
Those influences proved difficult for Zenith to overcome. Even as it pumped money into the former Everest schools, it saw enrollments continue to slide, losing $100 million in 2015 alone.