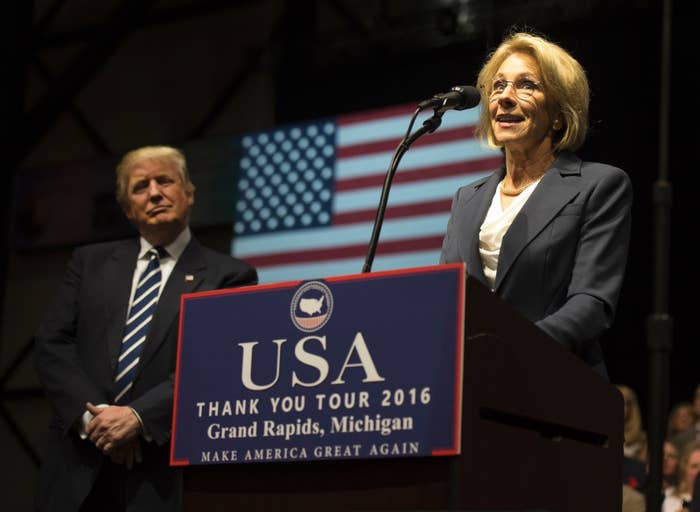 President-elect Donald Trump's pick for education secretary, Betsy DeVos, could face an unusually contentious confirmation hearing Tuesday. Historically, education secretary nominees have glided through confirmations without much opposition, even from opposite sides of the aisle. But though she's likely to be confirmed by the Republican-controlled Senate, Democrats have made it clear they're planning to make an issue out of DeVos's history and have balked at a Republican move to try to limit questioning of her.
Democrats have already raised alarm that DeVos has yet to undergo a complete ethics review related to her complicated financial dealings, which was still unfinished as of Tuesday morning.
Here are some of the key issues that could come up in the hearing.
DeVos's biggest legacy is a decades-long push to expand private school vouchers and charter schools in Michigan.
Though she's never been elected to public office, DeVos has left an outsize impression on public education in Michigan, where she has used her status as a Republican megadonor to push policies that rapidly expanded charter schools.
This is a huge asset for Republicans, who have widely praised DeVos's stance on charters and school choice — a position that aligns closely with that of Vice President-elect Mike Pence. She has called school choice a "bipartisan" issue — many prominent left-wing politicians are advocates of charter schools — but Democrats are likely to take issue with DeVos's particular brand of school choice in Michigan, which hasn't come with very strict oversight once schools open and has allowed for an explosion of for-profit schools. Well over half of charters in Michigan are for-profit — more than any other state in the country.
DeVos also favors school vouchers, a more controversial form of school choice. She tried to pass a law in Michigan that would have allowed middle-class and low-income parents to use public money to send their children to private schools — a policy Trump has said he wants to implement nationwide, though only with low-income families. DeVos's efforts to pass the voucher law in Michigan failed, but she and her husband have since funded similar fights all over the country.
A billionaire, she has complex finances that opponents say could pose a conflict of interest.
Democrats are likely to make DeVos's finances into one of their biggest issues. Much like her future boss, Donald Trump, her finances are a tangled web of investments. Many of those aren't public, but historically, she's invested in some companies that may be caught up in the department she is set to oversee, which could pose a major issue. Her husband, for example, was an initial investor in a large and controversial online charter school company, and she's also put money into a student loan refinancing company.
DeVos's vast wealth is also an issue for Democrats when it comes to her political donations. She has donated millions to conservative politicians and causes, including to four Republicans on the committee that is overseeing her confirmation. A controversy erupted earlier this week when the Trump team said DeVos had omitted a $125,000 contribution to an anti-union group from her financial disclosures; Republicans called it a minor error, but Democrats say it's an example of inadequate vetting.
It's unclear what DeVos thinks about gay and transgender children's rights and the government's role in protecting them from discrimination.
DeVos has a long record of opposition to gay rights, funding groups that historically advocated for conversion therapy for gays and opposed gay marriage, like the evangelical Christian organization Focus on the Family. Gay rights groups have raised alarm about what she might do with the Education Department's Office of Civil Rights, which oversees hot-button issues like campus sexual assault and transgender student rights, and also race and disability issues.
Republicans have long been skeptical of what they see as overreach by the Office of Civil Rights in regulating controversial issues. The Obama administration provoked anger — and legal challenges — when it demanded schools across the country allow transgender children to use bathrooms that aligned with their gender identity, a policy that was at odds with North Carolina's recent bathroom law.
A group of civil rights leaders, including officials from the NAACP, the National Women's Law Center, and the National Center for Transgender Equality, released a statement Monday calling for "intense scrutiny" of DeVos's "alarming past with respect to civil rights."
Some of DeVos's allies have argued that she has "evolved" on gay rights issues and that her donations to anti-gay groups don't reflect her personal views.
Very few people know what she thinks about higher education, including student loans, sexual assault on campus, and regulating colleges.
Higher education is a major issue for the Department of Education, which oversees hundreds of billions of dollars in its student loan portfolio and has taken a major role in overseeing how colleges deal with sexual assault on campus. The department wields enormous power over colleges through its control of the student loan system, but DeVos has said almost nothing about any aspect of higher education, leaving many Republicans and Democrats alike guessing about what her policies might look like.
The hearing today could be a chance for DeVos to talk about these issues for the first time. Trump has indicated he wants to move towards privatizing the federal student loan program and revamping student loan forgiveness, and Republicans are vocal about wanting to scale back the Obama administration's regulation of for-profit colleges, which left the sector decimated.
At stake in the early days of the Trump administration is an Obama-era regulation that allows students to have their student loans forgiven if they are defrauded by their colleges. The rule is recent enough that it could be reversed. But whether or not the rule is eliminated, the Education Department will be left with tens of thousands of student loan forgiveness claims to process.
She has an unclear stance on the Common Core, which has upset some hardline conservatives.
One of the few places where DeVos has attracted criticism from conservatives has been over her position on the Common Core, a controversial and widely misunderstood set of academic standards. On the far right, the Common Core has become a symbol of vast federal overreach after the Obama administration encouraged states to adopt the standards, which Trump repeatedly denounced at his rallies.
After her confirmation, DeVos claimed that she now opposed to the Common Core, but acknowledged she had initially supported the standards. Some hardcore anti-Common Core activists found that hard to believe, since her own education advocacy nonprofit supported the Common Core. She also sat on the board of Jeb Bush's education foundation, once one of the biggest Common Core proponents.
The group Stop Common Core Michigan said it "wasn't fooled" by DeVos's stance, citing her history of working with — an founding — pro-Common Core groups.
Donald Trump has vowed to "end the Common Core," but if she's confirmed as education secretary, DeVos won't have much power to do that, since it's controlled entirely on the state level.