The Government Would Lose More Than A Billion Dollars If For-Profit College Fails
Midnight tonight is the deadline for the Department of Education to reach an agreement with collapsing for-profit college giant Corinthian.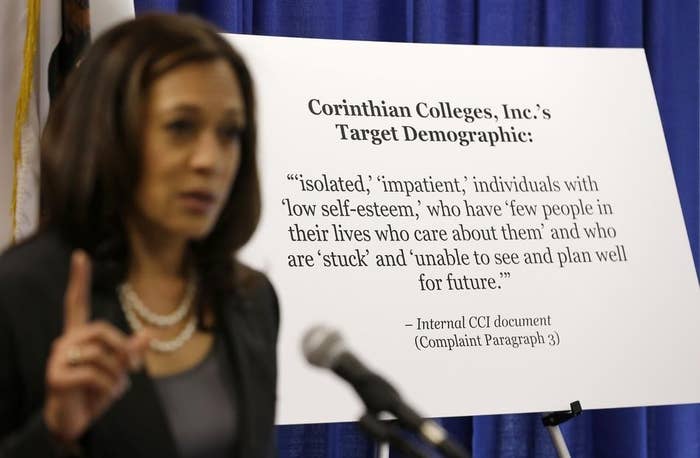 If the Department of Education fails to reach an agreement with Corinthian Colleges, the failing for-profit college company, by midnight tonight, the government will be forced to forgive more than $1.2 billion in student loans, according to a court filing from last week.
The massive for-profit college chain has been teetering on the edge of collapse since the Department of Education pushed it into financial crisis earlier this month when it limited Corinthian's access to the federal loan money that is the company's central source of revenue. The company has been in intense negotiations since then to reach an agreement with the Department of Education that would permit a slow wind-down of Corinthian's operations, selling some of its more lucrative campuses and allowing the rest to continue teaching students who are already enrolled.
But if the agreement on the wind-down isn't reached by midnight, Corinthian Colleges will in all likelihood go bankrupt. Its 107 campuses, including the large Everest College chain, would be forced to close immediately, and the federal government would lose $1.2 billion in outstanding loans taken out by Corinthian students, the filing says. The potential losses were first reported by the website Inside Higher Education.
Corinthian has been flirting with closure for weeks, since it announced in a May earnings report that it was in danger of going into default and was "exploring strategic alternatives," including a possible sale. Its revenue had fallen to just $349 million, compared to $395 million from a year before, and enrollment dropped 14% in the same period. And it had long been one of the main targets of lawsuits and investigations.
But it was a move by the Department of Education to limit Corinthian's access to federal money that finally pushed Corinthian over the edge, said Michael Tarkan, an analyst with the research firm Compass Point. The company didn't have enough cash on hand to survive a 21-day delay in federal student loan money that the Department of Education imposed after Corinthian allegedly failed to respond adequately to the Department's requests for information on its marketing and job placement statistics.
The Department "knew what it was doing" when it imposed the delay, Tarkan said.
If the Department and Corinthian can agree on a wind-down plan today, it will prevent those 70,000 students from potentially losing access to their education. But whether or not the agreement is reached, the path forward is mostly unclear.
"We haven't really seen an institution of this size that's publicly traded go through something like this," said Tarkan. "It's uncharted territory."
As it waits for an agreement to be reached, Corinthian — which has taken heavy criticism in the past for aggressive and allegedly deceptive enrollment tactics — has continued to sign up new students.