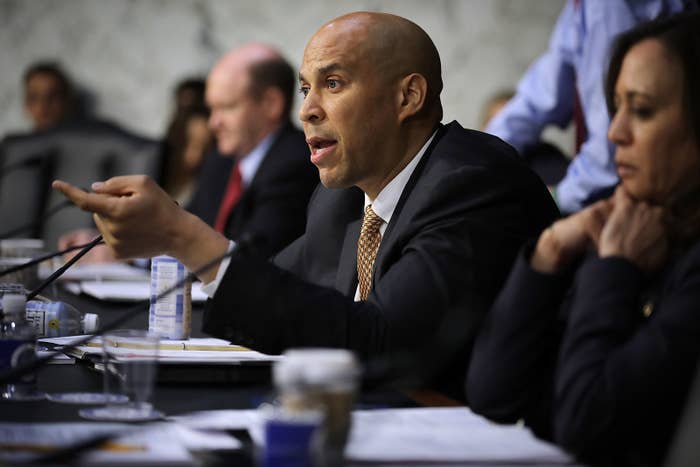 National Democrats are increasingly and explicitly calling for marijuana legalization, transforming an unspoken piece of the Democratic platform into a central pillar of the party's agenda.

For years, Democrats have accepted legalization as an eventuality, not an urgent goal: When Bernie Sanders said cautiously in a 2015 primary debate that he "suspected" he would vote to legalize marijuana, he was alone on the issue among national Democratic figures. Clinton said she wanted the government to conduct "research" before she supported legalization.
Sanders later introduced a simple bill to lift the federal marijuana ban — but his effort found no cosponsors. Most Democrats would go only as far as supporting bills that would legalize medical marijuana.
Two years later, Sens. Cory Booker, Kirsten Gillibrand, and Sanders, all considered top presidential contenders, are publicly shaping legalizing marijuana into a core issue of criminal and racial justice — as well as a political flashpoint in a battle with Donald Trump and Jeff Sessions, who has staked out an extreme position on pot that runs dramatically counter to public opinion.
Booker is the author of a sprawling new bill, introduced last year, that goes much further than Sanders' did, setting out a vision for marijuana legalization that's inextricably intertwined with racial justice, including what amounts to a form of reparations.
"This is an issue whose time has come," Booker told BuzzFeed News. "It's not a matter of if there will be legalization, it's when."
In states where marijuana has already been legalized, Democrats are tying the arduous process of creating and regulating a marijuana market to criminal justice agendas. Los Angeles Mayor Eric Garcetti — sometimes talked about as a Democratic candidate in 2020 — has pushed a program that gives priority to low-income people with marijuana convictions when handing out dispensary licenses, and he appointed Cat Packer, a black woman who worked for the Drug Policy Alliance, as his first head of the Department of Cannabis Regulation. Gov. Jay Inslee, another low-key potential candidate, is overseeing Washington state's legalization.
Sen. Elizabeth Warren, whose state, Massachusetts, voted to legalize marijuana, has staked out a fight against Trump and Sessions with a bill to protect states' rights to legalize pot, a direct counter to moves by Sessions to let the Justice Department prosecute marijuana crimes in states where pot is legal.
The next wave of Democrats are explicitly calling for legalization, a subtle but significant shift that makes it more likely than not that the party's next presidential nominee supports legalizing marijuana.

As actual legislation, Booker's Marijuana Justice Act is dead in the water in Congress, and experts say it's full of holes when it comes to logistics of implementation and enforcement. And what people mean when they talk about legalization can be vastly different, from a more limited decriminalization to legalized recreational use with various kinds of regulation.
But that's all a bit beyond the political point. So far, Oregon Sen. Ron Wyden and Gillibrand have signed on to the legislation, and other prominent Democrats are expected to join them.
Like the earlier Sanders bill, Booker's removes marijuana from the federal prohibited drugs list, but it also includes a smorgasbord of criminal justice talking points: funding for communities affected by the drug war, expungement of criminal records, and assurances that legalized pot won't solely benefit rich white entrepreneurs. States that want to keep marijuana illegal would be punished under the bill if they disproportionately arrest people of color for pot offenses.
It's an issue that Democrats hope will allow them to talk about criminal justice, particularly racial gaps, in a way that appeals to voters sensitive to concerns about being soft on crime, and focused on a forward-looking policy priority that can be summarized in a sentence.
At this point, "I don't think you can talk about criminal justice reform without talking about reforming marijuana laws," Gillibrand told BuzzFeed News. "The stark difference between how these laws have been enforced for communities of color is becoming untenable."
There's a purely political dimension, too, as evidenced by continued high polling for the idea of legalization, and the march of mostly Western states who have already begun the process. Democrats trying to appeal to younger voters, like Booker and Sanders, recognize its ability to sway young voters, or at least to motivate them to come to the polls.
When it comes to broadly pushing significant changes to criminal justice laws, likely to be a central goal of progressives in the next election, marijuana legalization can be an "awfully easy sell politically," said Doug Berman, the head of the Drug Enforcement and Policy Center at Ohio State University.

"It can allow advocates to say, we're not trying to let out the murderers and the rapists," Berman said. "We're talking about folks who pose no real threat."
"I do think voters can understand this issue," said Gillibrand. "I think a lot of people use marijuana or have used it, and to see the disproportionate enforcement on communities of color is very stark."
Though marijuana itself wasn't a major topic of debate during the last presidential primary, criminal justice (and racial justice activists) animated much of the policy discussion in 2016. Hillary Clinton notably faced criticism over the ways in which she defended the 1990s crime bill — and she also moved significantly on policy issues around sentencing laws and incarceration.
Some Democratic contenders whose records on marijuana — and criminal justice — could harm them in the primary are shifting their stances. California Sen. Kamala Harris, who didn't support legalization when she was the state's attorney general, has said she supports an end to the federal prohibition on marijuana.
New York Gov. Andrew Cuomo, another possible 2020 contender, dismissed marijuana as a "gateway drug" in 2017. Less than a year later, in January 2018, he commissioned a study on the potential impacts of legalization in New York.
Then there's Joe Biden, who has opposed marijuana legalization as part of the Obama administration, and, more strikingly, spent a decade pushing tough-on-crime policies — culminating in the 1994 Violent Crime Control and Law Enforcement Act, to which, Booker argues, the Marijuana Justice Act is "in some ways an antidote."
Biden's spokesman declined to say whether he now supported legalization.
Gillibrand credits her own evolution on the issue of legalization — she'd previously confined her support to medical marijuana — in large part to "meeting with New Yorkers whose lives have been ruined" by marijuana convictions, and she has wrenching stories from constituents at her disposal. But like most issues in 2018, there is another specter hanging over Democrats' rush to support legalization: Donald Trump and his attorney general, Jeff Sessions.
"This issue is becoming ripe because of the Trump administration doubling down on the failed war on drugs," Gillibrand said.
With Sessions battling even legalized marijuana — and Trump making headlines by mulling the death penalty for drug dealers — it's become easier for Democrats to stake even more radical positions in opposition to the administration.
Marijuana legalization is not solely a progressive issue, and with many Democrats still opposed, or at least silent, there's room for conservatives to take ownership, said Justin Strekal, the political director for the National Organization for the Reform of Marijuana Laws, or NORML. Libertarians, like Sen. Rand Paul of Kentucky, strongly support it, and fiscal conservatives have made arguments that the price of enforcing and jailing people for pot offenses is a waste of taxpayer money. Sessions' stance on legal marijuana has even pushed traditional conservatives to become more vocal on the issue, solidifying support for states' rights to legalize pot.
But with Sessions and Trump as the faces of the party on criminal justice, legalization has become an issue increasingly associated with progressives.
"When you dig into crosstabs of voters who are moved as a result of a candidate's position on marijuana, it's young white men," said Strekal, of NORML. "That's a demographic that the Republican Party should be horrified to lose simply over marijuana position, and a demographic that the Democratic Party should be climbing over themselves to solidify their support with."
CORRECTION
Sen. Booker introduced the Marijuana Justice Act in August of 2017. A previous version of this story said it was introduced this year.