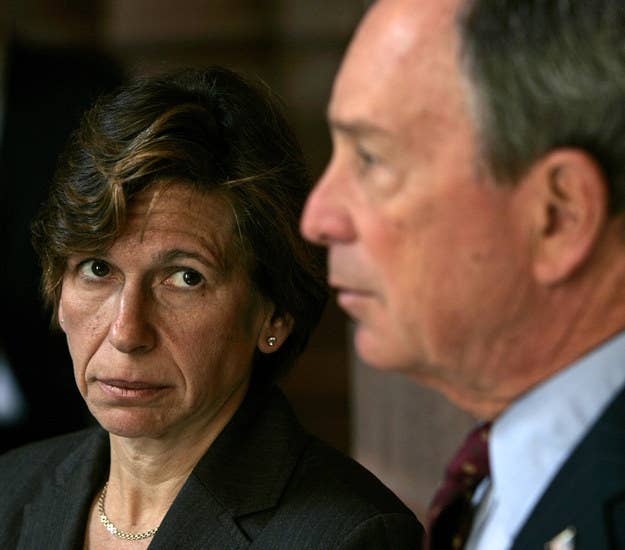 It hasn't been an easy time for teachers unions to actually effect change: They've lost major court battles in recent months, and have grown alienated from the Obama administration and many former Democratic allies on issues of education reform. But as their political clout fades, teachers unions have been increasingly wielding another kind of power, often with great effect: the financial strength of the billions of dollars in their members' pension funds.
Until recently, teacher pension funds and the trustees who managed them on a district and statewide level were largely unorganized. But Weingarten and the AFT have marshaled fund trustees and the roughly $1 trillion that they manage into a tool for the union's education agenda. They have used it to take on powerful hedge fund managers over their opposition to teacher pensions and influence public corporations in the interest of union members and students.
"This is about reclaiming our collective voice on behalf of worker's capital," said Dan Pedrotty, the director of the AFT's pension office, which was started in January 2013.
In the office's first project, the AFT took on a group of powerful hedge fund managers — including billionaire Dan Loeb — whom the union said were opposed to traditional teacher pensions. They published a list calling out the hedge fund managers for supporting groups like the Manhattan Institute, which has recommended replacing pensions with 401(k)-type plans, and Students First, whose national branch advocates eliminating defined-benefit plans. Defined-benefit plans, in which almost 90% of public school teachers participate, guarantee retiring teachers a monthly payment for the remainder of their life based on how many years they taught.
At the same time they supported groups opposed to traditional pensions, the AFT said, those hedge fund managers took in and invested billions of dollars of teacher pension fund money, reaping profits from the institution they were trying to destroy. Pedrotty called the asset managers' involvement in anti-pension groups "a conflict of interest," saying that they "betrayed" the interests of pension fund members.
The AFT released an "asset manager watch list in April of 2013;" by June, a cadre of Wall Street's biggest hedge funds and their partners had already succumbed to the pressure of the union's watch list. Cliff Asness, co-founder of $33 billion hedge fund AQR Capital Management, agreed not to renew his position on the board of the Manhattan Institute, which had called for eliminating teacher pensions in favor of 401(k)s, and Thomas McWilliams, a managing partner at private equity firm Court Square, resigned from the Institute's board. Private equity giant KKR and several other investment firms wrote public letters promising their support for public pension plans.
While Loeb has refused to rescind his support for the Manhattan Institute and for StudentsFirst NY, the New York chapter of the national StudentsFirst organization, he did cancel a speaking appearance at an investor conference after Weingarten threatened to confront him. Loeb later baited Weingarten by announcing he was increasing his donation to Success Academy, a longtime foe of teachers unions, by $1 million in response to what he called the AFT's "attack."
While the national StudentsFirst organization advocates shifting from defined-benefit plans to other types of pensions, StudentsFirstNY released a statement shortly after the list was published saying it supported giving teachers "the right to choose" between traditional and other types of pension plans.
The success teachers unions are having against asset managers is diametrically opposed to their ability to influence education policy in other spheres. In June, unions were struck a devastating legal blow in Vergara v. California, a court case that made teacher tenure in the state illegal and that pundits speculated would soon lead to similarly damaging court cases nationwide. Later that month, the Supreme Court's Harris v. Quinn decision, which let a group of employees opt out of a union, is also expected to have negative impacts on unions. The AFT has promised to fight both.
Teachers unions have become increasingly ostracized from the Obama administration and large swaths of the Democratic Party, leaving them without many of the political allies they could once count on. Arne Duncan, Obama's secretary of education, vocally supported the Vergara decision. He and the administration have also been champions of the Common Core, a proposed set of nationwide standards with which teachers' unions have become increasingly disenchanted, and of charter school groups like Success Academy, who employ non-unionized teachers.
Since its fight against hedge fund billionaires, the AFT has also turned the power of its pensions on massive education companies in which its funds invest. "We've decided we should should also be an active ownership voice in public companies that have an impact on our members," Pedrotty said. A major task of the AFT's pension office, Pedrotty said, has been to "remind trustees that they're also shareholders — they have a voice in public companies, they get to help elect the board."
At the annual shareholder meeting of Sallie Mae, the country's largest private student lender, the union put heavy pressure on the company to sever ties with ALEC, a conservative-leaning lobby group. Sallie Mae did.
Then, in April, the union attended the shareholder meeting of Pearson, the world's largest education company, to demand it lifts a gag order preventing teachers from discussing high-stakes tests in New York. An AFT-led petition has 18,000 signatures. (Pearson released a statement responding to the union's claims.)
With public opinion of teachers unions slipping, Weingarten and the AFT have also heavily publicized the union's investments in infrastructure: A partnership with the Clinton Global Initiative secured $10 billion in infrastructure investments, which Weingarten and the union say will create 150,000 jobs and "fix America's crumbling infrastructure."
But the union's approach has not been without its critics. "If this were in the private sector, it would be close to flatly illegal," said James Sherk, a senior policy analyst at the conservative Heritage Foundation. "Private sector pension fund managers can only govern from a fiduciary perspective — it's illegal to use funds to achieve own ends. They're only getting away with this because they're a public sector union."
Sherk also takes issue with the AFT's central project, the asset manager list: the "conflict of interest" identified by the union, he said, doesn't exist. "The hedge fund managers are not being hired to give advice on education policy, they're being hired to get maximum rate of return on investments," Sherk said. "His views aren't relevant to the job he's doing as a hedge fund manager."
David Wood, who directs the Initiative for Responsible Investment at Harvard and has worked with the union's trustees, sees the union's mobilization of pension funds as a positive step in pursuit of socially conscious investment. "They're looking at how to align their actions with their superior social outcomes," he said. In part, the pension fund work is a recognition that "they live in a politicized world."
Yesterday, the biggest news out of the AFT convention was the union's call for the resignation of Secretary of Education Arne Duncan — unless he agreed to follow an "improvement plan" the union called for President Obama to put in place. The demand echoed a similar, even more strongly worded resolution last week by the National Education Association that the union's outgoing president called a "venting of frustration of too many things that are wrong."
But Duncan was clearly unconcerned, shrugging off last week's call for his resignation in a curt press statement. His only mention of the incident at a later press conference was a comment that he was "trying to stay out of local union politics."
In her keynote speech at the convention Friday, Weingarten worked to convince members not to "let court cases get you down." She offered up the infrastructure investments, as well as fights against Pearson, Sallie Mae, and asset managers, as hope — and examples of what she called "badass unionism."
This article has been corrected to reflect that Dan Loeb is a supporter of StudentsFirstNY, a New York state affiliate of the national organization. A previous version did not distinguish between the national and state branches. It has also been updated to include the position of StudentsFirstNY.