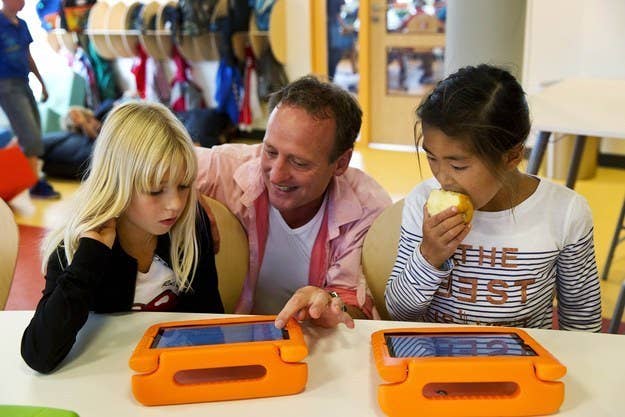 There are thousands of ed-tech products on the market, but barely half of teachers think they are effective, according to a study released today by the Bill and Melinda Gates Foundation. And many products simply aren't being used at all: Of the 964 "student-facing" products captured by the study, teachers were only able to identify just over half of them.
The study, based on a survey of more than 3,100 educators nationwide, was released Tuesday during ed tech's biggest conference, the ASU/GSV Education Summit, a swanky gathering of investors, CEOs, and startup hopefuls at a luxury resort in Phoenix. Many companies in attendance at the conference are hoping to capture a slice of the tricky K-12 student market, where both teacher adoption and effectiveness are key to product growth. The market has been growing rapidly, the Gates study found, with 115 deals funded in 2013.
But there are huge gaps between the products that are available and what teachers actually say they want in their classrooms. Platforms that host and aggregate content, for example, have been capturing millions of venture capital dollars — they make up 26% of the student-facing products in the market and are attached to big names like Edmodo and Blackboard. But the study found that teachers don't use them as often, or find them as effective, as venture spending might indicate.
Meanwhile, teachers said they're in need of technology that will help their students adapt to high-stakes tests and the nuances of strict new standards like the Common Core.
"There's a Steve Jobs quote, 'People don't know what they want, you have to tell them.' That doesn't apply in education," said Tanesha Dixon, a middle school social studies teacher in Washington D.C., who is one of a small number of actual educators attending the GSV Summit. "I'm a professional educator. I know what I want, you don't have to tell me."
What Dixon wants is technology that helps her students think critically and make connections in curriculum.
Arelys Villeda, a Chicago public school teacher at the conference, is searching for technology that allows her students to engage with one another. "Communication is such an important part of the skills gap, and I have yet to see a single product that allows my kids to connect with each other, instead of just sitting on iPads with their headphones on," Villeda said.
Just a tiny fraction of teachers, the study found, actually spend their own money on technology for their classrooms. But that doesn't mean that teacher buy-in isn't vital to education companies in the K-12 market.
"We're quickly realizing that we have to spend much more time talking to teachers," said Linda Zecher, the CEO of Houghton Mifflin Harcourt, a large publisher that has been moving increasingly into the ed-tech and digital space. "We used to talk to the district IT guys. More and more, it's teachers — they're the ones who have to believe that adoption will work in their classrooms."