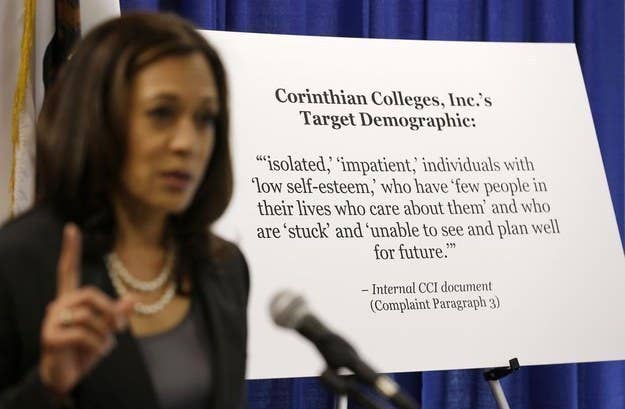 Shannon Courson was worried when she started hearing the news about Everest College-Phoenix, where she was enrolled in her second term as a business student in the school's online campus. Reports were circulating about lawsuits and, more recently, articles claiming that many of Everest's campuses were closing or being sold. But when Courson emailed her advisor at Everest, he quickly dismissed her concerns.
"This is Everest College Phoenix and not Everest University, which I think most of the news surrounds," he wrote in a reply to Courson. "We are still fully accredited and fully operational. Don't worry."
Courson's advisor wasn't lying, but he wasn't exactly telling her the truth either.
Both Everest University and Everest College-Phoenix, though separate schools, are owned by Corinthian Colleges, the massive for-profit school operator that is essentially being forced out of business by the Department of Education. Though there is a small chance that the company itself may still exist in five months, as per a deadline set by the Education Department, it would be without any campuses or students. The campus Courson attends is, in fact, up for sale, along with all but 12 other Everest campuses, which are being shut down altogether.
Courson later received a document from Corinthian saying only that it "plan[ned] to offer" the Everest College-Phoenix up for sale. But when she contacted her advisor again, Courson said that he "assured me nothing was out of the ordinary," not mentioning the issues with the Department of Education or that Everest's parent company was effectively going out of business. Frustrated and worried that other students had been fed the same misleading information, Courson tried to post articles about Corinthian's demise on Everest's Facebook page. But the links were deleted, Courson said, and she was eventually banned from posting on the page.
Courson's tale is not unique. Corinthian representatives have been tightly controlling the information they give to students since reaching an agreement with the Education Department in July to close or sell all of its campuses. Usually, interviews with 18 current Everest students show, Corinthian representatives have led students to believe that nothing is amiss and that the sales are only possibilities. And despite an operating agreement with the Education Department that requires Corinthian to provide notice and disclosures to all current and prospective students about the "status of the schools," nine of the 18 students interviewed by BuzzFeed said they had never been notified, in documents or through their advisors, that their school's campus was up for sale.
Ashley Frasco, a recent graduate, was given the same line as Courson about Everest University. "I'd heard rumors... but they keep telling me it was only Everest University," she said.
Kent Jenkins, a spokesman for Corinthian, said he was "troubled" by the fact that students had been misled about the connection between Everest College and Everest University, and that Corinthian was "addressing the issue of our campus sales openly and honestly" with its 70,000 students. It said it sent disclosures, like the one Courson received, to all of its students.
In a written statement, Jenkins said that the fact that all of Everest's campuses were being sold or closed and that Corinthian was in dire financial straits "has been widely covered by the news media," effectively putting the onus on Corinthian's students to educate themselves about its future.
"It is hard to imagine a process more public than this one," he said.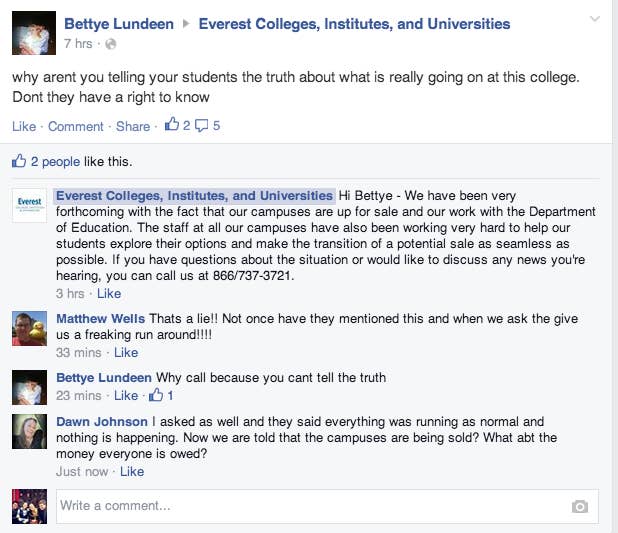 While outlets like the Wall Street Journal and the Chronicle of Higher Education fully covered Corinthian's shutdown, those stories likely weren't on its student body's radar — some told BuzzFeed, for instance, that they simply didn't often read the news. Indeed, that is precisely the kind of student Corinthian targets, according to internal company documents made public by California's attorney general, which show that Corinthian purposely uses ads on daytime shows like Jerry Springer and Maury Povich to market to students the company describes as "isolated," "impatient," and "unable to see and plan well for the future."
Further, students who were told about the shutdown told BuzzFeed they felt assured by their counselors that there was nothing out of the ordinary and took them at their word. They said representatives from the school implied that the campus sales were only remote possibilities or were limited to a handful of schools. The document sent to students at campuses that are being sold, for instance, calls the sale "possible" and outlines changes that may take place "if your school is sold."
Several posts to the official Facebook page "Everest Colleges, Institutes and Universities" that referenced the sale, including links to news articles, have been removed or are no longer visible on the page as of Monday. (See screenshot above of one such post taken before it was removed.)
"They said they'd had some problems with submitting paperwork to the Education Department but that they had fixed all of that," said an Everest student studying accounting in Jefferson City, Missouri, who asked not to be identified by name. She had called her counselor to ask about a story she'd seen on the news about another campus closing. "They told me they're narrowing down their schools, but my program wouldn't be closed, so I didn't have to worry." This student said she had no idea that Corinthian was effectively going out of business.
Jeania Wells, a dental assisting student at Everest College in Chesapeake, Virginia, said she had "absolutely not" been told about the campus being sold. "I had an inkling something was wrong when we were on our fourth instructor in two months," Wells said.
Jenkins, the Corinthian spokesman, said that students were "encouraged" to reach out to Everest representatives and that "they will get answers and information." But Allen Jones, who lives in Augusta, Georgia and attends Everest College online, said he has been unable to contact the company for months.
"Getting them on the phone is a nightmare," Jones said. He also said that he has not heard from his advisor, who used to contact him every week, for at least two months, and that the hold time on Everest's phone lines is far too long. "You can only talk to them if you have an hour and a half to wait [on hold]."
Alyssa Gant, who lives in Atlanta, had just been forced to leave the four-year university she was attending because of financial troubles but "really, really wanted to go back to school." Everest accepted her, and throughout her enrollment process in July — the same month the school reached its deal with the Education Department — nobody told her the campus she was enrolling in was up for sale. When she heard through friends, Gant said she called her advisor and asked if Everest was closing. "He paused for a minute and then told me, 'That's not true,'" Gant said. When she asked again, the advisor told her the campus was up for sale. "But he told me everything I'd read or heard, that it wasn't true." Spooked, Gant cancelled her enrollment. She's not sure what she's going to do about going back to school.
Meanwhile, despite its impending wind-down, Everest campuses that are being sold are still enrolling students.
When Victoria Garza of Houston enrolled in an Everest program last Monday, her advisor simply told her the school might be "selling the Everest name," she said. She didn't think anything of it. The advisor helped her apply for her FAFSA, promising she wouldn't have to pay a dime until well after she graduated with a certificate in medical assisting. The 10-month program costs more than $20,000.