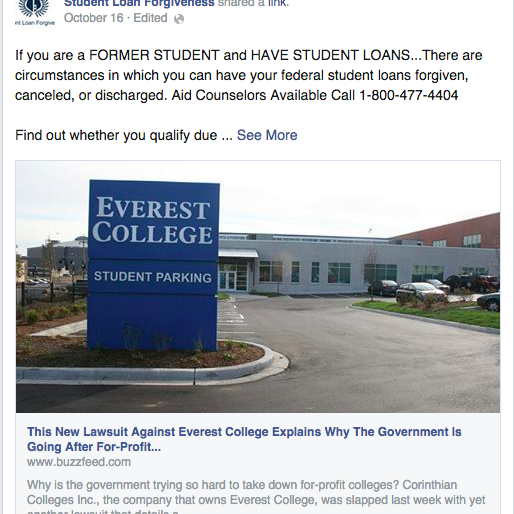 Debt relief firms that have been sued for advertising wildly expensive, misleading student loan services have begun to explicitly target students of for-profit colleges on social media.
Pages with names like "Student Loan Forgiveness Support," which have amassed tens of thousands of likes on Facebook, are using recent news about closures and lawsuits against for-profit colleges to lure those students into so-called "debt forgiveness" services, which essentially entail paying as much as $1,000 to fill out a free loan rehabilitation form provided by the Education Department.
As a result, thousands of poor students who have already been victimized by for-profit colleges could end up paying hundreds of dollars to yet another predatory company. The targeting of students at for-profits is a new twist on an exploitative scheme that is only just beginning to draw national attention. As scrutiny of for-profit colleges grows and several more face possible closure or legal action, it will likely only intensify.
The student loan relief scheme treads familiar territory. In 2008, in the wake of the housing crisis, mortgage scams flourished, including those that lured borrowers into paying thousands of dollars in upfront fees to fill out loan modification forms.
When it comes to student loans, the scheme works like this: Advertisements tell people that they are eligible for federal student loan forgiveness and encourage them to call a phone number for more information. Once they call, salespeople offer to enroll debtors in a federal program, usually one that offers income-based repayment or loan consolidation, handling paperwork and promising they will "negotiate" with the government on debtors' behalf to get a maximum amount.
Firms defend their work by comparing their services to tax preparation. But the forms required by the Education Department are much more straightforward than complicated tax forms, and are readily available and downloadable from the Department's website. The process is exceedingly simple, with no negotiation required: If you fill out a form and your income qualifies you for the repayment plan, you'll be enrolled in it.
The fees charged for those services are often exorbitant: A lawsuit filed by the Illinois Attorney General this summer against two student loan debt settlement firms alleged that they charged illegal upfront fees of $700 to $1,200, and sometimes tacked on monthly payments of $49 for no apparent reason.
The Illinois lawsuits chronicle scores of deceptive practices by debt settlement firms, including promising "debt forgiveness" when the only services they provide are consolidation and different payment plans, claiming that they are affiliated with the federal government, and implying to debtors that they are not able to fill out the forms on their own. Many also claim the existence of a nonexistent "Obama Debt Forgiveness Program" through which students' loans can be erased.
Historically, debt settlement firms "aim at everybody," said Deanne Loonin, an attorney for the National Consumer Law Center who authored a report on the schemes last year: Graduate student or graduate of Everest College, if you have student loan debt, you may find yourself barraged by emails and advertisements offering "debt forgiveness help."
But in the wake of news about the closure of Everest College and government lawsuits that could entail debt relief on students' private loans, Facebook pages have sprung up that appear to be devoted entirely to luring for-profit college students. One such page, "Student Loan Forgiveness," has racked up more than 10,000 likes since it began just two months ago. It regularly posts articles about lawsuits against Everest and ITT that say, "If you are a FORMER STUDENT and HAVE STUDENT LOANS...There are circumstances in which you can have your federal student loans forgiven."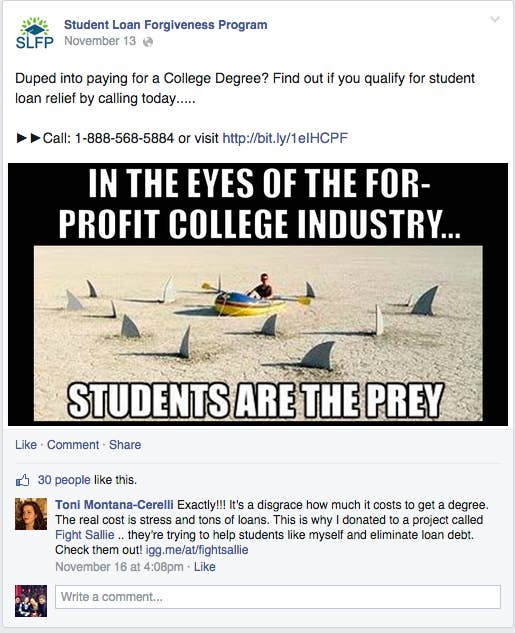 The posts list a variety of numbers that students can call "for help" — all of which redirect to debt settlement firms. At one phone number, a salesperson said the company's services cost $199, but then clarified that it "required three payments of $199" to fill out the forms. At a second number, a salesperson said the only fees would be "DOE fees plus processing," and said specifically that the Department of Education charged money to file forms. "How much you pay varies based on how much the Department of Education charges you," he said, adding that the fees would have to be paid immediately "in order to process you into the program."
Hundreds of desperate Everest, ITT Tech, and other for-profit college students comment on the debt recovery page's posts, recounting their troubled histories with their schools and asking if they qualify for forgiveness. The page responds to almost every question, promising that "Everest students qualify" and assuring posters, "If you attended a for-profit college, you may be eligible for forgiveness." On each post, hundreds of students share the article — and the "loan forgiveness" phone number attached — often with classmates. They tag friends and family members who also went to Everest or other for-profit schools and encourage them to call.
The types of companies running the debt relief schemes vary widely, said Loonin. Some are stand-alone companies that have sprung up specifically to run student loan relief programs; others are divisions of larger firms, or even divisions of nonprofits.
The largest "Student Loan Forgiveness" page that targets for-profit college students appears to be run by a firm called Debtcare Center, based in Garden Grove, California. Debtcare Center's license to operate was suspended by the state's tax board in August because of $20,000 in unpaid taxes, but the company still had a working phone number that forwarded calls to a debt relief firm called "USA Student Loan Services." That company is based just 15 minutes away, in Tustin, California, and has also been posting the same articles targeting for-profit college students to the 12,000 people who like the page.
The salesperson at USA Student Loan Services said the company was a subsidiary of the supposedly defunct Debtcare. Debtcare Center's website, ObamaDebtRelief.com, is still operational and linked to the active Facebook page.
Other, larger debt settlement firm pages with more than 100,000 likes, which traditionally post shareable memes related to debt and working life in order to entice a broad swath of debtors, have been getting in on the game, with out-of-character posts targeted specifically at for-profit college students. "Education or exploitation?" one post on the page "Student Loan Forgiveness Program" asks. "The Dept. of Education is reporting that many for-profit colleges are failing to provide their students with the education or training necessary to repay their educational expenses."
For-profit college students at schools like Everest tend to have many things in common with one another that may make them more likely to fall victim to such practices. They are often poor; many say they access the news almost exclusively through their Facebook feeds. When they enrolled at schools like Everest, they say they trusted the words of enrollment officers who promised they were attending a reputable school and would find jobs, and financial aid counselors who told them they would have to pay little money out of pocket.
Loonin, of the National Consumer Law Center, said she has seen sharp increases in the number of debt recovery firms and complaints against them. The Consumer Financial Protection Bureau and the Florida attorney general announced earlier today that they had jointly shut down one Florida "debt relief" company and were suing a second.