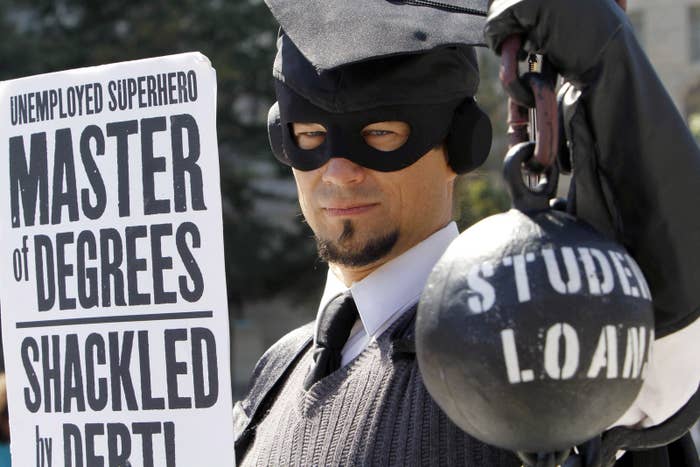 Americans are facing a "looming" student loan default crisis that is more serious, and more complex, than previously understood, an analysis of new federal data suggests.
Almost 40% of borrowers who entered college in 2004 are likely to default on their loans by 2023, the report predicts. And the impending crisis will hit marginalized students the hardest, with sky-high default rates among black students and those at for-profit colleges.
Data about student loan borrowers is often limited to small windows of time — typical "default rates" measure students for only three or five years. But a new report by the Brookings Institution, a centrist think tank, takes a far-reaching view of student loans and default, looking at what happens to people decades after they enter school.
Student debt has ballooned from $260 billion in 2004 to almost $1.4 trillion, but it's not those numbers that spell serious problems for student loan borrowers, the report found. Instead, it's the rapidly rising rates of people who go into default.
For people who entered college in 1996 and took out loans, the data shows, 18% had defaulted after 12 years, and more than a quarter had defaulted after 20. But those numbers jumped sharply for those who entered college in 2004: Some 27% had defaulted after 12 years, a nearly 50% increase.
If the trends continue, Brookings predicted, default rates for student loan borrowers will skyrocket to 38% by 2023. Those numbers could change, the report notes, especially if the economy continues to improve, driving down defaults and lessening the effect of the 2008 recession. But, the study's author said, it could also get worse.
What matters when it comes to defaults, the data shows, is not how high borrowers' loan balances are, but who they are and where they went to college. In fact, people with the smallest amount of student loans — less than $6,125 — defaulted at the highest rate: 37%, compared to 24% for people who borrowed more than $24,000.

That's largely because people with small loan balances either never finished their degrees or attended cheap certificate programs — two groups whose default rates are higher than any other. People who finished short, nondegree programs — like certificates in criminal justice or medical billing and coding — defaulted at even higher rates than dropouts.
For-profit colleges, which disproportionately enroll low-income students and students of color, have come under fire for their high default rates and low graduation rates. They enrolled tens of millions of students, particularly in the wake of the recession, with tactics that government watchdogs and agencies have called deceptive and exploitative.
The 20-year default rate in 2023, Brookings found, could be close to 70% for for-profit college students, where numbers have risen even more dramatically. Almost half of for-profit students from 2004 had defaulted within 12 years, doubling the rate for students from 1996.
The crisis looks similar for black borrowers, according to the Brookings analysis: Some 70% of them may eventually default by 2023. Black borrowers with bachelor's degrees default at five times the rate of white graduates — a rate higher, even, than that of white dropouts.