Student Loan Company Closes On Controversial Deal To Buy Corinthian Campuses
After weeks of delays.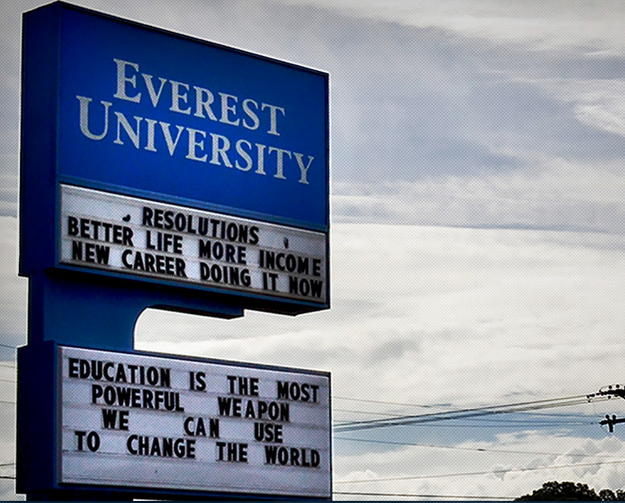 The massive for-profit college operator Corinthian Colleges has closed on a deal to sell 53 of its campuses and its online programs to ECMC Group, a nonprofit student loan guarantor, after several weeks of delays. Corinthian disclosed the finalized $24 million deal in a securities filing this morning.
Under the deal, most of the Everest and Wyotech College campuses owned by Corinthian will be converted to nonprofits, and will continue to operate and enroll students — with the exception of schools in California, which were excluded from the sale.
Corinthian, once one of the largest for-profit college companies in the country, has been in the process of shutting down since July, when it reached an agreement with the Education Department to close or sell off all of its campuses. Corinthian had been plagued by lawsuits and investigations into misleading enrollment practices and poor outcomes of students.
When the proposed sale of Corinthian's schools to ECMC Group was announced late last year, it drew staunch criticism from lawmakers and activists, who warned that ECMC, which has never previously owned a college, was unprepared to handle operating Corinthian's struggling campuses. ECMC has a controversial track record as a student debt collector.
Some argued that the school's campuses should have been forced to shut down altogether, allowing students at Corinthian's schools to collect refunds and start fresh. But the Education Department argued that it was in students' best interest to continue their educations, and publicly blessed the ECMC sale.
The Consumer Financial Protection Bureau, which is suing Corinthian over the company's private lending scheme, released a statement Tuesday saying that the deal included $480 million in debt relief for former students. That debt relief applies only to private loans, not to the federal loans that make up the vast majority of outstanding student loan debt among Corinthian students. The CFPB's lawsuit against Corinthian is still ongoing.
The fate of Corinthian's California schools remains up in the air.