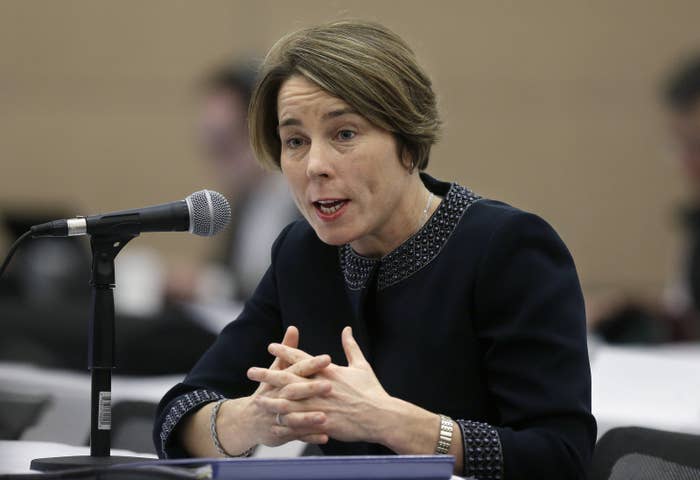 Thirteen state attorneys general took the unprecedented step Friday of calling for the Education Department to remove one of the watchdog agencies it uses to oversee colleges, saying in a biting letter to the department that the agency had "ruined the lives of hundreds of thousands of vulnerable students whom it was charged to protect."
The Education Department charges the Accrediting Council of Independent Schools and Colleges (ACICS), an independent nonprofit, with vetting and oversight of colleges across the country, trusting them to give the stamp of approval that allows colleges to rake in millions in federal student loan money.
ACICS gave that accreditation stamp to scores of discredited and now-shuttered for-profit colleges — including the giant Corinthian, a decision that the attorneys general describe in their letter as ACICS' "most spectacular failure." Corinthian schools were accredited by ACICS until the day the company declared bankruptcy.
Led by Massachusetts Attorney General Maura Healey, who also led a suit against Corinthian, the group of 13 attorneys general called on the Education Department to revoke approval from ACICS, which is up for review this summer. In a statement, ACICS said it had not seen the letter and that it "looks forward to reviewing all public comments and defending its merits... in June."

At Corinthian and other schools, ACICS overlooked the schools' falsified job placement rates, the letter said. According to an analysis from ProPublica, the accreditor routinely offered approval to schools where graduation rates were below 40% and the majority of students had not paid even a fraction of their loans. (ACICS called that data "cherry-picked.")

There has been growing scrutiny of all accreditors, agencies that the Department of Education recently called the "watchdogs that don't bite." A Wall Street Journal investigation found that accreditors of nonprofits, as well as for-profits, routinely approved schools that systematically failed their students, failing to graduate many and leaving more steeped in debt.
"Even in the crowded field of accrediting failures, ACICS deserves special opprobrium," the letter by Healey and other attorneys general said. "ACICS has proven that it is not willing or capable of playing the essential gatekeeping role required of accreditors. It accordingly should no longer be allowed to do so."
The letter was signed by attorneys general from Massachussets, Illinois, Maryland, Kentucky, Iowa, D.C., Maine, New York, Hawaii, New Mexico, Minnesota, Washington, and Oregon.