With Hurricane Irma roiling toward Florida on Friday, colleges dotting the state were forced to evacuate dorms and campus buildings, leaving students scrambling to find places to stay in the midst of the largest evacuation in state history.

For college students in Irma's path, some just a few days into their freshman year, the hurricane presents a particularly difficult situation. The skyrocketing cost of last-minute plane tickets means students who are studying far from home have no way to get there. But those who come from Florida say they are similarly stranded, with no home to go to as their parents, too, flee the state.
At the University of Central Florida in Orlando, campus is closed: some dorms were evacuated, university facilities were shuttered, and classes and the football game was canceled.

But Danique Mason, a freshman, is staying on campus. Her family is from Broward County, in the direct path of the hurricane, where they're trying to board up their windows and prepare for Irma's arrival.
She'll have to leave her dorm room by Saturday night, she said, and spend the duration of the hurricane in a "ride-out location," her bag packed with food and water that she says will have to last her 72 hours.
"Evacuating is not as easy as it seems because of backed-up highways and sold out plane tickets," Mason said.
During Hurricane Andrew, a Category 5 hurricane that pummeled Florida in 1992, some 4,000 students rode out the storm on the campus of the University of Miami, a private college. The campus was hit hard, losing power in 145 mile-per-hour winds and sustaining $14 million in damage.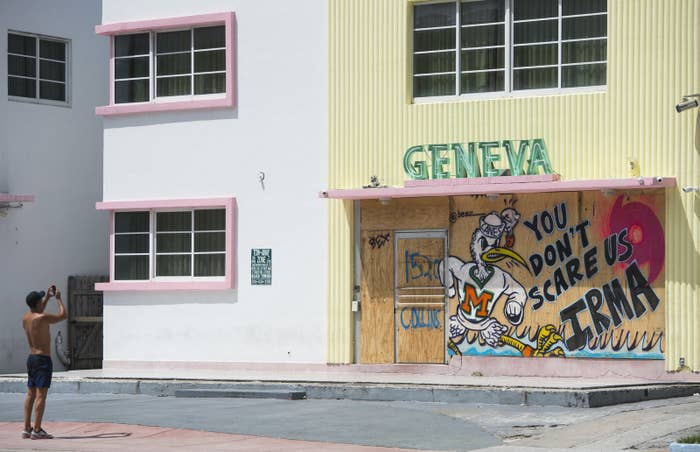 This time, with in the shadow of Hurricane Harvey's decimation of Houston just days before, the university took no chances: it evacuated its campus altogether, giving students two days to find places to go. Just seventy students who had no other options now remain on campus, said Ryan Holmes, the school's dean of students. They've been bused to a high school built to withstand a Category 5 hurricane, along with water and ready-to-eat meals.

"When you're talking about a storm of this magnitude, we felt it was the best thing to do," Holmes said. "We wanted to make sure the decision was made as soon as possible so that students could get away."
Abigail Hackett, a freshman at Palm Beach Atlantic University, said she couldn't afford to fly home to New Jersey after the university told students Wednesday that they had two days to evacuate campus altogether.

She packed into a car with three other students and drove 15 hours on traffic-choked roads to Georgia. Back in their dorms, their possessions are stacked in the middle of the room, off the floor and away from windows. She doesn't know, she says, when she'll be allowed to come back.
For now, Hackett said, she and her classmates are staying in a friend's Georgia cottage with 27 Hurricane Irma evacuees — 15 human, seven dogs, three cats, a pig, and a bird.
Esther Reyes, a sophomore at UCF, is staying put in Orlando because her home is on the coast, directly in the path of Irma. She lives off-campus, and after stocking up on food and water, she went with her roommate to find sandbags to line their first-floor apartment, hoping to keep any flooding. But by the time they arrived, the sandbags had all been given away.
Reyes worries for her parents, who she said have so far refused to evacuate, hoping to tough out Irma at home.
"If people have the money and the transportation, they've left," Reyes said. "The people who are staying are the people who don't have a place to go, or can't afford it."