Senators Reach Deal On A Bipartisan No Child Left Behind
Annual testing is here to stay, but many of No Child Left Behind's strictest provisions were dumped.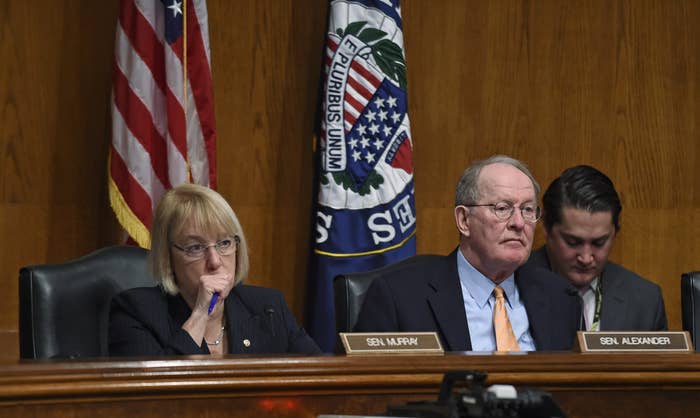 The two top senators on the committee dealing with education introduced a draft bill Tuesday that would overhaul No Child Left Behind, George W. Bush's controversial, and long-expired, education law.
The bill, introduced by Senators Lamar Alexander and Patty Murray, will retain a key portion of No Child Left Behind: federally mandated annual testing across all grades, with measures to make sure low-income and minority students are achieving growth. But it sheds much of the strict and often punitive federal oversight that was a hallmark of Bush's No Child Left Behind, such as requiring a set of dramatic interventions at low-performing schools, and instead gives significant leeway to states to design their own systems of accountability.
Handing control over to state governments was the central part of an earlier, Republican-crafted version of the No Child Left Behind rewrite, and is an important victory for Alexander. Democrats had wanted to retain more federal control over education, with civil rights leaders particularly arguing that it was the federal government's responsibility to ensure that poor and minority students were being served by their schools.
The bill also makes a largely symbolic pass at the controversial Common Core standards, a nod to the many Republicans that oppose them. While the standards are and have always been implemented on a state level, the Senate proposal forbids the Education Department from forcing states to implement the standards.
The rewrite also makes significant concessions to Democrats. It eliminates a pet provision of Alexander's that would have allowed federal money meant for low-income school districts to follow students to the school of their choice. The Obama administration had essentially promised to veto a rewrite that included such a measure.
Legislators have tried — and failed — to rewrite No Child Left Behind, which went into effect in 2001, several times before. An attempt by Republicans to rewrite the so-called Elementary and Secondary Education Act flailed in the House. A vote was abruptly pulled from the floor after Republicans were unable to agree on the federal government's role in oversight.