SEC Charges Chicago Charter School Operator With Defrauding Bond Investors
Payments to an executive's brother at a network run by a Latino nonprofit.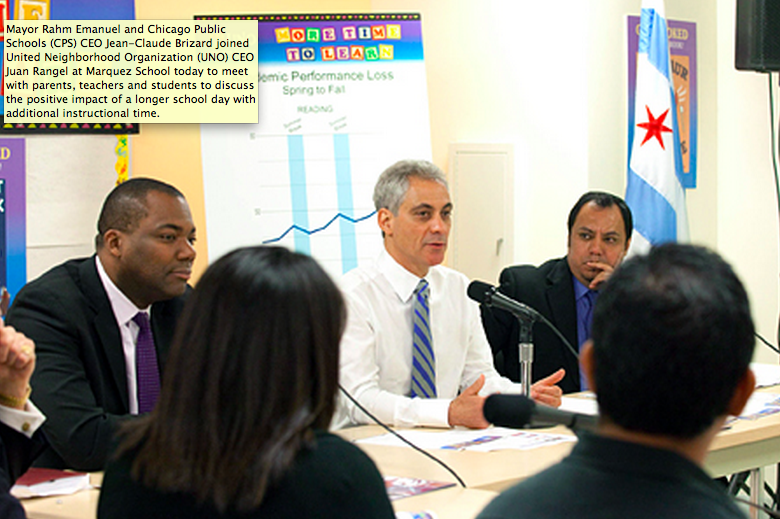 The Securities and Exchange Commission announced Monday that it is charging an influential Chicago charter school network with defrauding investors in a case centering on payments to companies run by executives' family members.
The SEC is charging the charter operator, UNO, with defrauding investors in a $37.5 million bond offering. UNO, which is run by the Latino nonprofit the United Neighborhood Organization, failed to disclose that it had paid $11 million to a company owned by the brother of its chief operating officer, and misled investors about how the breach of conflict of interest policies might affect their ability to repay the bond.
The SEC launched an investigation into UNO last year last year after the Chicago Sun-Times uncovered insider dealings relating to the construction of the network's gleaming Soccer Academy Elementary campus and other new schools.
The Sun-Times found that more than a fifth of a $98 million grant made to UNO with in 2009 was used to pay contractors owned by family members of UNO executives and its allies, including an $11 million agreement with the chief operating officer's brother, a window subcontractor and former UNO board member. The insider contracts breached conflict of interest policies in the state grant agreements.
While UNO devoted a section to conflicts of interest in an official statement to investors in its 2011 bond offering, it didn't disclose the massive window contract, the SEC alleges. Neither did it disclose the conflict of interest policy breach, which jeopardized UNO's ability to repay the bonds.
"Conflicted transactions and self-dealing by issuer officials can be material information for municipal bond investors and should be given appropriate focus by issuers and underwriters in disclosure documents," said LeeAnn Gaunt, chief of the SEC Enforcement Division's Municipal Securities and Public Pensions Unit, in a statement.
Illinois state Gov. Patt Quinn suspended the $15 million remainder of the construction grant to UNO a day after the SEC announced its investigation in October 2013.