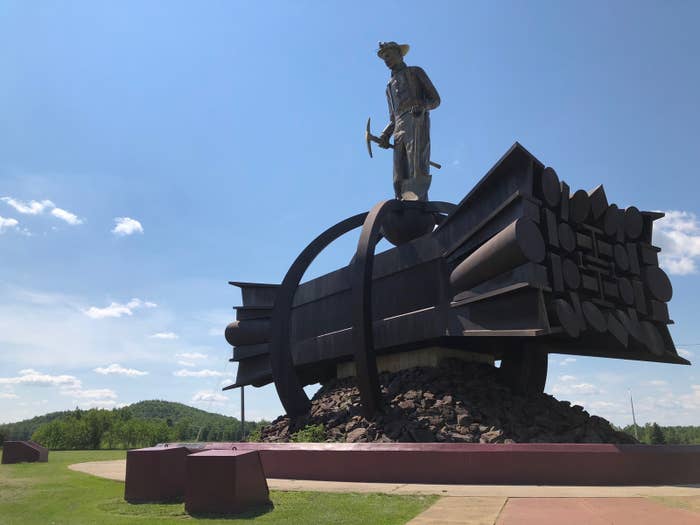 In the backyard of a bar in Coleraine, Minnesota, Pat Medure, a former county sheriff, was making his case for the Democratic Party's future in rural America: universal health care, rural broadband internet, bringing back businesses to an increasingly deserted Main Street.

"There's some things going on in the Democratic Party that divide us," Medure, who is running for a state legislature seat against a Republican incumbent, acknowledged to a crowd assembled over pulled pork, baked beans, and lemon squares sponsored by the Itasca County Democratic Party. "There's a lot of friction in the party. We can worry about that when we get there — but we believe in the same things."
To most people in the crowd, it was immediately clear what Medure was talking about: mining. Here, in and around the state's long-struggling iron mining region, known as the Iron Range, the tension in the Democratic Party between mining advocates and environmentalists is almost palpable.
The issue, mostly, pits people in northern Minnesota's small towns against city environmentalists. And it's a sign of a broader problem: In Minnesota, tension between urban and rural Democrats has been growing increasingly sharp. Democrats on the Iron Range worry it could cost the party in 2018.
While Republicans shower rural Minnesota with energy and money, much of Democrats' focus is on the suburbs of Minneapolis and St. Paul — "the Cities," as they're known up here. In the Cities, Democrats have the chance to flip two seats held by Republicans in districts that Hillary Clinton either won by 9 points or lost only narrowly.
It's the same thing the party is chasing across the country: the chance to win in wealthy white suburbs in places like New Jersey and Orange County, where Democrats are energized and some historically Republican voters, especially white women, are turned off by Trump.
Meanwhile, Itasca County is teetering on the edge of losing its long Democratic heritage. It went to Trump in the 2016 election by 15 points — the first time since 1928 that the county had voted for a Republican president.
Unlike in many other parts of the Midwest, the Democratic Farmer-Labor Party, as Democrats are known in Minnesota, is still unusually strong in rural parts of the state. It has a long history of knitting together a coalition, however fragile, of city liberals, miners, environmentalists, and union workers.
In Congress, the state's three most rural districts are still represented by Democrats, including the 8th District, home to the Iron Range. But many Democrats here, fighting to cling to those seats and bring disillusioned voters back to the party they grew up with, worry that could be lost.
If Democrats can win here in Coleraine and other small towns, they could chart a path for a rural Democratic Party that has faded in many other rural Midwestern counties.
One major problem, according to Cyndy Martin, the chair of the Itasca County Democrats: "Nobody cares about us."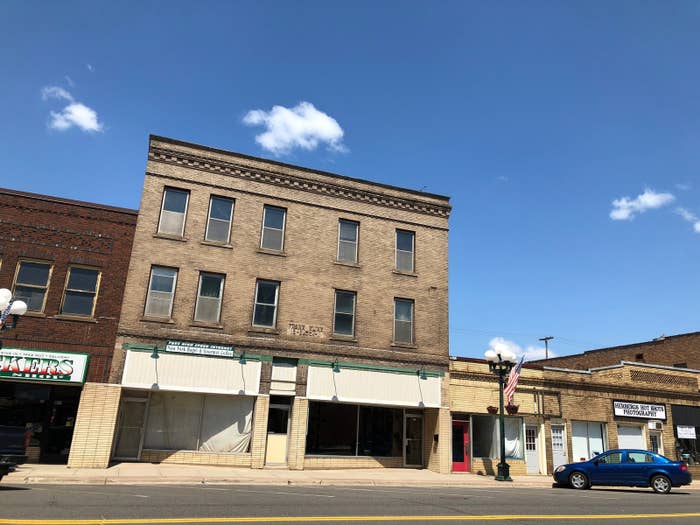 It's no mystery to Martin what happened in 2016 in Itasca County, and across the range: pure economic desperation.
"We don't have any economic growth here," Martin said. "I had a son who lost his job. He bought a house, he got married, and then the mines closed. He got a job at the paper mill, and the pay was so poor that he couldn't make his house payments. And guess what? They're living in a camper in Pennsylvania now. Because they're pipelining — that's where the money is."
As mines closed across the Iron Range, with thousands of jobs lost in 2016 alone, Trump wove that desperation, Martin said, into something uglier. She balks when she hears people in northern Minnesota talking now about the importance of the border wall and the fear of "immigrants taking our jobs" — here, about as far from the Mexican border as you can get, where the population in the district is overwhelmingly white.
Republicans, for their part, see an opening in rural Minnesota in 2018 unlike anywhere else in the country. They sent Trump here last week, to the shores of Lake Superior, where he touted his popular steel tariffs, praised miners, and promised to allow mining in the Superior National Forest. He also promised a capacity crowd in Duluth that he would deliver the 8th District — and, in 2020, the state — to Republicans.
Trump lost Minnesota by less than two points in 2016. "In two and a half years, it's going to be really easy," he said, to roars of approval.
Meanwhile, the tension between urban and rural Democrats in Minnesota was ratcheted up earlier this month, when the state Democratic Party voted to endorse a liberal woman from St. Paul, Erin Murphy, over Tim Walz, a Congressman from rural southern Minnesota who won in 2016 in a district Trump carried. Murphy promptly picked another urban, liberal woman as her lieutenant governor.

"She didn't think about us when she picked her running mate," Martin said of Murphy.
Loren Solberg, an Iron Range Democrat who served in the Minnesota House from the 1980s until 2010, said that in his early years there was a "strong coalition between rural and urban legislators. We were focused on labor and jobs."

But things have changed, Solberg said: "The parties have become more and more narrow in their attraction of people."
Iron Range Democrats are still cautiously optimistic about their chances. The state party realizes how important the 8th District race is, they say. They've talked to neighbors and coworkers here, lifelong Democrats, who voted for Trump in hopes that he would bring something — anything — new, but are now increasingly disillusioned and frustrated.
They're pinning their hopes on people like Dr. Cam Jayson, a retired dentist who has lived his whole life in the Minnesota mining town of Virginia. Jayson long voted mostly for Democrats, he said, but opted for Trump in 2016, hoping he would "bring back integrity" to politics. Jayson wouldn't vote for him again, he said. "I don't see that happening," he said. "I think he's a malignant narcissist, is why."
"People are absolutely energized," said Johnnie Forrest, the president of a local progressive group and a former union painter who came to the barbecue fundraiser in Coleraine. "Since two years ago, our meetings have gone from 20 people to 32. The enthusiasm is there."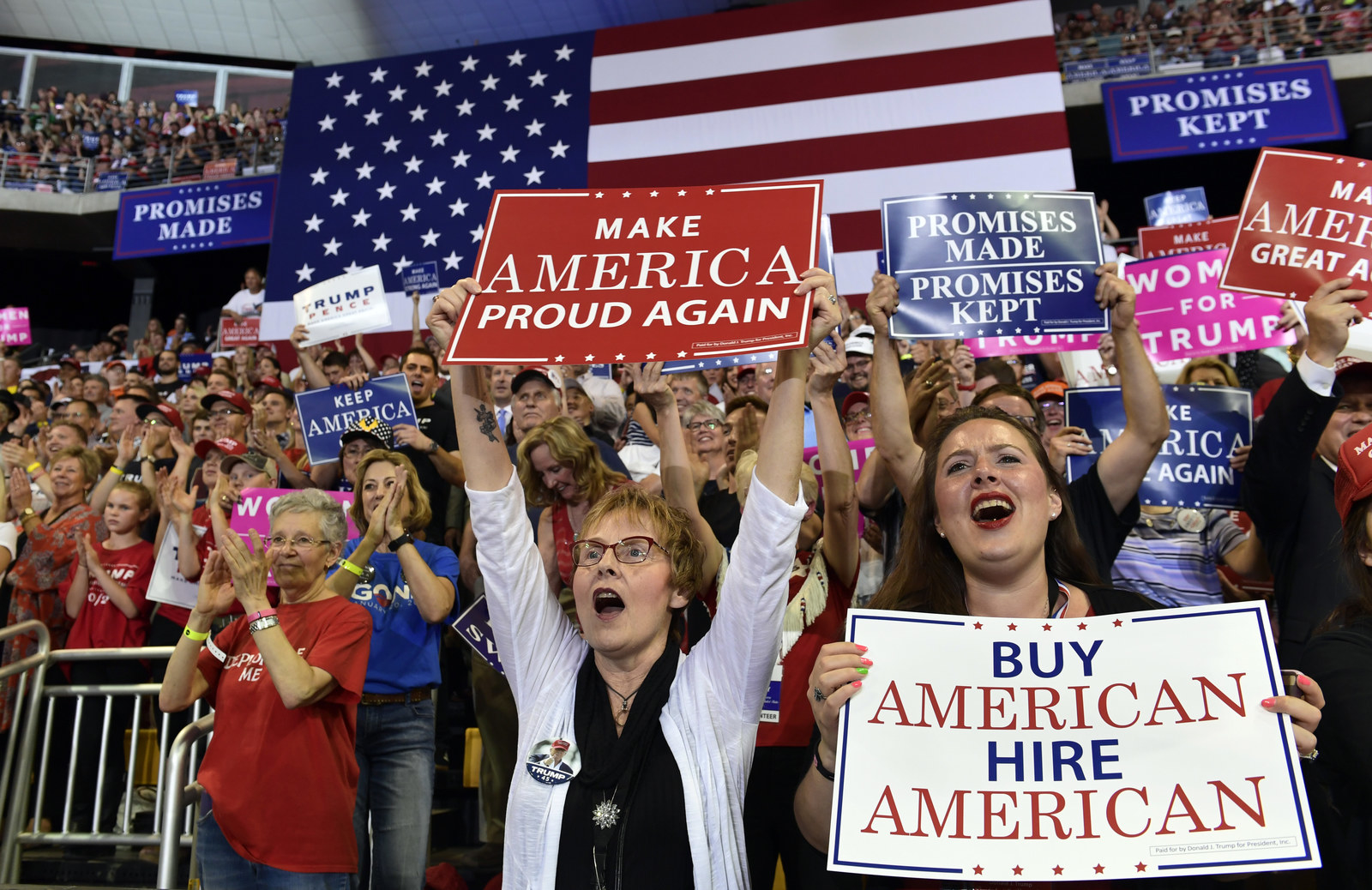 In the 8th District, which includes 86,000-person Duluth and scores of smaller, more conservative cities and towns scattered across the northern part of the state, politics orbit around one issue: mining. There is the expected split between the two parties, but there's a divide within the Democratic Party, too — one that boils down, mostly, to urban Democrats against rural ones.
"Democrats up here, we do mining, we do it well, and we do it in an eco-sensitive way," said Solberg. "I used to get upset with my Democratic colleagues from the Cities that don't want mining, but do want cellphones."
Statewide, Democratic politicians in Minnesota like Sen. Amy Klobuchar and Gov. Mark Dayton have long backed mining, too, something that's allowed them to win Senate and governor's races even as Republicans win in more local races.
But when it comes to more urban politicians and voters, there is a growing gulf. On the other side of the rural Democrats are people from the Cities and Duluth — "the water people," as Martin calls them, who oppose mining on almost every level, fearing that it will damage the environment and the state's tourism industry, which relies on its lush forests and thousands of clean lakes.
With so many mines closed up, every expansion and mineral exploration the "water people" oppose — like the latest battle over PolyMet, a copper-nickel mine that voters in the district often cite as their most important issue — means, to those on the Iron Range, hundreds of people without jobs. They worry that if they aren't allowed to explore new areas and mine metals like copper, the region won't have an economic future.
"They don't like it, but they don't live on the range," Martin said bitterly. "We had three mines just in Itasca County that went down. Have you driven through Aurora, or Hoyt Lakes, or have you seen Virginia? Thanks for that, water people. Bite me."
In Virginia, a town of 8,500 on one end of the Mesabi Range, a carved-out trench of iron ore deposit that stretches for 110 miles, many of downtown's brick storefronts sit empty, and a drift of educated young people from the region worries older residents who say there's little future for their area.
But in the past two years, some mines have been expanding, and new ones are planned for metal other than iron — something many locals attribute to Trump and state Republicans, who have eased mining regulation. Virginia's mayor endorsed a Republican for the 8th District seat earlier this year, part of a coalition of four Iron Range mayors.
That shocked local Democrats: The county where the mining towns sit is one of the most reliably blue in the state.
In the 8th District Democratic primary, too, the divide is playing out on a small scale between Duluth liberals and other environmentalists, who live in tourism-centric areas on Lake Superior and near the Canadian border, and places like the range.
Duluth Democrats have rallied around an environmentalist who opposed the new PolyMet copper-nickel mine, Michelle Lee, saying she thought it could not "be done safely without threatening our fresh water, which is our most important strategic reserve." Opposite her is Jason Metsa, a staunchly pro-mining son of the Iron Range and a PolyMet supporter. In the middle is Joe Radinovich, a young, sleek politician whose rhetoric — like many statewide politicians — tries to strike a balance between the two sides.
Radinovich, a former state legislator from Crosby who also spent time working in Minneapolis politics, talks about how the Democratic Party in the state is "united on core issues." But on the issue that's central to his district, and his primary, he acknowledges the divide.
"My position on minerals is outside of the mainstream if you're talking about Twin Cities Democrats," Radinovich said. "I have a pretty moderate position on those issues, which is to the say that we need these minerals but we have to figure out a way to do it safely."
In Duluth last week, Trump filled a local hockey arena more than three hours before he was scheduled to speak, leaving scores of disappointed supporters from all over the state standing outside.

Before Trump spoke, Karin Housley, a Republican running for Senate, promised to work with the president on fixing immigration and securing borders.
"Like me, President Trump is a strong supporter of the mining industry," Housley said. "We are not going to let out-of-touch, metro-area liberal elites drown out your voices."