Report Shows Widespread Academic Fraud At University Of North Carolina
Athletes at UNC-Chapel Hill were steered into fake classes in order to boost GPAs and maintain athletes' eligibility, according to a report released Wednesday.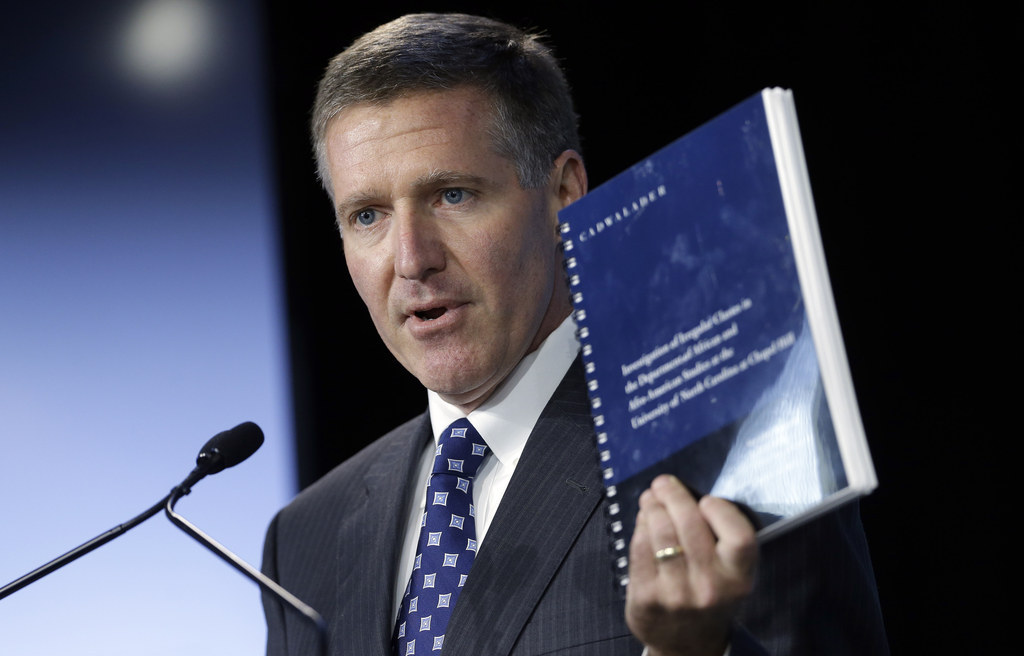 More than 3,000 students, most of them athletes, were involved in a widespread case of academic fraud at the prestigious University of North Carolina-Chapel Hill, according to a report released Wednesday by former Department of Justice official Kenneth Wainstein. The report details a scandal that first began surfacing in 2011, casting a cloud over both the university, considered one of the nation's premiere public schools, and its revered Tar Heel sports teams. The scandal was concentrated among the men's football and basketball teams, which generate more than $50 million in combined revenue for the school.
In a scheme that spanned almost two decades, one in five UNC student-athletes were steered by their advisors into fake "paper classes" in order to boost GPAs and maintain athletes' eligibility, Wainstein's report found. The Afro-American studies courses, which were classified as "lectures" but never met, involved writing a single paper on which almost every student received a grade of A or B, despite the fact that many were plagiarized or incomplete. Though student-athletes make up just 4% of the student body at UNC, they made up almost 50% of those enrolled in the paper classes, which averaged GPAs much higher than in the department as a whole.
Nine employees were fired or disciplined as a result of the scandal, the report said.
The report is the third attempt by UNC to measure the full scope of a scandal that came to light in 2011 and resulted in a felony fraud charge for the department's chair, Julian Nyang'oro. That charge was later dropped on the condition Nyang'oro cooperate with Wainstein. The report paints a more complete picture of those involved in the scandal, which included student advisors who kept lists of athletes at risk of losing eligibility and encouraged them to take the classes.
Those advisors panicked at the news that Deborah Crowder, the staff member at the center of the paper class scandal, would retire in 2009, fearing that athletes would receive non-inflated grades and potentially lose eligibility. "If the guys' papers are not in" before Crowder leaves, one wrote, "I would expect C's or D's at best."
The report paints a picture of a broader network of UNC-Chapel Hill professors, administrators, and athletic staff who were aware of widespread grade inflation and lack of rigor in the paper classes, including the associate dean and director of academic advising. Wainstein did not find that high-level university administrators were aware of the full extent of the problem, but fault the administration's failure to conduct meaningful oversight of the department, enabling it to continue unabated for years.
Deborah Crowder is a staff member at the University of North Carolina. A previous version of this post referred to her as a professor.