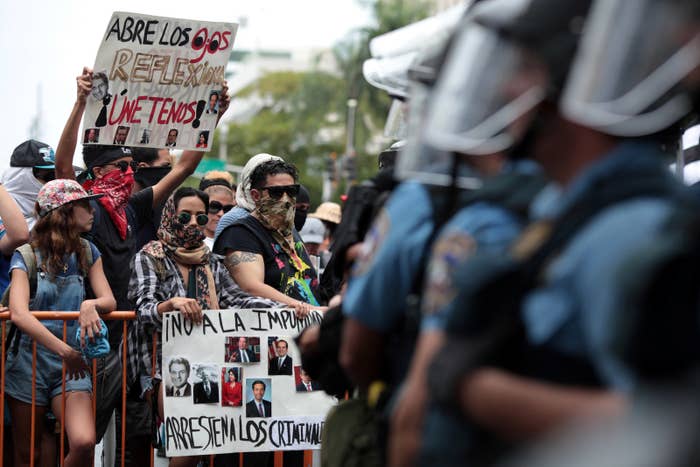 Puerto Rico's public university system is facing an unprecedented round of funding cuts that students and observers say will decimate the island's college campuses.
The 55,000-student public university system, a fiercely guarded point of pride for the island, is being asked to slash $450 million from a budget that barely tops $1 billion. In response, campuses scattered across the country have been shut down by student strikes since late March. Thousands of demonstrators have refused to attend classes and shut down schools by blocking entrances to protest the budget cuts and tuition increases.
Now the strike is stretching from spring semester into summer — with, students say, no end in sight. Barriers of tires and desks, some upturned, block the entrances at the university's central campus, Rio Piedras, and chains with padlocks loop around school gates strewn with caution tape.
American universities are no stranger to budget cuts. But the scale of what is happening in Puerto Rico is unheard of here, said Joseph E. Stiglitz, a Nobel Prize-winning economist and professor at Columbia University who has been following the island's debt crisis.
"This is a magnitude greater than what any university I've ever seen go through," he said. "This is slash-and-burn."
Last week, the conflict even boiled into a near-arrest, with a judge threatening to jail the president of the University of Puerto Rico , Nivia Fernández, if she would not force the campus to reopen. Instead of complying, she resigned, along with three board members.
Fernández had lasted just 13 weeks at the helm of the university's central campus. Her predecessor, too, had resigned in in February because of the size and scope of the budget cuts. So did 10 other university officials.
"If Americans knew it was happening there would be outrage," said Hector Cordero-Guzmán, a professor of sociology at Baruch College of the City University of New York. "It's essentially the single largest cut to a public university system in US history. Americans should see their children reflected in this — imagine if you're being told that someone wants to cut the University of Michigan, or California, or Florida."
Puerto Rico is facing an economic crisis unlike anything that has hit a US state. After selling off piles of triple-tax-exempt bonds to investors, it found itself completely unable to repay in the wake of its own economic downturn and the 2008 global financial crisis. The 3.5-million country was $72 billion in debt — more than every US state except New York and California. Its economy continued to spiral downward with no clear fix — the island on the brink of bankruptcy, the government desperately making cuts, and Puerto Ricans increasingly fleeing to the mainland in search of jobs.
To stave off financial collapse, the US government implemented a stopgap measure: a 2016 bill called PROMESA, the Puerto Rico Oversight, Management, and Economic Stability Act, which was enacted last year. PROMESA held back Puerto Rico's creditors from suing the island for a period, averting financial disaster, but it also appointed an outside financial board to oversee the island's finances.
As a commonwealth, Puerto Rico is in an awkward position — it's not a state, which has the full backing of the American government, but neither is it an entirely independent country. Many Puerto Ricans saw PROMESA's financial board as an unwanted and self-defeating colonial imposition.
Much like Greece in the European Union, facing a raft of deep cuts implemented by the International Monetary Fund to fix its economic crisis, PROMESA's financial oversight board clamped down on Puerto Rico's social services — slashing health care spending and lowering the minimum wage to $4.25 an hour, even closing down hundreds of elementary schools.
With Greece, said Stiglitz, "The IMF is being inhumane, but what the US government is doing to Puerto Rico makes the IMF look like a bleeding heart liberal. This is austerity on steroids."
The University of Puerto Rico was hit particularly hard by the cuts. PROMESA initially proposed to cut $300 million. But the island's governor came back with a staggeringly higher figure: $450 million, nearing half the university's annual budget.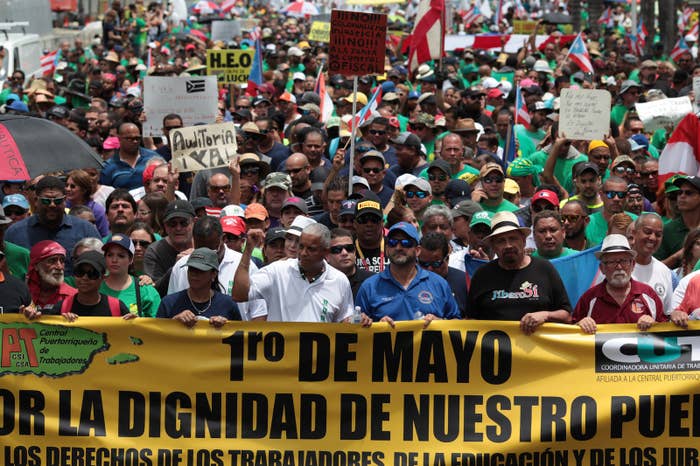 Even cuts less dramatic than the governor's proposal, activists claim, would amount to forcing eight of the system's 11 campuses to shut down, severely hobbling the rest. Tuition, which has long been lower than anywhere else in the US, would skyrocket by some 200%, they said — an impossibility for many of the half of Puerto Rican students who qualify for federal Pell Grants, a measure of poverty.

"You have to put it in context: these are not rich kids," said Stiglitz, who has been critical of the austerity program being implemented on the island. "If you start charging tuition, they simply won't be able to go to school. The future of the country is young people, and making sure there are educated young people. This is going to be absolutely devastating."
Professor Cordero-Guzmán says the university "took a disproportionate hit" from the austerity board in part because of its own financial stability, meaning it could better absorb cuts.
Now that Fernández is gone, the judge's order to reopen the campuses still looms. The federal government has even yanked eligibility for financial aid from some of the campuses because of the shutdown; a few campuses have caved. But student organizers say they aren't backing down.
"The truth is, I don't see an end in sight, because the government hasn't agreed to diminish the cuts," said Gilberto Domínguez, a third-year law student at the university and one of two students on the university system's governing board. Domínguez has been participating in the strikes for months.
Negotiations with the government, he says, have mostly gone nowhere; though they've offered to reduce the cuts, it is nowhere near enough for activists. The government "has a mentality of doing things for now, instead of for the future."
But as the strike drags on, student protestors may essentially be stuck, Cordero-Guzmán says, as they continue campus shutdowns into the summer and, potentially, into the fall semester.
"The question is at which point do you continue to have public support — and at which point do you lose it?" he saad. "There's a great understanding for what students are going through. But at the same time, there's a sense of inevitability. There's a sense of despair."