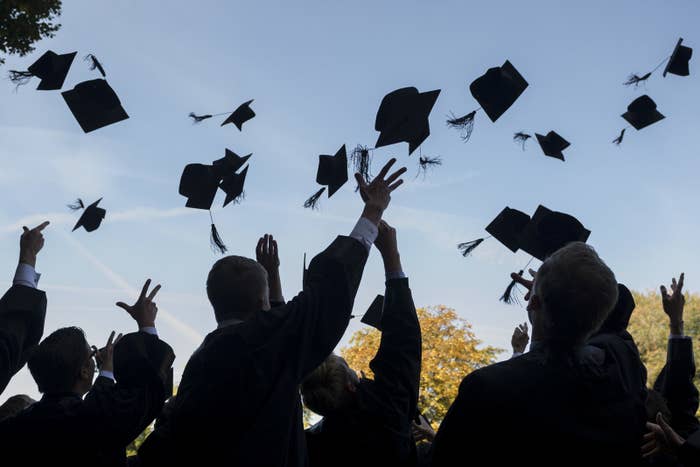 A government program to forgive the student loans of people working in public service jobs is riddled with roadblocks, complexities and errors that have tripped up thousands attempting to take advantage of it, according to a report released Thursday by the federal consumer finance watchdog.
The report comes at a time when the Public Service Loan Forgiveness program is in serious peril. President Trump's 2017 budget proposal includes a call to eliminate the initiative entirely for new borrowers, in an attempt to slash costs and streamline the student loan system. The Trump budget proposal is unlikely to pass, but Congress could move to scrap the loan forgiveness program regardless.
Experts say the program is both costly and, as the Consumer Financial Protection Bureau report shows, incredibly complicated. In theory, the loan forgiveness program allows borrowers working in public service jobs at government agencies, nonprofits, and the military to wipe away their student debt after ten years of consistent monthly repayments.
In practice, that has proven hard to do. The borrowers must navigate an exceedingly complex process with the help of their loan servicer. But those servicers have failed at every turn in helping the borrowers, the report found, leading to thousands being misled or losing their chances for loan forgiveness entirely.
Thanks in part to the program's highly specific requirements for enrollment, even minor and innocuous errors, like making payments that are too high, can set people back years on the path to forgiveness.
In one case highlighted by the CFPB report, a nurse said she had made repayments monthly for four years, only to find out that just 14 of them counted towards the 120-payment quota required for loan forgiveness. The reason? She had paid too much money on one occasion, automatically disqualifying her next month's payment.
"I find it outrageous and disheartening," she wrote. "I feel like the last 3 years of my payments have been wasted."
The program makes up 10% of all student loan complaints directed to the CFPB, even though it has not yet gone into full effect. The first borrowers will be able to apply to have their loans forgiven later this year, after 10 years of payments.
But while the program is in danger from the Trump administration, the CFPB portrayed it as a vital incentive for people to enter and stay in relatively low-paying public service careers. Two-thirds of those who have said they are interested in the loan forgiveness program make less than $50,000 annually, the report says.
Public Service Loan Forgiveness has run into legal problems even before its first borrowers qualify to have their student loans written off. A small slice of students who had first been told they qualified then had the decision reversed — leading them to sue the Education Department. Then the Department spooked borrowers by saying in a legal filing that their promises of forgiveness were non-binding, and could be reversed at any time.
Loan servicers compounded problems like this, according to the CFPB report. Some people said that they didn't enroll because they had been incorrectly told they wouldn't qualify. In one example, a military service member said he'd been told, wrongly, that his time in Afghanistan did not count as public service.